Share this destination with friends:
Tourist activities Les Chalets des Evettes in winter
Alpes - Savoie - Espace Diamant/Espace Val d'Arly - Flumet
Stay from
€ 295
€ 6 by person / night
for a T2/4pers 4 persons
from 31/03 to 07/04
---
-42 % Special discount
Prices & Availabilities
A few kilometres from Megève, the village resort of Flumet is at the very heart of the Upper Val d'Arly-Mont Blanc region. The ski-area brings together the resorts at Flumet, Notre Dame de Bellecombe, Crest Voland/Cohennoz, Praz sur Arly, and Les Saisies, where authenticity, a respect for nature, and a variety of sporting facilities come together in complete harmony.
Customer reviews
7.9 / 10.0
Most of the residence
Offre court séjour ski (2 à 4 nuits) - Noel/Nouvel an
Very close to the ski slopes
Covered heated pool
Sauna
Jacuzzi
Living area with TV and Billard
Ski racks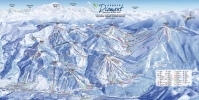 Agrandir
Useful Links
Hot air balloon rides in the Upper Val d'Arly. Guided fun quad excursions to explore the region and its surrounding area (adventure trekking, farm tastings). Flumet Tourist Information Office: www.flumet-montblanc.com Tel. : 04. 79. 31. 61. 08
The Chalet des Evettes in Flumet. Close to Megève, Flumet welcomes you to the heart of Mont-Blanc territory. It is a village resort that brings together the Flumet and St Nicolas la Chapelle areas, and where authenticity, a respect for nature, and a variety of sporting facilities coexist in harmony. In summer, Flumet is crossroads for tourists on the Route des Grandes Alpes and a centre for walking and other summer activities. Your rental home in the Savoie region gives you the opportunity to hike in the low mountain ranges and in protected areas in which you can reflect and discover the local wildlife. From your rental property in Savoie, explore: Megève, Albertville-Conflans, Beaufortain, Annecy Lake, the Chamonix Valley, the Col de l'Iseran, the Tour de Mont Blanc, where the Swiss, Italian, and French borders meet, the Vanoise National Park, and the Val d'Aoste. . .
We also offer close
Top