Louer une maison pour passer des vacances en Ille-et-Vilaine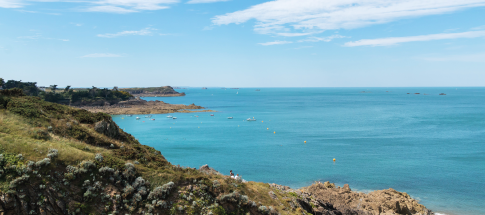 Trouver votre location de maison de vacances en Ille-et-Vilaine
From €280 pour un séjour d'une semaine at the residence Le Domaine des Mauriers from 07/01 to 14/01.
Saint-Malo, Dinard, Cancale… Cet été, le littoral d'Ille-et-Vilaine vous appelle ? Ce département breton entre terre et mer est idéal pour un séjour relaxant. Découvrez les charmes de l'Ille-et-Vilaine tout en vous reposant. Réservez dès maintenant une location de maison de vacances en Bretagne avec Nemea.

Read more
Partez ou soyez remboursés!
Customer reviews
(1582)
3,9
1582
Situated near Dinard on the Emerald Coast, Saint Malo is an old Corsair city now designated an "Art and History Town" and boasting a renowned and dynamic year-round seaside resort. The town is an international sailing capital and received the official label "Sailing Resort" in 1989.

Wind your way around Saint Malo's picturesque roads and explore the charms of its city walls, its ancient ship-owner houses, and the "Fort National". Be sure not to miss the Saint Malo Great Aquarium, a hot spot for biodiversity where visitors can mingle with some of the rarest and most beautiful species in the world.

The town of Saint Malo and its surrounding areas offer a wide range of year-round opportunities for friends and families to relax together and recharge their batteries: golf, horse riding, hiking, thermal baths, water sports,…….
Stays from
€280
Rental from 07/01/23 14/01/23
T2/4pers. 4 guests
Flexible dates ?
Your destination is set
or
Flexible about your destination ?
Your dates are set
Direction la Bretagne pour des vacances en Ille-et-Vilaine


Séjourner dans une location de maison de vacances en Ille-et-Vilaine 
À Saint-Malo, vous partez sur les traces des explorateurs et des corsaires. La cité fortifiée offre une vue imprenable sur la côte d'Émeraude. Entre Dinard et Saint-Malo, la côte aux eaux cristallines a des reflets de pierre précieuse… 
Vous connaissez Saint-Briac-sur-mer ? Faites une escale dans cette petite commune. Son atmosphère sereine et authentique se situe à seulement 30 min de Saint-Malo. Ses couleurs et son charme discret plaisent aux visiteurs. Le peintre Auguste Renoir y a même peint "La Bergère, la vache et la brebis". 

Sur le port de Cancale, dégustez en terrasse les huîtres de la baie. À 15 km de Saint-Malo, profitez de l'air vivifiant et des plaisirs de la mer. 

Visiter Rennes pendant les vacances d'été 
Partez à la découverte de Rennes ! À moins d'une heure de route depuis Saint-Malo, la capitale bretonne a tout pour vous séduire. Ruelles pavées, maisons à colombages, Parlement de Bretagne… La ville est riche de son histoire. Admirez son architecture médiévale et classique. Prenez-en plein les yeux aux Champs Libres. Enfin, posez-vous le long de l'Ille-et-Rance. C'est le moment de réserver votre location pour un séjour en Ille-et-Vilaine.