Holiday rental with swimming pool and water slide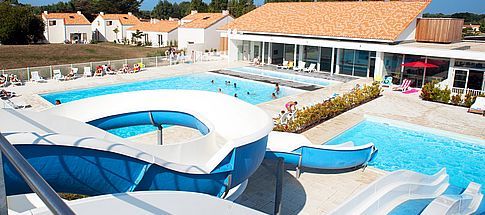 Our holiday residences with water slides
A partir de €185 pour un séjour d'une semaine à la résidence Les Grands Rochers du 23/09 au 30/09.
In summer, just as in winter, it is very pleasant to go on holiday and have access to an indoor swimming pool, sauna - and why not a gym as well? Because, yes, holidays are first and foremost about resting and taking care of yourself, but also staying active! Discover facilities dedicated to your well-being.
Lire la suite
Partez ou soyez remboursés!
Customer reviews
(3174)
4,1
3174
Une résidence dans un cadre sauvage et préservé à proximité directe de la plage. Profitez de maisons individuelles tout confort et services gratuits : piscine couverte et piscine extérieure avec pataugeoire chauffées, bassin extérieur avec toboggans, salle de sport, sauna. En juillet et août, profitez gratuitement des animations sportives pour ado/adultes. Un mini-club enfants (4-12 ans) accueille vos enfants gratuitement pour les vacances de Pâques et en juillet -aout.
Stays from
€185
Rental from 23/09/23 30/09/23
Studio 4 pers 4 guests
Partez ou soyez remboursés!
Customer reviews
(740)
4,25
740
Entre Bordeaux et Bayonne, la résidence Le Domaine des Dunes vous accueille dans un ensemble de maisons individuelles. A 800 m de la plage et des commerces, bénéficiez gratuitement d'une piscine extérieure chauffée avec toboggan, d'une piscine intérieure, d'un sauna et d' une salle de sport. GRATUIT - Mini-club (enfants 4-12ans) Juillet et août et Animations sportives ado/adultes en Juillet et août.
Stays from
€185
Rental from 16/09/23 23/09/23
Maison T2/4 pers 4 guests
Partez ou soyez remboursés!
Customer reviews
(2281)
4,05
2281
Au cœur d'un parc boisé de 6 ha, Le Domaine de la Baie est composé de petites maisons jumelées. La résidence offre piscines extérieure et intérieure chauffées, hammam, sauna, bains à remous, salle de sport en accès libre et gratuit.
Les vacanciers Nemea qui le souhaitent bénéficient de 2 randonnées d'une demi-journée offerte, par personne et par séjour avec accompagnateur (du 9 Avril au 2 juillet et du 27 août au 1er octobre 2022).
Juillet et août, Mini-club (enfants 4-12ans) et Animations sportives ado/adultes GRATUIT
Stays from
€195
Rental from 30/09/23 07/10/23
Maison 4pers 4 guests
Flexible dates ?
Your destination is set
or
Flexible about your destination ?
Your dates are set
Discover our holiday residences with water slides


The slide, the most popular of water games

During your holidays, do your children spend all their time in the swimming pool or paddling pool and don't stop asking to go on the water slide? It is true that racing down the slides and zipping around the bends before crashing into the pool with a great splash is a real favourite with children. Such thrills and laughter make for wonderful childhood memories! And if the fancy takes you, you too can join in the fun and enjoy these crazy slides. Go back to your childhood this summer.

A holiday isn't a holiday without a swimming pool!

The majority of Nemea holiday residences have a swimming pool. Sometimes you can even have a heated outdoor pool as well as an indoor pool, which you can enjoy making use of in all weather conditions. Nemea holiday residences with pools ensure that the children will have fun like little fish in the water. Parents will also appreciate the facilities available for them to enjoy. Sauna, hot tub, steam room, or gym... all great ways to relax and unwind during your holidays.