A holiday with your feet in the water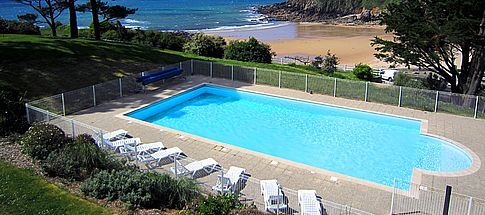 holiday residences by the beach
From €185 pour un séjour d'une semaine at the residence Bertheaume from 06/11 to 13/11.
Want to swim every day? See the sea from your patio? Be two steps away from the beach to avoid the traffic jams? Opt for a seafront residence for holidays with many advantages!
Read more
Partez ou soyez remboursés!
Customer reviews
(1447)
3,9
1447
At the very edge of the Iroise Sea, the town of Plougonvelin holds firmly on to its Breton identity with its fine sandy beaches, jagged coastline, and islands that measure just a few nautical miles in width. Tucked away in the cove of Trez Hir, you find yourself immersed in an ocean of delights.
Stays from
€185
Rental from 06/11/21 13/11/21
T2/4pers 4 guests
Partez ou soyez remboursés!
Customer reviews
(331)
4,2
331
Between Gironde and the Basque Country, along the Atlantic coast, the resort of Mimizan is located in the heart of the largest pine forest in Europe. The "pearl of the silver coast" welcomes you for peaceful and restful holidays between the ocean and the countryside. 

Mimizan Plage is a village in the Landes on the Atlantic Ocean. There are many cycle paths in this region which will allow you to enjoy long and easy cycle rides through the wild natural surroundings of the Landes region.

You will be able to take advantage of your rental in the Landes to visit: Dax, Mont de Marsan, the Ecomuseum of Grande Landes in Marquèze, Contis lighthouse, a descent of the Courant Huchet (nature reserve), the Landes de Gascogne Regional Nature Park, etc.
Stays from
€195
Rental from 06/11/21 13/11/21
T2/6pers 6 guests
Partez ou soyez remboursés!
Customer reviews
(504)
3,8
504
Mimizan Plage is a village in Les Landes, on the Atlantic coast. The numerous easy bicycle trails in this region will allow you to spend your days biking around the preserved wilderness the Les Landes area.
Stays from
€205
Rental from 25/09/21 02/10/21
Studio 2pers 2 guests
Partez ou soyez remboursés!
Customer reviews
(1107)
3,9
1107
In the heart of the Côte d'Azur (between Nice and Cannes), Cagnes-sur-Mer is a diverse town that is home to a medieval village, a small fishing port, and the Renoir Museum. Life in this charming holiday destination is dictated by a variety of festivals (medieval festival, night-time beach walks. . . colourful markets, swimming, and other water activities. . . not to mention the horse racing season.
Stays from
€220
Rental from 30/10/21 06/11/21
Studio 2 pers 2 guests
Partez ou soyez remboursés!
Customer reviews
(1431)
3,9
1431
At the edge of the Pays d'Iroise, midway between Brest and Le Conquet, Loc Maria enjoys a stunning geographical location at the heart of magnificent countryside with 7km of coastline and beaches.   A water-focused but nonetheless very diverse area, Le Finistère and the Breton coastline are known to be one of France's top tourist destinations.
Stays from
€230
Rental from 25/09/21 02/10/21
Maison Duplex T3/6pers 6 guests
Partez ou soyez remboursés!
Customer reviews
(1117)
4,4
1117
The only fishing port along the Landaise coast, Capbreton is a dynamic family seaside resort renowned for its beaches and water-based activities.

A stone's throw from the Pays Basque and located right next-door to the festive tourist towns of Biarritz and Bayonne, Capbreton is an ideal location for holidays with family or friends.
Stays from
€275
Rental from 06/11/21 13/11/21
T2/4pers 4 guests
Discover our seaside holiday residences


On the seafront or right on the beach

Nemea's beach front holiday residences ensure you have a wonderful holiday. This privileged location is a guarantee of unparalleled ease of access. No need to plan your days out and take the car to see the sea. Who wants to get stuck in traffic on the way home from an afternoon lazing around on the beach? No one! It is this type of detail that can ruin the relaxation of a well-deserved holiday. By choosing a holiday rental right on the sea with direct access to the beach, nothing will spoil your enjoyment of the coast. This is ideal for families with children!

A holiday rental with a sea view

Do you prefer the Mediterranean or the Atlantic? While some people choose proximity to the sea for swimming and fine sand, others choose it for the view! What would you say to breathtaking view over the ocean, every day of your holiday, from your patio or balcony? There's no better way to decompress and relax!

Whether you choose accommodation at the pier in Capbreton in Landes, on the Brittany coast or on the hillside in Corsica, Nemea seafront holiday residences provide you with outdoor and/or indoor swimming pools depending on the residence. So you can enjoy a variety of pleasures!