Calanques Natural Park: discover it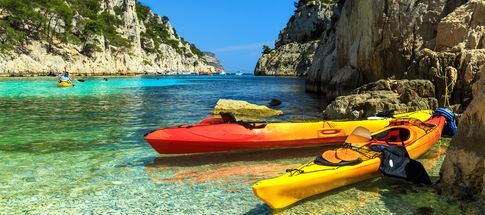 An exceptional territory that should be visited without further delay
A partir de €465 pour un séjour d'une semaine à la résidence Le Cap Azur du 09/09 au 16/09.
The Calanques National Park is located in the heart of the metropolis of Aix-Marseille-Provence Metropolis, in the south of France. It stretches along a massive coastline where the limestone cliffs offer a unique landscape, occasionally giving way to charming creeks and islets. Between raw beauty and intimate landscapes, nature lovers are sure to find what they are looking for! As a bonus, this destination offers a wide range of activities, perfect for holidays.

Lire la suite
Partez ou soyez remboursés!
Customer reviews
(904)
4,15
904
Destination provençale de charme, la presqu'île de Saint-Mandrier bénéficie d'une localisation exceptionnelle au cœur du Var préservé. Située à proximité de la plage de Saint-Asile, face à la mer Méditerranée, la résidence Le Cap Azur vous propose des hébergements d'une capacité de 1 à 6 personnes.
Stays from
€465
Rental from 09/09/23 16/09/23
1-bedroom flat / 4 people 4 guests

Sur la côte provençale, au bord de la Méditerranée, Six-Fours-les-Plages est à la fois une station balnéaire et sportive où vous pourrez découvrir la presqu'île de Gaou, la forêt méditerranéenne préservée ou encore l'archipel des Embiez.
Flexible dates ?
Your destination is set
or
Flexible about your destination ?
Your dates are set
Let yourself be charmed by the Calanques National Park


Possible activities in the Calanques National Park

Walks or hikes, climbing or diving, fishing or lazing around, there is something for everyone in the Calanques National Park! Punctuate your holiday however you like, with varied activities, and always in an incredible setting. In fact, during your days out you can discover a mosaic of landscapes that is conducive to escape. The more adventurous will even be able to take on the Fosse de Cassidaigne, the park's underwater canyon, on a scuba dive!

The Calanques National Park: an extremely rich heritage

In addition to its natural heritage, the park offers a very rich cultural heritage, waiting to be discovered during your holidays: local crafts, agriculture, pictorial art, and even rock art! The park is in fact home to a cave with rock paintings dating back some 30,000 years. Dropping to a depth of 37 m, it is now inaccessible, but a museum dedicated to this site will soon be opened in Marseille.

Spend a unique stay in the south of France by visiting the Calanques National Park!