Book a VACAF rental by the sea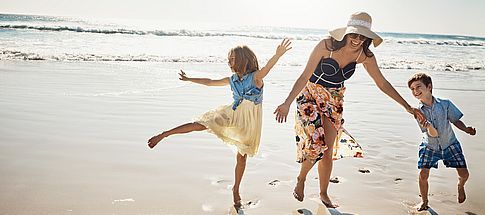 Enjoy a stay by the sea thanks to VACAF cheques
From €350 au lieu de €500 pour un séjour d'une semaine at the residence Le Domaine de la Baie from 26/06 to 03/07.
You want to book a VACAF holiday by the sea? It's possible! Comfortable and pleasant accommodation is available on the Atlantic and Mediterranean coast. Nemea offers holiday residences by the sea, all over France. Choose the apartment that suits you for a VACAF holiday.
Read more
Partez ou soyez remboursés!
Customer reviews
(2017)
4,1
2017
NEW

 

- 

July and August, Mini-club (children 4-12 years) and Sport activities for teenss/adults

 

FREE

Between Pointe du Raz and Quimper, Audierne is a lively family seaside resort in southern Finistère. 

Audierne harbour is a hive of activity, and is a delight for pleasure sailors with its jetties located in the town centre. The lively quaysides are the perfect place for a stroll and for visiting the town's shops, restaurants and historical heritage to be found along its narrow streets. 

Audierne Bay offers magnificent fine sand beaches stretching as far as the eye can see where families will be able to enjoy walking at all times of the year.
Stays from
Exceptional discount
-30%
€500 €350
Rental from 26/06/21 03/07/21
Maison 4pers 4 guests
Partez ou soyez remboursés!
Customer reviews
(1218)
3,9
1218
Saint Pol de Léon ,a small, preserved coastal town in the Morlaix Bay, enjoys a breath-taking maritime landscape set against a backdrop of white sand beaches. In town, take the opportunity to marvel at the Early Gothic cathedral , the Kreisker chapel, a number of 16th and 17th century dwellings, or the Boutouiller megalith. Le Finistère with its fjords and north-coast inlets, its extreme, wild, and invigorating nature, its migrating bird populations. Along the coast, the hiking path allows for a spectacular view of the Channel, from Roscoff to the Pointe de Primel. Of all the beaches in the area, Sainte Anne is the most popular.
Stays from
Exceptional discount
-30%
€520 €364
Rental from 26/06/21 03/07/21
T2/4pers 4 guests
Partez ou soyez remboursés!
Customer reviews
(607)
3,8
607
Sandwiched between the ocean the forest, the seaside resort of Moliets in Les Landes, renowned for its beautiful beaches, invites you to enjoy your holiday with friends or family. An hour away from Biarritz, Moliets is a little slice of paradise with its golf course (ranked 9th in France) that overlooks the village and the huge white sand beach.
Stays from
Exceptional discount
-30%
€600 €420
Rental from 26/06/21 03/07/21
T2/4pers 4 guests
Partez ou soyez remboursés!
Customer reviews
(2317)
4,05
2317
A few kilometres from Les Sables d'Olonne, Olonne-sur-Mer enjoys a strategic position with 250km of coastline split between magnificent beaches and dramatic cliffs. Olonne is a "green", lively, dynamic, and welcoming seaside resort where every guest will find the time to relax. Nature enthusiasts will enjoy the fine sand beaches, forests, and marinas, and for golf lovers, a variety of courses are at your disposal.
Stays from
€480
Rental from 28/08/21 04/09/21
Studio 4 pers 4 guests
Why book a VACAF rental?


VACAF cheques are very useful for family holidays. This assistance provided by CAF allows you to book rentals at affordable prices rentals, for the ultimate happy holiday. These cheques are intended primarily for families with modest incomes. They are deducted directly from the amount of your rental, to make your life easier. You will benefit from well equipped accommodation with various amenities. Heated indoor swimming pool, sauna, tennis court...
Stay by the sea in a VACAF certified Nemea holiday residence


The seaside is the ideal destination to spend summer holidays with your family, and at a good price. Enjoy being just a few metres from the beach, allowing you to swim, have fun and relax with your feet in the sand. Enjoy the mild climate and indulge in the main activity: lazing around. The coastline offers a wide range of activities and events to explore, which will appeal to young and old alike.
Would you like to book a rental in a Nemea holiday residence? It's very easy! Have your CAF benefit number to hand and contact a Nemea advisor. This way you can use your VACAF cheques for an unforgettable holiday.