Choose a holiday rental from Sunday to Sunday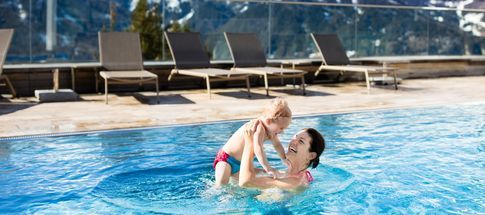 Book your rental from Sunday to Sunday and enjoy a week's holiday
Choose a rental for at least one week's holiday and take the opportunity to combine pleasure and relaxation. By booking a rental from Sunday to Sunday, you will have more time for leisure and you will be able to discover many charming locations. Book now with Nemea!
Read more

Customer reviews
(844)
3,9
844
Connected to the mainland by a bridge, Oléron is a magical place for nature lovers and water sport enthusiasts. Situated just opposite La Rochelle, Ile d'Oléron is the largest French island on the Atlantic coast, with 90km of coastline and huge stretches of fine sand beaches. Your rental property on the Ile d'Oléron is in easy visiting distance of:  oyster farms and a chance to sample the famous Marennes d'Oléron oysters, the island's bird sanctuary, the Château d'Oléron and its citadel, sea trips to Fort Boyard, Ile d'Aix, and La Rochelle.

Customer reviews
(752)
3,6
752
Situated on the northern coast of the Ile d'Oléron, Saint Georges d'Oléron is the largest and oldest of the island's villages, bordered by 15km of beaches. The most renowned are the beaches of Plaisance, Gautrelle, and Sables Vignier, and Saint Georges d'Oléron also boasts 2 marinas, Le Douhet and Boyardville.

Customer reviews
(1280)
3,95
1280
At the edge of the Pays d'Iroise, midway between Brest and Le Conquet, Loc Maria enjoys a stunning geographical location at the heart of magnificent countryside with 7km of coastline and beaches.   A water-focused but nonetheless very diverse area, Le Finistère and the Breton coastline are known to be one of France's top tourist destinations.

Customer reviews
(1137)
3,85
1137
At the very edge of the Iroise Sea, the town of Plougonvelin holds firmly on to its Breton identity with its fine sandy beaches, jagged coastline, and islands that measure just a few nautical miles in width. Tucked away in the cove of Trez Hir, you find yourself immersed in an ocean of delights.

Customer reviews
(1060)
3,95
1060
Saint Pol de Léon ,a small, preserved coastal town in the Morlaix Bay, enjoys a breath-taking maritime landscape set against a backdrop of white sand beaches. In town, take the opportunity to marvel at the Early Gothic cathedral , the Kreisker chapel, a number of 16th and 17th century dwellings, or the Boutouiller megalith. Le Finistère with its fjords and north-coast inlets, its extreme, wild, and invigorating nature, its migrating bird populations. Along the coast, the hiking path allows for a spectacular view of the Channel, from Roscoff to the Pointe de Primel. Of all the beaches in the area, Sainte Anne is the most popular.

Customer reviews
(2046)
3,8
2046
On the Arcachon Basin, this pedestrian residence is built within a wooded park that enjoys direct access to the beach. The residence is made up of detached and semi-detached houses, split up into two sections of different styles: the "fishing village" with its individual cottages, and the typical Arcachon-style of semi-detached houses.

Customer reviews
(1469)
3,95
1469
On the Emerald Coast and not far from Dinard, the village of Saint-Briac is a small marina town with several superb beaches and is the perfect spot for a day out. Just 17km from Saint-Malo and 40mins from Mont Saint-Michel, Saint-Briac-sur-Mer is one of the jewels of the Emerald Coast, combining water sports with the beauty of its countryside and numerous pedestrian pathways. This apartment rental on the Emerald Coast puts you in easy visiting distance of Saint-Briac, an ancient fishing village that has managed to preserve its old neighbourhoods and the beautiful narrow streets that surround its church. As well as fine sand beaches, Saint-Briac has a marina, an 18-hole golf course overlooking the sea, and numerous other activities.

Customer reviews
(1194)
3,95
1194
Not far from Lubéron, Malaucène is a typical Provençal village, hidden behind its village walls, with fountains and shady cafe terraces.

Customer reviews
(2020)
4,05
2020
A few kilometres from Les Sables d'Olonne, Olonne-sur-Mer enjoys a strategic position with 250km of coastline split between magnificent beaches and dramatic cliffs. Olonne is a "green", lively, dynamic, and welcoming seaside resort where every guest will find the time to relax. Nature enthusiasts will enjoy the fine sand beaches, forests, and marinas, and for golf lovers, a variety of courses are at your disposal.

Customer reviews
(1832)
4,15
1832
NEW

 

- 

July and August, Mini-club (children 4-12 years) and Sport activities for teenss/adults

 

FREE

Between Pointe du Raz and Quimper, Audierne is a lively family seaside resort in southern Finistère. 

Audierne harbour is a hive of activity, and is a delight for pleasure sailors with its jetties located in the town centre. The lively quaysides are the perfect place for a stroll and for visiting the town's shops, restaurants and historical heritage to be found along its narrow streets. 

Audierne Bay offers magnificent fine sand beaches stretching as far as the eye can see where families will be able to enjoy walking at all times of the year.
Ideas for a week's holiday


By heading away for at least a week, you can plan plenty of sightseeing and activities in your region of choice. Discover the Gironde and travel through the entire region from the Arcachon basin to Bordeaux or St-Émilion... These 7 days will allow you to discover all the riches of this region, to visit the numerous wine estates, and to contemplate its heritage and diversity.
When booking from Sunday to Sunday, we recommend choosing accommodation that offers all the comforts necessary for a successful stay. Prioritise sightseeing and walks and head away to the Languedoc-Roussillon region with complete peace of mind. Discover the Cévennes and its characterful villages. The Cévennes National Park promises an incredible adventure. Go climbing, kayaking or canyoning and discover the immense scale of the park's waterfalls.
Your stay from Sunday to Sunday with Nemea
When you choose to go on holiday with Nemea, you can be sure of a comfortable stay that is tailored to your needs. Nemea is the holiday specialist and offers fully equipped holiday residences to make your life easier.
So, opt for an apartment with a terrace to enjoy the warmth of the sun while sipping delicious cocktails with friends. Or choose a holiday residence equipped with a spa, with hot tubs, a sauna and gym. You are free to enjoy these facilities and relax after a day of sport or after your sightseeing excursions and walks.