Rental Finistère by the seaside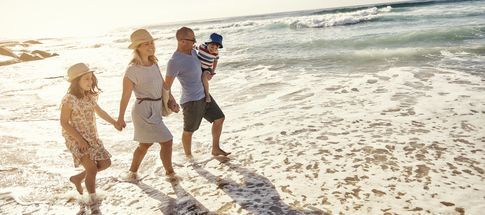 Spending the holidays in Brittany
A partir de €220 pour un séjour d'une semaine à la résidence Les Roches du 14/09 au 21/09.
It is often said that the most beautiful beaches in France are located in Corsica or on the Basque Coast. This couldn't be further from the truth! Brittany has magnificent beaches, coves and coastlines worthy of the paradise beaches of the Caribbean. Considered France's leading maritime department, Finistère is the ideal place for swimming, water sports and fishing. Come and discover the magnificent beaches of Finistère by booking a rental holiday in Brittany with Nemea.

Read more


Partez ou soyez remboursés!
Saint Pol de Léon

Bretagne
Customer reviews
(2227)
4
2227
Saint Pol de Léon ,a small, preserved coastal town in the Morlaix Bay, enjoys a breath-taking maritime landscape set against a backdrop of white sand beaches. In town, take the opportunity to marvel at the Early Gothic cathedral , the Kreisker chapel, a number of 16th and 17th century dwellings, or the Boutouiller megalith. Le Finistère with its fjords and north-coast inlets, its extreme, wild, and invigorating nature, its migrating bird populations. Along the coast, the hiking path allows for a spectacular view of the Channel, from Roscoff to the Pointe de Primel. Of all the beaches in the area, Sainte Anne is the most popular.
Stays from
€220
Rental from 14/09/24 21/09/24
T2/4pers 4 guests


Partez ou soyez remboursés!
Saint Malo

Bretagne
Customer reviews
(2278)
3,95
2278
Situated near Dinard on the Emerald Coast, Saint Malo is an old Corsair city now designated an "Art and History Town" and boasting a renowned and dynamic year-round seaside resort. The town is an international sailing capital and received the official label "Sailing Resort" in 1989.

Wind your way around Saint Malo's picturesque roads and explore the charms of its city walls, its ancient ship-owner houses, and the "Fort National". Be sure not to miss the Saint Malo Great Aquarium, a hot spot for biodiversity where visitors can mingle with some of the rarest and most beautiful species in the world.

The town of Saint Malo and its surrounding areas offer a wide range of year-round opportunities for friends and families to relax together and recharge their batteries: golf, horse riding, hiking, thermal baths, water sports,…….
Stays from
€230
Rental from 14/09/24 21/09/24
T2/4pers. 4 guests


Partez ou soyez remboursés!
Saint Briac-Sur-Mer

Bretagne
Customer reviews
(2914)
3,95
2914
On the Emerald Coast and not far from Dinard, the village of Saint-Briac is a small marina town with several superb beaches and is the perfect spot for a day out. Just 17km from Saint-Malo and 40mins from Mont Saint-Michel, Saint-Briac-sur-Mer is one of the jewels of the Emerald Coast, combining water sports with the beauty of its countryside and numerous pedestrian pathways. This apartment rental on the Emerald Coast puts you in easy visiting distance of Saint-Briac, an ancient fishing village that has managed to preserve its old neighbourhoods and the beautiful narrow streets that surround its church. As well as fine sand beaches, Saint-Briac has a marina, an 18-hole golf course overlooking the sea, and numerous other activities.
Stays from
€270
Rental from 14/09/24 21/09/24
Studio 2 pers 2 guests


Partez ou soyez remboursés!
Audierne

Bretagne
Customer reviews
(2604)
4,05
2604
NEW

 

- 

July and August, Mini-club (children 4-12 years) and Sport activities for teenss/adults

 

FREE

Between Pointe du Raz and Quimper, Audierne is a lively family seaside resort in southern Finistère. 

Audierne harbour is a hive of activity, and is a delight for pleasure sailors with its jetties located in the town centre. The lively quaysides are the perfect place for a stroll and for visiting the town's shops, restaurants and historical heritage to be found along its narrow streets. 

Audierne Bay offers magnificent fine sand beaches stretching as far as the eye can see where families will be able to enjoy walking at all times of the year.
Stays from
€300
Rental from 07/09/24 14/09/24
Maison 4pers 4 guests


Partez ou soyez remboursés!
LocMaria-Plouzane

Bretagne
Customer reviews
(2094)
3,95
2094
At the edge of the Pays d'Iroise, midway between Brest and Le Conquet, Loc Maria enjoys a stunning geographical location at the heart of magnificent countryside with 7km of coastline and beaches.   A water-focused but nonetheless very diverse area, Le Finistère and the Breton coastline are known to be one of France's top tourist destinations.
Stays from
€330
Rental from 07/09/24 14/09/24
T2/4pers 4 guests
A rental by the sea from which to set out and explore Finistère.


The Crozon Peninsula: an essential place to visit in Finistère

The Crozon Peninsula is famous for its beautiful sandy beaches and wild coves. On Morgat beach, you can discover the joy of stand-up paddle boarding, kayaking or sailing offered by the watersports centre. For the less adventurous, on tAber beach, located between Crozon and Telgruc-sur-Mer, you can contemplate the sunset over the bay of Douardenez. And, if you feel so inclined, head to the island of Aber to explore the ruins of an old 19th century fort.For lovers of wild landscapes, the beaches of La Palue and Lostmarc'h on the Cap de la Chèvre are worth a visit. Spend an unforgettable holiday in a rental holiday in the north Finistère!
Whether consisting of fine sand or pebbles, discover the beaches of the southern Bigoudon

Like the north, southern Finistère is not lacking in appeal! Discover the beach of La Torche, the most famous surf spot in Brittany. Located in Plomeur, this immense beach with huge waves is a paradise for surfers. If you want a little change of scenery and tropical landscapes, discover Tahiti beach in the commune of Nevez. Famous for its turquoise water and fine sand, it owes its name to the painter Gauguin who stayed in the area. In Port-Manec'h, be transported back to the Belle Époque period thanks to the beach cabins still present along Saint-Nicolas beach. The town of Le Guilvinec is the seaside resort of choice for fishermen.