Dernière minute : court-séjour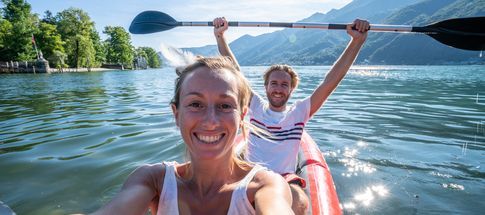 Envie d'une escapade ?
Rien de mieux qu'une petite parenthèse loin de chez soi pour recharger les batteries. Faites le choix de la ville, de la mer, de la montagne ou de la campagne dans un joli coin de France. Optez pour un court séjour culturel ou de nature. Conjuguez farniente et découverte d'un site historique. Voilà de belles perspectives de vacances de dernière minute ! Dans tous les cas, un court séjour improvisé en France comble toujours l'irrésistible envie de faire un break.

Read more

Customer reviews
(399)
4
399
At the edge of the Spanish border, Bonascre is a great starting point for a number of magnificent hikes. This destination will allow to explore, on foot or on horseback, the Ax and Chioula Valleys and the Orlu National Wildlife Reserve, and to enjoy a variety of sporting activities.
Stays from
€124
Rental from 08/08/20 10/08/20
Studio 4 pers 4 guests

Customer reviews
(259)
3,85
259
Ideally located between the Ecrins National Park and the Queyras Regional Nature Park, the L'Adret residence will be the perfect base for a wide selection of walks and varied outdoor activities. Briançon, a town of art and history, fortified by Vauban, offers a rich heritage, temporary exhibitions and a varied range of activities throughout the year.
Stays from
€164
Rental from 08/08/20 10/08/20
Studio 2 pers. 2 guests

Customer reviews
(688)
3,7
688
Tucked away in the greenery at the heart of the Pyrenees National Park, Peyragudes overlooks the Louron and Larboust valleys. This Pyrenees resort is an ideal holiday spot if you're interested in trying out a variety of sporting activities: hiking, climbing, horse riding, mountain biking, rafting, white-water rafting, paragliding… Peyragudes also offers to each and every one of its visitors a glimpse into its precious wildlife, with the opportunity to spot protected species such as bears and golden eagles.
Stays from
€166
Rental from 08/08/20 10/08/20
T3/8pers 8 guests

Customer reviews
(1068)
3,7
1068
Situated in the heart of the Alps, between Mont Blanc and Lake Léman, Chatel is a family village resort just a short distance from the French-Swiss border.

Diverse countryside and a wide range of activities: Mountain Biking, Via Ferrata, summer tobogganing, hiking, giant zip lining, fishing and whitewater sports make this resort an ideal location for a holiday with family or friends.
Stays from
€180
Rental from 08/08/20 10/08/20
T2/6pers 6 guests

Customer reviews
(1212)
3,95
1212
Not far from Lubéron, Malaucène is a typical Provençal village, hidden behind its village walls, with fountains and shady cafe terraces.
Stays from
€276
Rental from 08/08/20 10/08/20
Maison T2/4pers 4 guests

Customer reviews
(2080)
4,05
2080
A few kilometres from Les Sables d'Olonne, Olonne-sur-Mer enjoys a strategic position with 250km of coastline split between magnificent beaches and dramatic cliffs. Olonne is a "green", lively, dynamic, and welcoming seaside resort where every guest will find the time to relax. Nature enthusiasts will enjoy the fine sand beaches, forests, and marinas, and for golf lovers, a variety of courses are at your disposal.
Stays from
€316
Rental from 08/08/20 10/08/20
Studio 4 pers 4 guests

Customer reviews
(1863)
4,15
1863
NEW

 

- 

July and August, Mini-club (children 4-12 years) and Sport activities for teenss/adults

 

FREE

Between Pointe du Raz and Quimper, Audierne is a lively family seaside resort in southern Finistère. 

Audierne harbour is a hive of activity, and is a delight for pleasure sailors with its jetties located in the town centre. The lively quaysides are the perfect place for a stroll and for visiting the town's shops, restaurants and historical heritage to be found along its narrow streets. 

Audierne Bay offers magnificent fine sand beaches stretching as far as the eye can see where families will be able to enjoy walking at all times of the year.
Stays from
€372
Rental from 08/08/20 10/08/20
Maison Cabine-Duplex 6 pers 6 guests

Customer reviews
(535)
3,8
535
Sandwiched between the ocean the forest, the seaside resort of Moliets in Les Landes, renowned for its beautiful beaches, invites you to enjoy your holiday with friends or family. An hour away from Biarritz, Moliets is a little slice of paradise with its golf course (ranked 9th in France) that overlooks the village and the huge white sand beach.
Stays from
€400
Rental from 08/08/20 10/08/20
T2/6pers 6 guests

Customer reviews
(2095)
3,8
2095
On the Arcachon Basin, this pedestrian residence is built within a wooded park that enjoys direct access to the beach. The residence is made up of detached and semi-detached houses, split up into two sections of different styles: the "fishing village" with its individual cottages, and the typical Arcachon-style of semi-detached houses.
Stays from
€428
Rental from 08/08/20 10/08/20
T3/6pers Pêcheur 6 guests

Customer reviews
(1428)
3,85
1428
Situated near Dinard on the Emerald Coast, Saint Malo is an old Corsair city now designated an "Art and History Town" and boasting a renowned and dynamic year-round seaside resort. The town is an international sailing capital and received the official label "Sailing Resort" in 1989.

Wind your way around Saint Malo's picturesque roads and explore the charms of its city walls, its ancient ship-owner houses, and the "Fort National". Be sure not to miss the Saint Malo Great Aquarium, a hot spot for biodiversity where visitors can mingle with some of the rarest and most beautiful species in the world.

The town of Saint Malo and its surrounding areas offer a wide range of year-round opportunities for friends and families to relax together and recharge their batteries: golf, horse riding, hiking, thermal baths, water sports,…….
Stays from
€462
Rental from 08/08/20 10/08/20
T4/8pers. 8 guests
Dernière minute : court-séjour


Dernière minute : court-séjour