Discover the Languedoc with your family and friends during a VACAF holiday.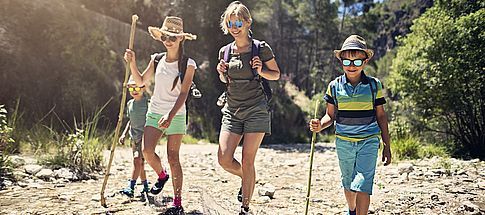 Get away to the Languedoc with a VACAF holiday
A partir de €190 pour un séjour d'une semaine à la résidence Le Sylène du 23/03 au 30/03.
Have you always wanted to explore the Languedoc on a family holiday? This region, rich in heritage and culture, offers many activities to enjoy with your loved ones. Discover the charms of a province renowned for its wine production and unique medieval architecture, bringing a clever blend of authenticity and mystery to your stay. Thanks to the VACAF certified Nemea holiday residences, you can enjoy a holiday in the Languedoc at an affordable price. 

Read more


Partez ou soyez remboursés!
Cap d'Agde

Languedoc-Roussillon
Customer reviews
(339)
4,2
339
A proximité des plages et du port, « Le Sylène » est une résidence à l'architecture courbée et ronde s'inspirant de la marina. La résidence dispose de logements climatisés et d'équipements de loisirs (piscine intérieure, piscine extérieure chauffée, sauna, hammam, bain à remous et salle de sport). Mini-club (4-12 ans) gratuit en juillet-aout.

Stays from
€190
Rental from 23/03/24 30/03/24
Studio 2pers. 2 guests


Partez ou soyez remboursés!
Port Leucate

Languedoc-Roussillon
Customer reviews
(966)
4,05
966
Classée Monument Historique et labellisée « Patrimoine du 20ème siècle », la résidence de tourisme « Les Carrats » offre un cadre idyllique grâce à son emplacement au bord de la plage et ses 16 kilomètres de sable fin. Cette résidence, dédiée aux piétons et aux vélos, a été réhabilitée dans le respect de son architecture d'origine et s'étend sur 5 hectares entre l'étang de Leucate et la Méditerranée. 
Stays from
€195
Rental from 23/03/24 30/03/24
Studio 2pers 2 guests


Partez ou soyez remboursés!
Sauve

Languedoc-Roussillon
Customer reviews
(1200)
3,75
1200
Just a few kilometres from the Pont du Gard, Sauve is a medieval village that is rich in history, as you can see from its 16th Century Pont Vieux bridge, its city walls and ruins, fortified gates, vaults, tall medieval towers, and last but not least, its Hôtel de la Monnaie. From your rental property in the Gard region, explore Nîmes, the Pont de Gard, Alès, Le Vigan,. . . . and choose from a wide range of sightseeing opportunities: visit the fork factory, where utensils are made out of hackberry wood, or the Silk Museum in Saint Hippolyte Du Fort.
Stays from
€240
Rental from 07/09/24 14/09/24
Maison Duplex T3/4pers 4 guests
Flexible dates ?
Your destination is set
Start a search
or
Flexible about your destination ?
Your dates are set
Start a search
The Languedoc: a land of authentic charm


Make use of a VACAF certified holiday residence for your family holiday

Want to discover a typical Languedoc town and get to know the region? Sauve, located in the Gard, is an authentic medieval city, rich in history, which will appeal to both young and old alike. Drop off your cases at the Nemea Les portes des Cévennes holiday residence,located just 2 km from the town centre of Sauve, and enjoy VACAF certified luxury accommodation. Within the holiday residence you will find an indoor and outdoor swimming pool, a mini club for 4 to 12 year olds, a gym and sports field, a sauna, etc. What better way to spend an unforgettable holiday?
Discover Sauve and its many activities

In Sauve and the surrounding area, enjoy special moments with your loved ones while partaking in the various activities. Horseback riding, hiking, mountain biking, canoeing, climbing or even fishing will keep everyone entertained. You can also enjoy the city's heritage and walk along its ramparts, taking time to appreciate its fortified gates and its high medieval towers. If you feel like it, you can also take advantage of this rental in the Gard to discover the Pont du Gard, Nîmes or the region's various attractions!
Don't wait any longer: thanks to the VACAF certified Nemea holiday residences, you can enjoy a unique family holiday in the Languedoc!