Early booking for holidays in France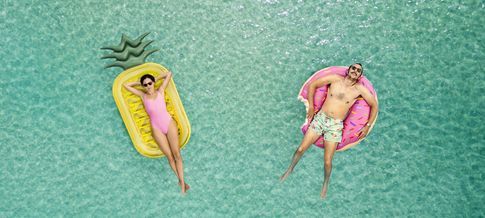 Holiday early booking
Do you want to go on holiday this summer? Enjoy high quality stays at reduced prices with Nemea!

Read more

Customer reviews
(389)
4
389
At the edge of the Spanish border, Bonascre is a great starting point for a number of magnificent hikes. This destination will allow to explore, on foot or on horseback, the Ax and Chioula Valleys and the Orlu National Wildlife Reserve, and to enjoy a variety of sporting activities.
Stays from
Exceptional discount
-50%
€390 €195
Rental from 04/07/20 11/07/20
Studio 2 pers 2 guests

Customer reviews
(522)
4,25
522
Ideally located only 20 metres from the beach, this air-conditioned residence opens onto a landscaped patio with a heated outdoor pool. During your stay, you will also have free access to the indoor pool, the gym, the hot-tub, and the sauna.

Stays from
Exceptional discount
-50%
€715 €357.50
Rental from 13/06/20 20/06/20
1-bedroom flat / 4 people 4 guests

Customer reviews
(1238)
3,95
1238
On the banks of Génos Lake and surrounded by greenery, the Résidence La Soulane is the perfect spot for all summer activities: hiking, paragliding, hang gliding, mountain biking, horse riding, fishing. . . not to mention the thermal spa centre in Balnéa, just a stone's throw away. You may also take this opportunity to explore the Louron Valley, with its rich thousand-year-old history and fascinating heritage. .
Stays from
€155
Rental from 19/09/20 26/09/20
Studio 2 pers 2 guests

Customer reviews
(668)
3,9
668
The Chalets d'Estive in Cauterets. At the edge of the Pyrenees National Park, Cauterets lives in harmony alongside some of the highest-ranked natural sites in France: the Pont d'Espagne, Gaube Lake, and the Oulettes Valley. The huge Vignemale Summit, which reaches 3298m, and the Marcadau Valley are breath-taking spots for hikers of all levels.
Stays from
€170
Rental from 19/09/20 26/09/20
Studio 4 pers 4 guests

Customer reviews
(610)
3,8
610
A few kilometres from Megève, Flumet is a crossroads for tourists on the Route des Grandes Alpes. In the summer, at the heart of the town, a fully-equipped swimming and relaxation area blends in with the Arrondine recreation centre and its sporting facilities and children's games. Flumet also offers many other activities: walking, mountain biking, fishing,. . . and the summer season is broken up by several traditional festivals.
Stays from
€175
Rental from 22/08/20 29/08/20
T2/4pers 4 guests

Customer reviews
(2020)
4,05
2020
A few kilometres from Les Sables d'Olonne, Olonne-sur-Mer enjoys a strategic position with 250km of coastline split between magnificent beaches and dramatic cliffs. Olonne is a "green", lively, dynamic, and welcoming seaside resort where every guest will find the time to relax. Nature enthusiasts will enjoy the fine sand beaches, forests, and marinas, and for golf lovers, a variety of courses are at your disposal.
Stays from
€175
Rental from 26/09/20 03/10/20
Studio 4 pers 4 guests

Customer reviews
(1034)
3,7
1034
Situated in the heart of the Alps, between Mont Blanc and Lake Léman, Chatel is a family village resort just a short distance from the French-Swiss border.

Diverse countryside and a wide range of activities: Mountain Biking, Via Ferrata, summer tobogganing, hiking, giant zip lining, fishing and whitewater sports make this resort an ideal location for a holiday with family or friends.
Stays from
€175
Rental from 12/09/20 19/09/20
T2/4pers 4 guests

Customer reviews
(393)
4,2
393
Entre Bordeaux et Bayonne, la résidence Le Domaine des Dunes vous accueille dans un ensemble de maisons individuelles. A 800 m de la plage et des commerces, bénéficiez gratuitement d'une piscine extérieure chauffée avec toboggan, d'une piscine intérieure, d'un sauna et d' une salle de gym. GRATUIT - Mini-club (enfants 4-12ans) Juillet et août et Animations sportives ado/adultes en Juillet et août.
Stays from
€180
Rental from 19/09/20 26/09/20
Maison T2/4 pers 4 guests

Customer reviews
(1137)
3,85
1137
At the very edge of the Iroise Sea, the town of Plougonvelin holds firmly on to its Breton identity with its fine sandy beaches, jagged coastline, and islands that measure just a few nautical miles in width. Tucked away in the cove of Trez Hir, you find yourself immersed in an ocean of delights.
Stays from
€185
Rental from 03/10/20 10/10/20
T2/4pers 4 guests

Customer reviews
(1832)
4,15
1832
NEW

 

- 

July and August, Mini-club (children 4-12 years) and Sport activities for teenss/adults

 

FREE

Between Pointe du Raz and Quimper, Audierne is a lively family seaside resort in southern Finistère. 

Audierne harbour is a hive of activity, and is a delight for pleasure sailors with its jetties located in the town centre. The lively quaysides are the perfect place for a stroll and for visiting the town's shops, restaurants and historical heritage to be found along its narrow streets. 

Audierne Bay offers magnificent fine sand beaches stretching as far as the eye can see where families will be able to enjoy walking at all times of the year.
Stays from
€185
Rental from 03/10/20 10/10/20
Maison 4pers 4 guests
Why book your holiday early?


There are many advantages to booking well in advance of your holiday date. The first is financial: by booking earlier, you will be able to benefit from much more attractive rate on the same stay.
Moreover, booking your holiday early means ensuring a wider selection for your stay, both in terms of the destination and the range of options.
These details will make the difference and allow you to have a great budget holiday!
Where and for what type of budget holiday?

Booking affordable holidays in France is indeed possible with early booking, and this applies in all of the most popular locations in France. So, if you want to go to the French Riviera this summer, early booking will allow you to book a cheap stay, whether you are travelling with your family, as a couple or with friends. Holiday promotions are a major asset in determining the success of your next holiday!
Take advantage of holiday apartment promotions with Nemea!

Would you like to find an affordable holiday home? Place your trust in Nemea, the French leader in all-season holiday accommodation. To get a promotion on your holiday home, take advantage of the great holiday deals offered by Nemea and choose your stay from among our vast online catalogue.