Enjoy a nature break in the Ecrins National Park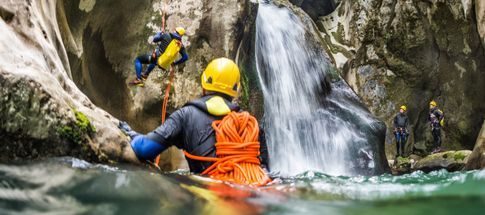 Between massifs and valleys: set off to conquer a variety of landscapes
A partir de €199.75 au lieu de €235 pour un séjour d'une semaine à la résidence L'aigle Bleu du 09/09 au 16/09.
Discover the Alps as you've never seen them before! The Écrins National Park offers a mosaic of landscapes where villages, forests, valleys and rivers follow one after another. The Ecrins massif is a place that nature lovers are particularly fond of, especially on account of the richness of its flora and fauna. Take advantage of a break in the great outdoors during your holidays and let yourself be taken over by the beauty of the park's rugged landscapes.

Lire la suite
Partez ou soyez remboursés!
Customer reviews
(610)
3,95
610
Au cœur du village de Briançon, cette résidence est composée d'appartements avec terrasse ou balcon. Profitez librement et gratuitement d'un espace avec bain à remous, sauna, hammam et d'une salle de sport.

Stays from
Early Booking
-15%
until 13/05/23
€235 €199.75
Rental from 09/09/23 16/09/23
T3/6pers 6 guests
Partez ou soyez remboursés!
Customer reviews
(932)
3,85
932
Au coeur de la vallée de la Maurienne,

cette station située sur un plateau d'alpage baigné par le soleil jouit d'un

panorama exceptionnel ouvert à 360° sur les montagnes environnantes

. Au coeur de la station, Les Chalets des Cimes offrent un panorama exceptionnel sur les aiguilles d'Arves.



Les vacanciers Nemea qui le souhaitent bénéficient gratuitement  en juillet et aout de 2 randonnées gratuites d'une demi-journée pendant leur séjour. Ces sorties familiales encadrées par des accompagnateurs diplômés permettent de découvrir la faune et la flore de nos montagnes.



Stays from
€235
Rental from 10/06/23 17/06/23
T2/3pers. 3 guests
Partez ou soyez remboursés!
Customer reviews
(401)
3,95
401
Une résidence vacances de montagne à 500 m des commerces. Dans un chalet composé d'appartements tout confort, profitez gratuitement d'une piscine couverte chauffée, d'un sauna, d'une salle de gym et d'un salon avec billard. 

Stays from
€300
Rental from 10/06/23 17/06/23
Studio 2 pers. 2 guests

La résidence l'Ecrin des Neiges faite de bois et de pierres s'intègre parfaitement au paysage typique de montage de la station de Vars. NOUVEAU : pour tout séjour réservé, la location comprend 3 entrées/personne/semaine à la piscine de VARS (2 entrées/personne en week-end / accès les jours de votre choix dans la limite des places disponibles).
Stays from
€495
Rental from 15/04/23 22/04/23
T2/4pers 4 guests

Une résidence conviviale située à Valloire. Logez dans des appartements T2 spacieux et tout équipés pouvant accueillir entre 1 à 6 personnes. Profitez d'un balcon et d'une piscine intérieure chauffée et en accès libre, ainsi que d'une séance offerte par semaine et par appartement au sauna et au hammam.

Stays from
€675
Rental from 18/03/23 25/03/23
T2/4pers 4 guests
Fill up on memories in an idyllic setting


Rich fauna and flora waiting to be discovered
Take advantage of the authentic mountain scenery to get away from it all. You may even have the opportunity to admire eagles, ibexes, chamois and other animals typical of the region during nature nature adventure. The park is full of them! Moreover, the local flora is also unique and full of charm: edelweiss, blue thistle etc. will catch your eye during your trips out. These are plants that you won't often encounter elsewhere, so you might as well take advantage of the opportunity.
A destination for outdoor activities
Whether you are an experienced sportsman or simply a lover of the great outdoors, the Écrins National Park offers many opportunities for activities that will delight the whole family. For example, numerous walks and hikes are waiting for you! A good opportunity to discover the seven large valleys that shape the massif. In addition, the boldest adventurers can try their hand at mountaineering, canyoning or climbing: a guaratneed thrill and a change of scenery!