Enjoy a nature break in the Ecrins National Park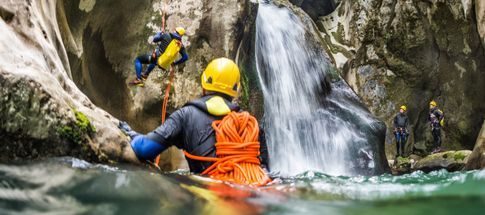 Between massifs and valleys: set off to conquer a variety of landscapes
From €220 pour un séjour d'une semaine at the residence L'aigle Bleu from 19/09 to 26/09.
Discover the Alps as you've never seen them before! The Écrins National Park offers a mosaic of landscapes where villages, forests, valleys and rivers follow one after another. The Ecrins massif is a place that nature lovers are particularly fond of, especially on account of the richness of its flora and fauna. Take advantage of a break in the great outdoors during your holidays and let yourself be taken over by the beauty of the park's rugged landscapes.

Read more

Customer reviews
(436)
3,9
436
With its ideal location between the Ecrins National Park and the Queyras Regional Park, the Résidence l'Aigle Bleu is the perfect base for numerous hikes and a variety of outdoor nature activities. Briançon, a historical art town fortified by Vauban, offers its rich heritage, temporary exhibitions, and a variety of entertainment opportunities throughout the year.
Stays from
€220
Rental from 19/09/20 26/09/20
T3/6pers 6 guests

Customer reviews
(681)
3,8
681
At the heart of the Maurienne Valley, this resort, situated on a high-pasture plateau and bathed in sun, has breath-taking panoramas with a 360° view of the surrounding mountains. At the heart of the resort, the Chalets des Cimes offers panoramic views of the Aiguilles d'Arves mountain.

Customer reviews
(285)
3,85
285
Ideally located between the Ecrins National Park and the Queyras Regional Nature Park, the L'Adret residence will be the perfect base for a wide selection of walks and varied outdoor activities. Briançon, a town of art and history, fortified by Vauban, offers a rich heritage, temporary exhibitions and a varied range of activities throughout the year.

At an altitude of 1430m, at the foot of the Col du Galibier mountain pass, the village resort in Valloire awaits your arrival! Valloire, with connection to the Valmeinier ski-area, offers 150km of slopes reaching up to an altitude of 2600m. The residence, situated at the foot of the slopes (walking distance from the ski-return site), just 200m from the ski lifts, and 1km from the centre (free shuttle in front of the residence), is made up of 2 groups of stone and wooden chalets with lifts (5 chalets per group). Each group of buildings has one chalet that houses the reception area and swimming pool.

La résidence Les Chalets des Rennes**** se situe dans un environnement calme en haut du village station des Claux. Dès votre arrivée, entrez dans un cadre chaleureux et découvrez le nouveau bâtiment principal hébergeant le hall d'accueil ! A 50 mètres se trouvent les pistes ainsi que le télésiège de Fontbonne, les premiers commerces se trouvent à 250 mètres et le centre station à 400 mètres.

La résidence l'Ecrin des Neiges faite de bois et de pierres s'intègre parfaitement au paysage typique de montage de la station de Vars. NOUVEAU : pour tout séjour réservé, la location comprend 3 entrées/personne/semaine à la piscine de VARS (2 entrées/personne en week-end / accès les jours de votre choix dans la limite des places disponibles).
Fill up on memories in an idyllic setting


Rich fauna and flora waiting to be discovered
Take advantage of the authentic mountain scenery to get away from it all. You may even have the opportunity to admire eagles, ibexes, chamois and other animals typical of the region during nature nature adventure. The park is full of them! Moreover, the local flora is also unique and full of charm: edelweiss, blue thistle etc. will catch your eye during your trips out. These are plants that you won't often encounter elsewhere, so you might as well take advantage of the opportunity.
A destination for outdoor activities
Whether you are an experienced sportsman or simply a lover of the great outdoors, the Écrins National Park offers many opportunities for activities that will delight the whole family. For example, numerous walks and hikes are waiting for you! A good opportunity to discover the seven large valleys that shape the massif. In addition, the boldest adventurers can try their hand at mountaineering, canyoning or climbing: a guaratneed thrill and a change of scenery!