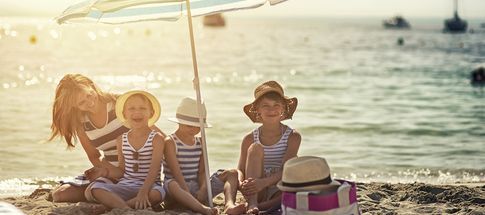 Holiday in Spain at an affordable price
Why not head to Spain this summer? On the agenda: sun, sea and lazing around. Take advantage of these holidays to recharge your batteries in an affordable rental.
Nemea offers accommodation at attractive rates, allowing you to explore the Iberian Peninsula with complete peace of mind!
Lire la suite

L'Odissea Park bénéficie d'un emplacement idéal à seulement 100 mètres de la plage de Santa Susana. Santa Susanna se trouve au bord de la Méditerranée, à 60 kilomètres de la ville de Barcelone. Dans cet endroit paisible, vous pourrez profiter de deux kilomètres de grandes plages au sable propre et doré, entourées de pinèdes. Les services et installations de sa station nautique vous aideront à pratiquer un grand nombre de sports aquatiques comme la voile, la planche à voile et la plongée sous-marine, par exemple.


Les appartements touristiques Comte D'Empuries disposent d'un total de 200 appartements, tous extérieurs. Ils se situent à seulement 125 mètres de la plage et en plein centre-ville d'Empuriabrava. L'accès aux appartements des différents bâtiments s'effectue à travers des chemins extérieurs bordés d'une végétation typiquement Méditerranéenne.


L'Estartit est situé sur la Costa Brava sur les bords de la méditerranée, à 50 min de Gérone et 1h15 de la frontière franco-catalane. Cette station balnéaire est beaucoup fréquentée par les plongeurs qui viennent explorer les profondeurs des îles Medes au large de la côte. La situation géographique et le climat font de cette zone de la Costa Brava un lieu privilégié et idéal pour passer des vacances aussi agréables que confortables, tout au long de l'année.


Situés à seulement 50 mètres du centre-ville de Calella et à 250 mètres de la plage, les Apartamentos Neptuno propose des appartements climatisés avec connexion Wi-Fi gratuite. En été (à partir du 01/05/2020), vous pourrez accéder aux installations de l'Hotel Neptuno. Le reste de l'année, seuls les hébergements sont disponibles. L'hôtel possède notamment une piscine extérieure avec jacuzzi, un espace de détente, un spa pourvu d'un sauna et une salle de sport.


À 65 km au nord d'Alicante, au pied du rocher d'Ifach, Calpe est une destination touristique de la Costa Blanca réputée pour la qualité et la beauté de son environnement naturel, ses plages de sable blanc aux eaux turquoise et la douceur de son climat qui permet de profiter toute l'année de ses activités extérieures.


Au coeur de la Costa Brava, à 1h de la frontière, Pals offre au visiteur richesse culturelle, climat et paysages privilégiés. La vaste plage de Pals, la gastronomie et les nombreuses activités proposées vous permettront de vivre pleinement vos vacances.


Située dans la province de Tarragone, Cambrils est l'une des plus belles villes de la Costa Dorada en Espagne. A 100 km de Barcelone et 60km du parc naturel du Delta del Ebro, elle bénéficie d'une localisation privilégiée pour passer les vacances d'été. C'est l'une des rares villes côtières catalanes qui peuvent se vanter d'offrir la mer et la montagne, puisqu'elle est entourée des montagnes de Llaberia, Argentera et Mussara.
Summer holidays: Stay in Catalonia in a Nemea holiday residence


Cultural riches, local specialities, good weather... There are many reasons to choose Spain. In Catalonia, you forget the worries of everyday life. This Spanish region offers natural areas and bustling cities. This land of a thousand faces will surely enchant you. 
After discovering the region's thousand-year history, hiking, and/or diving, head into town to sample the local cuisine during your holidays with friends in Spain. Between sea and mountains, Catalonia has everything you could possibly want! Your stay in a Nemea holiday residence offers a real change of scenery. On the Costa Brava, you stay in a fishing village in Tossa de Mar. In Santa Susanna, you stay just 100 metres from the beach.
Discover the Costa del Azahar during your holiday in Spain

This stretch of coastline named after the orange blossom - Azahar - has all the ingredients for a charming stay. Situated on the Mediterranean Sea, it enjoys a mild climate all year round. Peniscola Castle, Irta Mountain NaturE Park, Valencia... The region offers many remarkable sites to discover. You will have access to a host of activities for young and old, ideal for your family holidays in Spain . 
Fancy a stay in Spain? Check out the Nemea offers within your budget!