Famille nombreuse : destination soleil pour les vacances !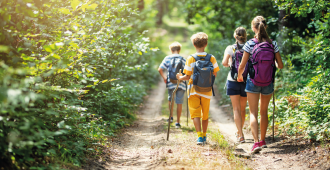 Vacances au soleil : les destinations idéales pour les familles nombreuses
From €185 pour un séjour d'une semaine at the residence Le Domaine des Dunes from 17/09 to 24/09.
Pas toujours facile d'organiser son séjour quand on est une famille nombreuse. Il faut trouver un logement suffisamment grand pour accueillir votre tribu et convenir d'activités adaptées à tous les âges. À la mer ou à la campagne, Nemea vous propose des résidences situées dans des lieux attractifs, pour des vacances en famille nombreuse réussies. 
Read more
Partez ou soyez remboursés!
Customer reviews
(588)
4,2
588
Entre Bordeaux et Bayonne, la résidence Le Domaine des Dunes vous accueille dans un ensemble de maisons individuelles. A 800 m de la plage et des commerces, bénéficiez gratuitement d'une piscine extérieure chauffée avec toboggan, d'une piscine intérieure, d'un sauna et d' une salle de sport. GRATUIT - Mini-club (enfants 4-12ans) Juillet et août et Animations sportives ado/adultes en Juillet et août.
Stays from
€185
Rental from 17/09/22 24/09/22
Maison T2/4 pers 4 guests
Partez ou soyez remboursés!
Customer reviews
(2056)
4,1
2056
NEW

 

- 

July and August, Mini-club (children 4-12 years) and Sport activities for teenss/adults

 

FREE

Between Pointe du Raz and Quimper, Audierne is a lively family seaside resort in southern Finistère. 

Audierne harbour is a hive of activity, and is a delight for pleasure sailors with its jetties located in the town centre. The lively quaysides are the perfect place for a stroll and for visiting the town's shops, restaurants and historical heritage to be found along its narrow streets. 

Audierne Bay offers magnificent fine sand beaches stretching as far as the eye can see where families will be able to enjoy walking at all times of the year.
Stays from
€190
Rental from 01/10/22 08/10/22
Maison 4pers 4 guests
Partez ou soyez remboursés!
Customer reviews
(2236)
3,9
2236
On the Emerald Coast and not far from Dinard, the village of Saint-Briac is a small marina town with several superb beaches and is the perfect spot for a day out. Just 17km from Saint-Malo and 40mins from Mont Saint-Michel, Saint-Briac-sur-Mer is one of the jewels of the Emerald Coast, combining water sports with the beauty of its countryside and numerous pedestrian pathways. This apartment rental on the Emerald Coast puts you in easy visiting distance of Saint-Briac, an ancient fishing village that has managed to preserve its old neighbourhoods and the beautiful narrow streets that surround its church. As well as fine sand beaches, Saint-Briac has a marina, an 18-hole golf course overlooking the sea, and numerous other activities.
Stays from
€200
Rental from 15/10/22 22/10/22
Studio 2 pers 2 guests
Partez ou soyez remboursés!
Customer reviews
(735)
3,85
735
Sandwiched between the ocean the forest, the seaside resort of Moliets in Les Landes, renowned for its beautiful beaches, invites you to enjoy your holiday with friends or family. An hour away from Biarritz, Moliets is a little slice of paradise with its golf course (ranked 9th in France) that overlooks the village and the huge white sand beach.
Stays from
€200
Rental from 01/10/22 08/10/22
T2/4pers 4 guests
Partez ou soyez remboursés!
Customer reviews
(391)
4,25
391
Between Gironde and the Basque Country, along the Atlantic coast, the resort of Mimizan is located in the heart of the largest pine forest in Europe. The "pearl of the silver coast" welcomes you for peaceful and restful holidays between the ocean and the countryside. 

Mimizan Plage is a village in the Landes on the Atlantic Ocean. There are many cycle paths in this region which will allow you to enjoy long and easy cycle rides through the wild natural surroundings of the Landes region.

You will be able to take advantage of your rental in the Landes to visit: Dax, Mont de Marsan, the Ecomuseum of Grande Landes in Marquèze, Contis lighthouse, a descent of the Courant Huchet (nature reserve), the Landes de Gascogne Regional Nature Park, etc.
Stays from
€200
Rental from 24/09/22 01/10/22
T2/6pers 6 guests
Partez ou soyez remboursés!
Customer reviews
(574)
3,85
574
Mimizan Plage is a village in Les Landes, on the Atlantic coast. The numerous easy bicycle trails in this region will allow you to spend your days biking around the preserved wilderness the Les Landes area.
Stays from
€210
Rental from 17/09/22 24/09/22
Studio 2pers 2 guests
Partez ou soyez remboursés!
Customer reviews
(1064)
3,65
1064
Just a few kilometres from the Pont du Gard, Sauve is a medieval village that is rich in history, as you can see from its 16th Century Pont Vieux bridge, its city walls and ruins, fortified gates, vaults, tall medieval towers, and last but not least, its Hôtel de la Monnaie. From your rental property in the Gard region, explore Nîmes, the Pont de Gard, Alès, Le Vigan,. . . . and choose from a wide range of sightseeing opportunities: visit the fork factory, where utensils are made out of hackberry wood, or the Silk Museum in Saint Hippolyte Du Fort.
Stays from
€220
Rental from 10/09/22 17/09/22
Maison Duplex T3/4pers 4 guests
Partez ou soyez remboursés!
Customer reviews
(2760)
3,8
2760
On the Arcachon Basin, this pedestrian residence is built within a wooded park that enjoys direct access to the beach. The residence is made up of detached and semi-detached houses, split up into two sections of different styles: the "fishing village" with its individual cottages, and the typical Arcachon-style of semi-detached houses.
Stays from
€220
Rental from 01/10/22 08/10/22
T2/4pers Arcachonnais 4 guests
Partez ou soyez remboursés!
Customer reviews
(1472)
3,95
1472
Saint Pol de Léon ,a small, preserved coastal town in the Morlaix Bay, enjoys a breath-taking maritime landscape set against a backdrop of white sand beaches. In town, take the opportunity to marvel at the Early Gothic cathedral , the Kreisker chapel, a number of 16th and 17th century dwellings, or the Boutouiller megalith. Le Finistère with its fjords and north-coast inlets, its extreme, wild, and invigorating nature, its migrating bird populations. Along the coast, the hiking path allows for a spectacular view of the Channel, from Roscoff to the Pointe de Primel. Of all the beaches in the area, Sainte Anne is the most popular.
Stays from
€225
Rental from 17/09/22 24/09/22
Maison Duplex T3/6 pers 6 guests
Partez ou soyez remboursés!
Customer reviews
(1655)
3,95
1655
At the edge of the Pays d'Iroise, midway between Brest and Le Conquet, Loc Maria enjoys a stunning geographical location at the heart of magnificent countryside with 7km of coastline and beaches.   A water-focused but nonetheless very diverse area, Le Finistère and the Breton coastline are known to be one of France's top tourist destinations.
Stays from
€230
Rental from 24/09/22 01/10/22
Maison Duplex T3/6pers 6 guests
Où partir en vacances au soleil quand on a une famille nombreuse ?


La mer : des vacances pour familles nombreuses dynamiques
Vos enfants attendent impatiemment l'été pour retrouver la mer, plonger dans les vagues et faire des châteaux de sable? Optez pour une location de vacances en bord de mer pour passer des moments inoubliables en famille. En Bretagne, en Méditerranée ou sur la côte Atlantique, Nemea propose un large éventail de résidences les pieds dans l'eau.
Avec les mini-clubs, dès 4 ans et le club ado, à partir de 12 ans, vos enfants occupent leurs journées en s'exerçant à la peinture, au beach-volley ou au badminton. Pendant ce temps, détendez-vous dans les espaces bien-être à votre disposition : sauna, hammam, bain à remous. Si vous désirez vous amuser en famille, les piscines et toboggans sauront vous faire passer des instants de franche rigolade!
La campagne : des vacances pour familles nombreuses en quête de calme


Si au contraire, vous préférez éviter l'affluence touristique des stations balnéaires, optez pour des vacances vertes à la campagne. Profitez d'un cadre authentique et reposant pour vous ressourcer. Les résidences Nemea d'Occitanie et de Nouvelle-Aquitaine vous offrent une douceur de vivre, sous le soleil du sud de la France. L'occasion de se remettre en forme et de pratiquer des activités de pleine nature comme l'équitation ou le canoë. Et pourquoi pas une randonnée pour toute la famille? Ne tardez pas à réserver vos prochaines vacances !