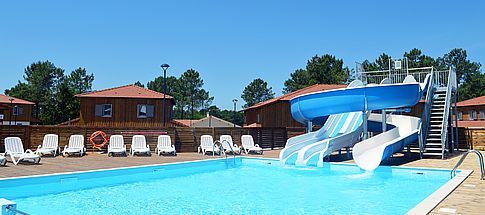 A holiday favourite
From €200 pour un séjour d'une semaine at the residence Les Gourbets from 11/05 to 18/05.
Between Bordeaux and the Basque country, Mimizan is a welcoming, friendly seaside resort in the heart of the Landes area. Mimizan is the ideal place to practice various sporting activities or just to simply relax. With "Station Kid" certification, Mimizan will be a firm favourite with children and their families.

Discover our 4 holiday complexes and access leisure facilities free of charge: heated indoor swimming pool*, heated outdoor swimming pool* with paddling pool and water slide*, sauna*, etc.
*Depending on the complex

Read more

Customer reviews
(169)
4.2
169
Entre Bordeaux et Bayonne, la résidence Le Domaine des Dunes vous accueille dans un ensemble de maisons individuelles. A 800 m de la plage et des commerces, bénéficiez gratuitement d'une piscine extérieure chauffée avec toboggan, d'une piscine intérieure, d'un sauna et d' une salle de gym. GRATUIT - Mini-club (enfants 4-12ans) Juillet et août et Animations sportives ado/adultes en Juillet et août.
Stays from
Exceptional discount
-30%
€290 €203
Rental from 11/05/19 18/05/19
Maison T2/4 pers 4 guests

Customer reviews
(244)
3.6
244
Mimizan Plage is a village in Les Landes, on the Atlantic coast. The numerous easy bicycle trails in this region will allow you to spend your days biking around the preserved wilderness the Les Landes area.
Stays from
€200
Rental from 11/05/19 18/05/19
Studio 2pers 2 guests

Customer reviews
(154)
4.25
154
Between Gironde and the Basque Country, along the Atlantic coast, the resort of Mimizan is located in the heart of the largest pine forest in Europe. The "pearl of the silver coast" welcomes you for peaceful and restful holidays between the ocean and the countryside. 

Mimizan Plage is a village in the Landes on the Atlantic Ocean. There are many cycle paths in this region which will allow you to enjoy long and easy cycle rides through the wild natural surroundings of the Landes region.

You will be able to take advantage of your rental in the Landes to visit: Dax, Mont de Marsan, the Ecomuseum of Grande Landes in Marquèze, Contis lighthouse, a descent of the Courant Huchet (nature reserve), the Landes de Gascogne Regional Nature Park, etc.
Stays from
€305
Rental from 11/05/19 18/05/19
T2/6pers 6 guests

Customer reviews
(27)
4.05
27
Au cœur de Mimizan Plage, à 50 m environ de la plage, la résidence 4 étoiles,  Le Marché de la Plage est composée d'appartements confortablement équipés. Sur place, espace loisirs- détente gratuit avec piscine extérieure chauffée,  bain à remous, salle de remise en forme.

Stays from
€305
Rental from 11/05/19 18/05/19
T2/4pers 4 guests
Discover Mimizan


Between Bordeaux and the Basque country, Mimizan is a welcoming, friendly seaside resort in the heart of the Landes area. Mimizan is the ideal place to practice various sporting activities or just to simply relax. With "Station Kid" certification, Mimizan will be a firm favourite with children and their families.

Discover our 4 holiday complexes and access leisure facilities free of charge: heated indoor swimming pool*, heated outdoor swimming pool* with paddling pool and water slide*, sauna*, etc.
*Depending on the complex