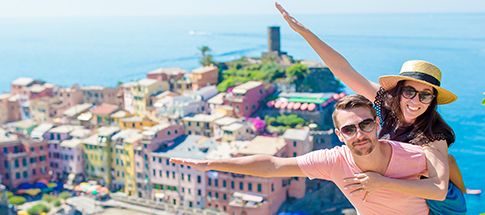 Evadez vous le temps d'un week-end
From €100 pour un séjour de 2 nuits at the residence Les Grands Ax from 18/10 to 20/10.

Customer reviews
(357)
3.7
357
Mimizan Plage is a village in Les Landes, on the Atlantic coast. The numerous easy bicycle trails in this region will allow you to spend your days biking around the preserved wilderness the Les Landes area.
Stays from
€120
Rental from 11/10/19 13/10/19
Studio 2pers 2 guests

Customer reviews
(482)
3.85
482
Sandwiched between the ocean the forest, the seaside resort of Moliets in Les Landes, renowned for its beautiful beaches, invites you to enjoy your holiday with friends or family. An hour away from Biarritz, Moliets is a little slice of paradise with its golf course (ranked 9th in France) that overlooks the village and the huge white sand beach.
Stays from
€150
Rental from 01/11/19 03/11/19
T2/4pers 4 guests

Customer reviews
(648)
4
648
Ax les Thermes is a hot spring resort with 80 springs that are known to have beneficial properties. Situated in the heart of the Ariège Pyrenees in the Midi-Pyrénées region, Ax offers a geographical location that boasts amazing panoramic views, forests, and architectural heritage.
Stays from
€100
Rental from 18/10/19 20/10/19
Studio 2 pers 2 guests

Customer reviews
(665)
3.6
665
Situated on the northern coast of the Ile d'Oléron, Saint Georges d'Oléron is the largest and oldest of the island's villages, bordered by 15km of beaches. The most renowned are the beaches of Plaisance, Gautrelle, and Sables Vignier, and Saint Georges d'Oléron also boasts 2 marinas, Le Douhet and Boyardville.
Stays from
€100
Rental from 04/10/19 06/10/19
Studio 2 pers 2 guests

Customer reviews
(886)
3.55
886
Just a few kilometres from the Pont du Gard, Sauve is a medieval village that is rich in history, as you can see from its 16th Century Pont Vieux bridge, its city walls and ruins, fortified gates, vaults, tall medieval towers, and last but not least, its Hôtel de la Monnaie. From your rental property in the Gard region, explore Nîmes, the Pont de Gard, Alès, Le Vigan,. . . . and choose from a wide range of sightseeing opportunities: visit the fork factory, where utensils are made out of hackberry wood, or the Silk Museum in Saint Hippolyte Du Fort.
Stays from
€100
Rental from 25/10/19 27/10/19
Maison Duplex T3/4pers 4 guests

Customer reviews
(1892)
3.8
1892
On the Arcachon Basin, this pedestrian residence is built within a wooded park that enjoys direct access to the beach. The residence is made up of detached and semi-detached houses, split up into two sections of different styles: the "fishing village" with its individual cottages, and the typical Arcachon-style of semi-detached houses.
Stays from
€100
Rental from 27/09/19 29/09/19
T2/4pers Pêcheur 4 guests

Customer reviews
(1064)
3.9
1064
On the banks of Génos Lake and surrounded by greenery, the Résidence La Soulane is the perfect spot for all summer activities: hiking, paragliding, hang gliding, mountain biking, horse riding, fishing. . . not to mention the thermal spa centre in Balnéa, just a stone's throw away. You may also take this opportunity to explore the Louron Valley, with its rich thousand-year-old history and fascinating heritage. .
Stays from
€100
Rental from 01/11/19 03/11/19
Studio 2 pers 2 guests

Customer reviews
(621)
3.9
621
The Chalets d'Estive in Cauterets. At the edge of the Pyrenees National Park, Cauterets lives in harmony alongside some of the highest-ranked natural sites in France: the Pont d'Espagne, Gaube Lake, and the Oulettes Valley. The huge Vignemale Summit, which reaches 3298m, and the Marcadau Valley are breath-taking spots for hikers of all levels.
Stays from
€100
Rental from 01/11/19 03/11/19
Studio 4 pers 4 guests

La résidence Néméa appart'hotel  est située à seulement quelques minutes à pied de la Place Stanislas. Découvrez les charmes de Nancy à travers son ensemble architectural du XVIIIème siècle, inscrit depuis 1983 par l'UNESCO au Patrimoine Mondial de l'Humanité ! Nancy enchante également par la richesse de ses musées, ses monuments du Moyen-âge au XXIe siècle, en passant par le classicisme de la Place Stanislas et par l'Art Nouveau, la ville a en effet été un des berceaux du mouvement Art Nouveau. Nancy est une ville de parcs et de jardins : elle cultive un héritage botanique légué par son passé. Une promenade dans ses espaces verts vous permettra de revivre les grandes périodes qui ont marqué l'histoire de cette ville : parc de la pépinière, parc Ste Marie, Parc Olry… . Enfin, elle est aussi une étape idéale vers le Luxembourg et la Belgique.
Stays from
€104
Rental from 25/10/19 27/10/19
Studio 2 pers 2 guests

Grâce à son espace bien-être, la résidence Néméa Toulouse Constellation est un lieu de séjour idéal pour une escapade cocooning en couple, en famille ou entre amis. A deux pas de la Cité de l'espace et de "Airbus Visit", la résidence sera l'étape idéale pour découvrir la "Ville Rose" : place du Capitole et salle des Illustres, cloître des Jacobins, basilique St-Sernin, Museum de Toulouse, bateau-mouche sur la Garonne et le Canal du midi, Maison de la violette…
Stays from
€104
Rental from 01/11/19 03/11/19
Studio 2 pers 2 guests
Evadez-vous le temps d'un week-end