Going away for the 14th July weekend? Destination ideas in France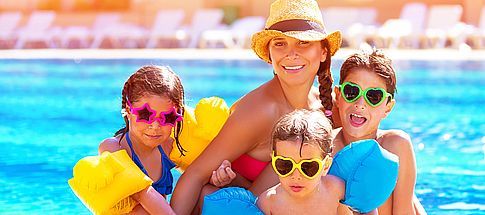 Weekend of 14th July
From €229 pour un séjour de 2 nuits at the residence Bertheaume from 19/07 to 21/07.
How about going away for the 14th July weekend? Relaxation, sun, fun... Whether you are going away as a couple, with friends or family, Nemea properties offer ideal rentals for a perfect break around the 14th July holiday. Are you looking for ideas for destinations? Sea, mountains, countryside? Here is some inspiration!
Read more

Customer reviews
(904)
3.8
904
At the very edge of the Iroise Sea, the town of Plougonvelin holds firmly on to its Breton identity with its fine sandy beaches, jagged coastline, and islands that measure just a few nautical miles in width. Tucked away in the cove of Trez Hir, you find yourself immersed in an ocean of delights.
Stays from
€229
Rental from 19/07/19 21/07/19
T2/4pers 4 guests

Customer reviews
(1590)
4.15
1590
NEW

 

- 

July and August, Mini-club (children 4-12 years) and Sport activities for teenss/adults

 

FREE

Between Pointe du Raz and Quimper, Audierne is a lively family seaside resort in southern Finistère. 

Audierne harbour is a hive of activity, and is a delight for pleasure sailors with its jetties located in the town centre. The lively quaysides are the perfect place for a stroll and for visiting the town's shops, restaurants and historical heritage to be found along its narrow streets. 

Audierne Bay offers magnificent fine sand beaches stretching as far as the eye can see where families will be able to enjoy walking at all times of the year.
Stays from
€248
Rental from 19/07/19 21/07/19
Maison 4pers 4 guests

Customer reviews
(1020)
3.9
1020
Not far from Lubéron, Malaucène is a typical Provençal village, hidden behind its village walls, with fountains and shady cafe terraces.
Stays from
€253
Rental from 19/07/19 21/07/19
Maison T2/4pers 4 guests

Customer reviews
(860)
4
860
Saint Pol de Léon ,a small, preserved coastal town in the Morlaix Bay, enjoys a breath-taking maritime landscape set against a backdrop of white sand beaches. In town, take the opportunity to marvel at the Early Gothic cathedral , the Kreisker chapel, a number of 16th and 17th century dwellings, or the Boutouiller megalith. Le Finistère with its fjords and north-coast inlets, its extreme, wild, and invigorating nature, its migrating bird populations. Along the coast, the hiking path allows for a spectacular view of the Channel, from Roscoff to the Pointe de Primel. Of all the beaches in the area, Sainte Anne is the most popular.
Stays from
€254
Rental from 19/07/19 21/07/19
T2/4pers 4 guests

Customer reviews
(292)
3.65
292
Mimizan Plage is a village in Les Landes, on the Atlantic coast. The numerous easy bicycle trails in this region will allow you to spend your days biking around the preserved wilderness the Les Landes area.
Stays from
€272
Rental from 19/07/19 21/07/19
Studio 2pers 2 guests

Customer reviews
(1121)
3.95
1121
At the edge of the Pays d'Iroise, midway between Brest and Le Conquet, Loc Maria enjoys a stunning geographical location at the heart of magnificent countryside with 7km of coastline and beaches.   A water-focused but nonetheless very diverse area, Le Finistère and the Breton coastline are known to be one of France's top tourist destinations.
Stays from
€275
Rental from 19/07/19 21/07/19
T2/4pers 4 guests

Customer reviews
(567)
3.5
567
Situated on the northern coast of the Ile d'Oléron, Saint Georges d'Oléron is the largest and oldest of the island's villages, bordered by 15km of beaches. The most renowned are the beaches of Plaisance, Gautrelle, and Sables Vignier, and Saint Georges d'Oléron also boasts 2 marinas, Le Douhet and Boyardville.
Stays from
€288
Rental from 19/07/19 21/07/19
Studio 2 pers 2 guests

Customer reviews
(75)
4.05
75
Au cœur de Mimizan Plage, à 50 m environ de la plage, la résidence 4 étoiles,  Le Marché de la Plage est composée d'appartements confortablement équipés. Sur place, espace loisirs- détente gratuit avec piscine extérieure chauffée,  bain à remous, salle de remise en forme.

Stays from
€326
Rental from 19/07/19 21/07/19
T2/4pers 4 guests

Customer reviews
(529)
4.4
529
The only fishing port along the Landaise coast, Capbreton is a dynamic family seaside resort renowned for its beaches and water-based activities.

A stone's throw from the Pays Basque and located right next-door to the festive tourist towns of Biarritz and Bayonne, Capbreton is an ideal location for holidays with family or friends.
Stays from
€342
Rental from 19/07/19 21/07/19
T2/4pers 4 guests

Customer reviews
(846)
3.55
846
Just a few kilometres from the Pont du Gard, Sauve is a medieval village that is rich in history, as you can see from its 16th Century Pont Vieux bridge, its city walls and ruins, fortified gates, vaults, tall medieval towers, and last but not least, its Hôtel de la Monnaie. From your rental property in the Gard region, explore Nîmes, the Pont de Gard, Alès, Le Vigan,. . . . and choose from a wide range of sightseeing opportunities: visit the fork factory, where utensils are made out of hackberry wood, or the Silk Museum in Saint Hippolyte Du Fort.
Stays from
€359
Rental from 19/07/19 21/07/19
Maison Duplex T3/6pers 6 guests
Make the most of the French 14th July holiday to take a break


Benefit from the seaside

Who can resist the pleasures of swimming and beach games? Go and swim in the sea or the ocean, build a sandcastle with the children or simply enjoy a siesta in the shade of a parasol... There are so many ways to benefit from the joys of the seaside. To enjoy the full benefit, choose a property located right on the water's edge in the Landes or Côte d'Azur areas, for example.

Clear your head in the mountains

Ah, the mountains in the summer! Clean air, hikes in lush green valleys, local cooking... So many reasons that more and more people choose the mountains as a summer destination. Discover the charms of the Alps and the Pyrenees during the summer period.

For a short break, it's ideal! If you want to swim, you can always use the swimming pool in the Nemea holiday venues. A real benefit when you are on holiday as your family. It is so great to have fun in the water after a hike in the mountains!

Unwind in the countryside

Are you looking for a destination for the 14th July weekend but want to avoid crowds of holidaymakers? Opt for a holiday home in the countryside. Regions such as the Dordogne, Béarn or Cevennes are very popular even in summer. You can therefore enjoy nature and a relaxing stay.