Discover the Alpilles Regional Nature Park for your holidays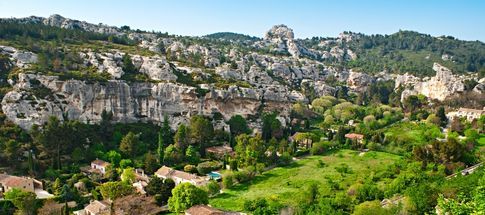 A land with a rich heritage, in the heart of the Bouches-du-Rhône region
Are you spending your holidays in Provence-Alpes-Côte d'Azur? Visit the Alpilles Regional Nature Park during your stay. An opportunity not to be missed! Indeed, you will appreciate the way in which the landscapes of the region achieve a subtle blend of the authenticity of nature and the work of men. In addition, the park is full of activities to discover, whether you are passionate about heritage or just looking for a break in the great outdoors.

Read more
Partez ou soyez remboursés!
Customer reviews
(1027)
3,6
1027
Just a few kilometres from the Pont du Gard, Sauve is a medieval village that is rich in history, as you can see from its 16th Century Pont Vieux bridge, its city walls and ruins, fortified gates, vaults, tall medieval towers, and last but not least, its Hôtel de la Monnaie. From your rental property in the Gard region, explore Nîmes, the Pont de Gard, Alès, Le Vigan,. . . . and choose from a wide range of sightseeing opportunities: visit the fork factory, where utensils are made out of hackberry wood, or the Silk Museum in Saint Hippolyte Du Fort.
Partez ou soyez remboursés!
Customer reviews
(1420)
3,95
1420
Not far from Lubéron, Malaucène is a typical Provençal village, hidden behind its village walls, with fountains and shady cafe terraces.

A 200m de la mer et d'une plage de sable et à 500m à pied du centre de la station, cette résidence propose des hébergements confortables du studio au 2 pièces. Piscine extérieure et bassin pour enfants, animation enfants 6-10 ans en juillet-aout, équipement de fitness outdoor pour les adultes.

Situé près d'une zone Natura 2000 et à 7 kilomètres de Montpellier, Le Lac des Rêves est un véritable écrin de nature loin de l'agitation de la ville. Vous pourrez profiter pleinement du calme et de la nature environnante grâce à des emplacements de 150 m2 en moyenne et aux zones sauvages protégées sur 33 hectares.

The Alpilles Regional Nature Park: a destination of choice


Landscapes shaped by 4,000 years of civilization


Are you a nature lover? During long walks, enjoy the region's unique landscapes. Vast expanses where olive groves give way to vineyards, punctuated by heritage monuments with raw charm. You will also encounter extremely diverse fauna. For example, more than 250 species of birds have made their home in the park, including several species of eagle such as Bonelli's Eagle, and the Great Horned Owl.

As if stepping out of time, this is a holiday that is conducive to escape.

To choose the Alpilles Regional Nature Park is to take a real break during your holidays. This destination is ideal for sporting activities and will delight everyone: hiking, cycling or even horseback riding; climbing or a first flight, there is something for everyone! What better way to punctuate your stay and help you to disconnect from everyday life during your holiday?