Rental in Ille-et-Vilaine by the sea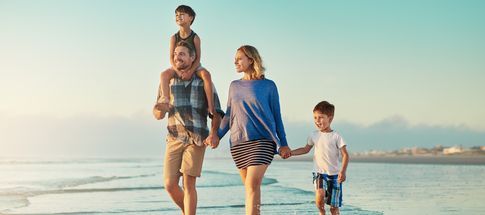 Heasd due west - come and stay in Brittany.
A partir de €200 pour un séjour d'une semaine à la résidence Kermael du 06/01 au 13/01.
It is often said that it rains all the time in Brittany. This couldn't be further from the truth! Bretons don't spend their lives in raincoats! The weather is beautiful for much of the year.Are you familiar with the Sillon beach in Saint-Malo? Or the Verger beach in Cancale? If the answer is no, then it's high time you discovered the Emerald Coast. Its pleasant climate is ideal for walks, water sports and relaxation. At Nemea, we offer rentals holiday in Brittany close to the most beautiful beaches of Ille-et-Vilaine.

Read more


Partez ou soyez remboursés!
Saint Briac-Sur-Mer

Bretagne
Customer reviews
(2914)
3,95
2914
On the Emerald Coast and not far from Dinard, the village of Saint-Briac is a small marina town with several superb beaches and is the perfect spot for a day out. Just 17km from Saint-Malo and 40mins from Mont Saint-Michel, Saint-Briac-sur-Mer is one of the jewels of the Emerald Coast, combining water sports with the beauty of its countryside and numerous pedestrian pathways. This apartment rental on the Emerald Coast puts you in easy visiting distance of Saint-Briac, an ancient fishing village that has managed to preserve its old neighbourhoods and the beautiful narrow streets that surround its church. As well as fine sand beaches, Saint-Briac has a marina, an 18-hole golf course overlooking the sea, and numerous other activities.
Stays from
€200
Rental from 06/01/24 13/01/24
Studio 2 pers 2 guests


Partez ou soyez remboursés!
Saint Malo

Bretagne
Customer reviews
(2278)
3,95
2278
Situated near Dinard on the Emerald Coast, Saint Malo is an old Corsair city now designated an "Art and History Town" and boasting a renowned and dynamic year-round seaside resort. The town is an international sailing capital and received the official label "Sailing Resort" in 1989.

Wind your way around Saint Malo's picturesque roads and explore the charms of its city walls, its ancient ship-owner houses, and the "Fort National". Be sure not to miss the Saint Malo Great Aquarium, a hot spot for biodiversity where visitors can mingle with some of the rarest and most beautiful species in the world.

The town of Saint Malo and its surrounding areas offer a wide range of year-round opportunities for friends and families to relax together and recharge their batteries: golf, horse riding, hiking, thermal baths, water sports,…….
Stays from
€295
Rental from 06/01/24 13/01/24
T2/4pers. 4 guests
Flexible dates ?
Your destination is set
Start a search
or
Flexible about your destination ?
Your dates are set
Start a search
Breathe in the sea air in Ille-et-Vilaine


By the waterside in Saint-Malo

Saint-Malo is an unmissable seaside resort in Ille-et-Vilaine. The corsair city has no shortage of beaches. 16 in total! The Sillon beach is the most well known. Large white sandy beach stretchy a distance3 km, it offers a host of water sports: sand yachting, catamaran sailing...The Bon Secours beach located at the foot of the ramparts has a seawater swimming pool. It offers an exceptional panoramic view of the islets of Grand Bé and Petit Bé. On the west coast, the Pont beach is ideal for families. With very little exposure, it is possible to reach Saint-Malo proper, when the tide permits Stop hesitating and book your holiday in Ille-et-Vilaine
Discover the beaches of the Emerald Coast

Not far from Saint-Malo, pay a visit to the beach at Dinard lock. Located in the city centre, shops and restaurants are not far away. For thrill-seekers, the Longchamp beach in Saint-Lunaire is the ideal playground for surfers. In Cancale, enjoy the vast expanse of sand and taste oysters on Verger Beach. However, you must be careful not to stray too far with the children, as not far from the Pointe de la Moulière there is a naturist area. Then discover the beautiful beach of Anse du Guesclin in Saint-Coulomb and experience the pleasure of fishing at low tide.