Holidays at a campsite with a swimming pool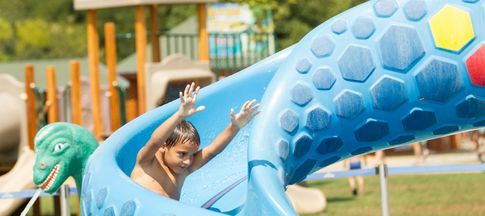 Choose a campsite with a swimming pool for your holiday
Do you want to enjoy a nice holiday at a campsite? Do you want to swim morning, noon and night, without leaving your holiday resort? Choose a campsite with an open, covered or heated swimming pool. In summer and winter, swimming and water games are possible. Careful, you might just like it!
Lire la suite

Condrieu

Rhône-Alpes
Situé au bord du Rhône, le camping atypique des Rives de Condrieu vous proposera différentes animations pour petits et grands (en haute saison). Découvrez le patrimoine culturel de la Vallée du Rhône. Avec 2 bassins de baignade dont un chauffé, une pataugeoire pour les tout petits et un toboggan en colimaçon, le complexe aquatique fait le bonheur de toute la famille.

The residence is currently fully booked.
Prepare your next vacation with one of our advisers
Be called back
OR
Be notified of our next
availability
Flexible dates ?
Your destination is set
Start a search
or
Flexible about your destination ?
Your dates are set
Start a search
Campsite and swimming pool, the winning combo


Make the most of your stay at the campsite thanks to the swimming pool

Do you dream of spending your holidays with your feet in the water without having to take the car to go swimming? Choose a stay at the campsite with a swimming pool. You will be able to combine lazing around and swimming in a completely tranquil environment at any time of the day. Sportier holidaymakers appreciate a daily swim early in the morning, while children love time in the pool when they can play with their friends until the the evening closes in.
Indoor swimming pool

Do you want to book a stay at a campsite with a swimming pool, but are afraid of bad weather spoiling your time by the pool? No such risk with a campsite offering an indoor swimming pool. Often located in a natural and green environment, these facilities offer you the comfort and assurance of being able to swim every day without fear of erratic weather.
Would you like to rediscover the joy of camping and swimming for a weekend or during the short holidays? Choose a campsite equipped with an indoor heated swimming pool and enjoy swimming and bathing as much as you like. It's the best way to pamper yourself during the winter period as you patiently wait for the summer holidays to arrive!