A holiday in Ille et Vilaine, a region you'll fall in love with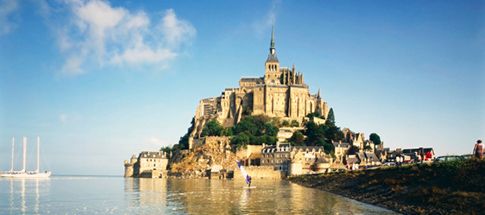 Holiday in Ille et Vilaine
A partir de €190 pour un séjour d'une semaine à la résidence Kermael du 07/01 au 14/01.
Nemea offers several holiday residences for your stay in Ille et Vilaine. Enjoy a residence by the sea, offering a host of facilities: Heated swimming pool, gym, sauna....Come and discover the landscapes of Brittany via its hiking trails. 

Lire la suite
Partez ou soyez remboursés!
Customer reviews
(2371)
3,9
2371
On the Emerald Coast and not far from Dinard, the village of Saint-Briac is a small marina town with several superb beaches and is the perfect spot for a day out. Just 17km from Saint-Malo and 40mins from Mont Saint-Michel, Saint-Briac-sur-Mer is one of the jewels of the Emerald Coast, combining water sports with the beauty of its countryside and numerous pedestrian pathways. This apartment rental on the Emerald Coast puts you in easy visiting distance of Saint-Briac, an ancient fishing village that has managed to preserve its old neighbourhoods and the beautiful narrow streets that surround its church. As well as fine sand beaches, Saint-Briac has a marina, an 18-hole golf course overlooking the sea, and numerous other activities.
Stays from
€190
Rental from 07/01/23 14/01/23
Studio 2 pers 2 guests
Partez ou soyez remboursés!
Customer reviews
(1835)
3,95
1835
Situated near Dinard on the Emerald Coast, Saint Malo is an old Corsair city now designated an "Art and History Town" and boasting a renowned and dynamic year-round seaside resort. The town is an international sailing capital and received the official label "Sailing Resort" in 1989.

Wind your way around Saint Malo's picturesque roads and explore the charms of its city walls, its ancient ship-owner houses, and the "Fort National". Be sure not to miss the Saint Malo Great Aquarium, a hot spot for biodiversity where visitors can mingle with some of the rarest and most beautiful species in the world.

The town of Saint Malo and its surrounding areas offer a wide range of year-round opportunities for friends and families to relax together and recharge their batteries: golf, horse riding, hiking, thermal baths, water sports,…….
Stays from
€280
Rental from 07/01/23 14/01/23
T2/4pers. 4 guests
Flexible dates ?
Your destination is set
or
Flexible about your destination ?
Your dates are set
Ille et Vilaine, a region that will never cease to surprise you!


Ille et Vilaine, a region that will never cease to surprise you!
To visit Brittany is to embark on a journey of discovery. From north to south and from east to west, the region offers a very wide range of landscapes. From the forest of Brocéliande to the cliffs of the Pointe de Plouha via Saint-Malo, the famous corsair city, give into the charms of a land full of character. To allow you to explore the region in the best possible conditions, Nemea offers holiday rentals in Ille et vilaine.
Set a course for Saint-Malo!
Ille et Vilaine is not necessarily the most media-friendly department in Brittany. However, there are a few pearls awaiting your urgent discovery: Rennes and its iconic parliament building, Dinard and its decadent bourgeois houses or Saint-Malo and its ramparts offering a breathtaking view of the English Channel. So why deprive yourself any longer? Book your holiday rental in Brittany by the sea and enjoy an unforgettable stay !
Book your stay in Ille et Vilaine
Treat yourself to a Breton getaway in a holiday home in Saint-Malo! Nemea offers a host of holiday residences in Brittany. You should also know that Brittany is not only a summer destination on offer. You can also spend your winter holidays by the sea and enjoy the region in complete tranquillity.