Holiday rental with swimming pool and water slide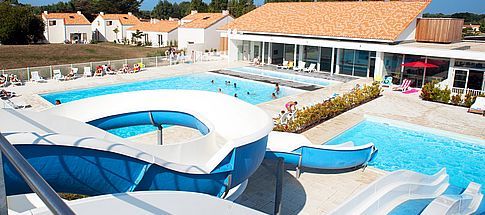 Our complexes with water slides
From €175 pour un séjour d'une semaine at the residence Les Grands Rochers from 26/09 to 03/10.
In summer, just as in winter, it is very pleasant to go on holiday and have access to an indoor swimming pool, sauna, and why not a gym as well? Because holidays are above all about relaxation, taking care of yourself and also remaining active! Discover the facilities dedicated to your well-being.

Read more

Customer reviews
(2020)
4,05
2020
A few kilometres from Les Sables d'Olonne, Olonne-sur-Mer enjoys a strategic position with 250km of coastline split between magnificent beaches and dramatic cliffs. Olonne is a "green", lively, dynamic, and welcoming seaside resort where every guest will find the time to relax. Nature enthusiasts will enjoy the fine sand beaches, forests, and marinas, and for golf lovers, a variety of courses are at your disposal.
Stays from
€175
Rental from 26/09/20 03/10/20
Studio 4 pers 4 guests

Customer reviews
(393)
4,2
393
Entre Bordeaux et Bayonne, la résidence Le Domaine des Dunes vous accueille dans un ensemble de maisons individuelles. A 800 m de la plage et des commerces, bénéficiez gratuitement d'une piscine extérieure chauffée avec toboggan, d'une piscine intérieure, d'un sauna et d' une salle de gym. GRATUIT - Mini-club (enfants 4-12ans) Juillet et août et Animations sportives ado/adultes en Juillet et août.
Stays from
€180
Rental from 19/09/20 26/09/20
Maison T2/4 pers 4 guests

Customer reviews
(1832)
4,15
1832
NEW

 

- 

July and August, Mini-club (children 4-12 years) and Sport activities for teenss/adults

 

FREE

Between Pointe du Raz and Quimper, Audierne is a lively family seaside resort in southern Finistère. 

Audierne harbour is a hive of activity, and is a delight for pleasure sailors with its jetties located in the town centre. The lively quaysides are the perfect place for a stroll and for visiting the town's shops, restaurants and historical heritage to be found along its narrow streets. 

Audierne Bay offers magnificent fine sand beaches stretching as far as the eye can see where families will be able to enjoy walking at all times of the year.
Stays from
€185
Rental from 03/10/20 10/10/20
Maison 4pers 4 guests
Flexible dates ?
Your destination is set
or
Flexible about your destination ?
Your dates are set
Discover our complexes with water slides


The slide, the most popular of water games

During your holidays, do your children spend all their time in the swimming pool or paddling pool and don't stop asking to go on the water slide? It is true that racing down the slides and zipping around the bends before crashing into the pool with great splashes, is a great favourite with children. Such thrills and laughter make for wonderful childhood memories! And if the fancy takes you, you can also have fun and enjoy these crazy slides. Go back to your childhood this summer.

A holiday isn't a holiday without a swimming pool!

The majority of Nemea complexes have a swimming pool. Sometimes you might have a heated outdoor pool as well as an indoor one, that you can use in all weathers. Nemea complexes with pools ensure that the children will have fun like little fish in water all holiday long. Parents will also appreciate the facilities for them. Sauna, jacuzzi, steam room, or gym... these are ways that you can relax and unwind during your holidays.