Holiday rentals on Ile d'Oléron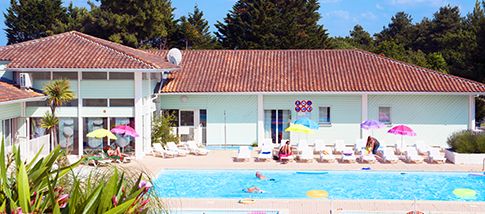 Discover our holiday residences on Ile d'Oléron
From €273 au lieu de €390 pour un séjour d'une semaine at the residence Les Sables Vignier from 13/06 to 20/06.
Whether it's for a winter or summer holiday, the Ile d'Oléron is a very popular destination in all seasons: in fact, the island offers a multitude of activities and sites that are well worth a visit.

Read more

Customer reviews
(752)
3,6
752
Situated on the northern coast of the Ile d'Oléron, Saint Georges d'Oléron is the largest and oldest of the island's villages, bordered by 15km of beaches. The most renowned are the beaches of Plaisance, Gautrelle, and Sables Vignier, and Saint Georges d'Oléron also boasts 2 marinas, Le Douhet and Boyardville.
Stays from
Exceptional discount
-30%
€390 €273
Rental from 13/06/20 20/06/20
Studio 2 pers 2 guests

Customer reviews
(844)
3,9
844
Connected to the mainland by a bridge, Oléron is a magical place for nature lovers and water sport enthusiasts. Situated just opposite La Rochelle, Ile d'Oléron is the largest French island on the Atlantic coast, with 90km of coastline and huge stretches of fine sand beaches. Your rental property on the Ile d'Oléron is in easy visiting distance of:  oyster farms and a chance to sample the famous Marennes d'Oléron oysters, the island's bird sanctuary, the Château d'Oléron and its citadel, sea trips to Fort Boyard, Ile d'Aix, and La Rochelle.
Stays from
Exceptional discount
-30%
€475 €332.50
Rental from 13/06/20 20/06/20
Maison ( plain pied ou duplex) T2/4pers 4 guests
Flexible dates ?
Your destination is set
or
Flexible about your destination ?
Your dates are set
A comfortable holiday on on Ile d'Oléron


A relaxing tourist holiday in Oleron


Ile d'Oléron allows holidaymakers to discover some remarkable tourist spots (fortifications, local architecture, marine vessels or churches), to enjoy swimming on its magnificent beaches, fishing and hiking in a beautifully preserved natural environment, while also discovering new gastronomic delights.
This is why it attracts an increasing number of holidaymakers every year, who come to spend a tourist holiday on Ile d'Oléron. The four corners of the island are waiting to be explored during your stay, such as Saint-Pierre D'oléron, Le grand-village-plage or Dolus d'Oléron.

The island also benefits from a particularly mild climate and boasts exciting ecological riches to be discovered such as the Moëze-Oléron Nature Reserve and the National Forest of Saumonards.
Quality accommodation for your holiday
There are many options for holiday rentals on Ile d'Oléron: holiday residences, gites, guest houses or holiday apartments on Ile d'Oléron - all possible solutions. Holidaymakers can also choose to spend their holidays on Ile d'Oléron by the sea, by renting a Nemea holiday residence.
You thus have a wealth of choice when booking a holiday on Ile d'Oléron, whether during the winter or the summer season, there are bound to be holiday residenceson this island of Charente-Maritime that can make your holiday an unforgettable one.