Use your holidays to explore the beaches of the Mediterranean Sea.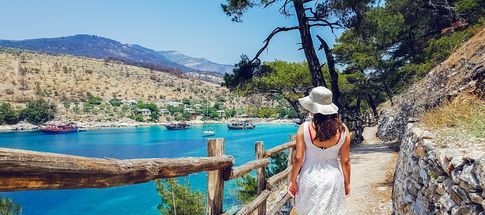 Discover the charms of the Mediterranean
From €186.15 au lieu de €219 pour un séjour d'une semaine at the residence du Golf from 02/01 to 09/01.
The Mediterranean is a destination that gets you dreaming: sun, sand, turquoise water, creeks ... Come and enjoy the charm and warmth of the Mediterranean in all seasons. Discover the various seaside resorts along the coast. Take the opportunity to visit Corsica. The island has magnificent beaches that have just as much to offer as those of the Caribbean. Nemea offers a wide range of seaside rentals in quality holiday residences. Don't hesitate any longer! 

Read more

Customer reviews
(958)
3,8
958
In the heart of the Côte d'Azur (between Nice and Cannes), Cagnes-sur-Mer is a diverse town that is home to a medieval village, a small fishing port, and the Renoir Museum. Life in this charming holiday destination is dictated by a variety of festivals (medieval festival, night-time beach walks. . . colourful markets, swimming, and other water activities. . . not to mention the horse racing season.
Stays from
€215
Rental from 02/01/21 09/01/21
Studio 4 pers 4 guests

Une résidence entièrement rénovée composée d'appartements, du studio au T2, pouvant accueillir entre 1 et 4 personnes. Profitez d'une piscine extérieure chauffée, d'un sauna ainsi que d'une salle de sport.
Stays from
€280
Rental from 05/12/20 12/12/20
Studio 2 pers 2 guests

Customer reviews
(635)
4,2
635
Ideally located only 20 metres from the beach, this air-conditioned residence opens onto a landscaped patio with a heated outdoor pool. During your stay, you will also have free access to the indoor pool, the gym, the hot-tub, and the sauna.

Stays from
€295
Rental from 06/03/21 13/03/21
1-bedroom flat / 4 people 4 guests

Customer reviews
(30)
4,1
30
Classée Monument Historique et labellisée « Patrimoine du 20ème siècle », la résidence de tourisme « Les Carrats » offre un cadre idyllique grâce à son emplacement au bord de la plage et ses 16 kilomètres de sable fin. Cette résidence, dédiée aux piétons et aux vélos, a été réhabilitée dans le respect de son architecture d'origine et s'étend sur 5 hectares entre l'étang de Leucate et la Méditerranée. 
Stays from
€305
Rental from 03/10/20 10/10/20
T2/4 4 guests

Aussi bien pour vos étapes d'affaires que pour vos vacances, cette résidence hôtelière avec piscine intérieure chauffée et salle de fitness vous propose 88 logements entièrement équipés et meublés pour votre confort, du studio au 2 pièces pouvant accueillir de 1 à 4 personnes.

Stays from
€651
Rental from 03/10/20 10/10/20
Chambre Exécutive Double - 2 Pers 2 guests

At the very heart of the Roussillon region, Saint-Cyprien is a charming destination that will seduce you with its 6km of fine sand beaches, sporting and water activities, multiple recreational opportunities, and Catalan culinary delights.
Stays from
Early Booking
-15%
until 30/09/20
€219 €186.15
Rental from 02/01/21 09/01/21
Studio 4 pers Cabine ou Mezzanine 4 guests

À  250  m  de  la  plage,  à  350  m  du  port  et  à  proximité  des  commerces,  la  résidence (piétonne  et  clôturée) est  composée  de  150  maisonnettes mitoyennes et de 23 appartements. Pour vos loisirs  :  Piscine extérieure (25 m x 7m) et pataugeoire (5m x 6m) ouvertes d'avril à octobre selon météo. Ping-pong, pétanque, aire de jeux pour enfants. SPÉCIAL ENFANTS EN JUILLET/AOÛT 1 animateur s'occupe gratuitement des enfants de 6 à 12 ans (du lundi au vendredi matin ou après-midi)

Stays from
Early Booking
-15%
until 30/09/20
€265 €225.25
Rental from 12/12/20 19/12/20
Appart. T2/2pers 2 guests

Sur la côte provençale, au bord de la Méditerranée, Six-Fours-les-Plages est à la fois une station balnéaire et sportive où vous pourrez découvrir la presqu'île de Gaou, la forêt méditerranéenne préservée ou encore l'archipel des Embiez.
Stays from
Early Booking
-15%
until 30/09/20
€310 €263.50
Rental from 06/03/21 13/03/21
T2/4pers 4 guests

À 1 km de la plage, à proximité des commerces saisonniers, à 4 km du centre de Torreilles, la résidence est composée de 84 maisons mitoyennes au charme méditerranéen. Parking. Pour vos loisirs - Gratuit : Piscine chauffée (sauf juillet/août) de 150 m² et pataugeoire (ouvertes d'avril à octobre selon météo). Espace fitness. Aire de jeux pour enfants. Ping-pong. Pétanque.

Stays from
Early Booking
-15%
until 30/09/20
€355 €301.75
Rental from 19/12/20 26/12/20
Maison T2/4pers Duplex 4 guests

From the Gulf of Saint-Tropez, sheltered from the winds by the Massif des Maures mountain range, explore Sainte-Maxime: its old town centre with cobbled streets, its magnificent promenade, fine sand beaches, marina, and year round peaceful way of life. Located 300m from the town centre, local businesses, and casino, and 150km from the beach, the Résidence Port Marine is made up of apartments decorated in Mediterranean style and Provençal tones.
Stays from
Early Booking
-15%
until 30/09/20
€385 €327.25
Rental from 06/03/21 13/03/21
T2/4pers 4 guests
The Mediterranean: a must-see destination for your upcoming holiday


Marseille, Saint Tropez, Canet-Plage...choose a seaside resort for your holidays

Not far from Saint Tropez, the Escalet beach in Ramatuelle offers an excellent playground for scuba diving enthusiasts. It also offers ideal conditions for paddle boarding. In Marseille, the Bonneveine beach is appreciated by families on account of its playgrounds dedicated to children. Further west, on the Palavas-les-Flots side, walk along the Albatros beach and breathe in the fresh sea air. Discover water sports at Canet-Plage: scuba diving, paddle boarding, surfing, water skiing. You're going to love your holiday in the Mediterranean. 


Corsica, a must-see island in the Mediterranean Sea

Corsica is famous for its very beautiful beaches: wild, family-oriented, natural or even secret...You will find something to your taste! In the south of the island, in Porto-Vecchio, Palombaggia beach is not to be missed. Bordered by pine trees, it has very fine sand and crystal-clear water. In the shape of a shell, the Rondinara Beach in Bonifacio is suitable for families. If you are looking for wild scenery, the Ostriconi beach to the north of Calvi is a place you will not forget. For the more motivated, this is the starting point of the sentier des douanier hiking trail.