Holidays for well-being with Nemea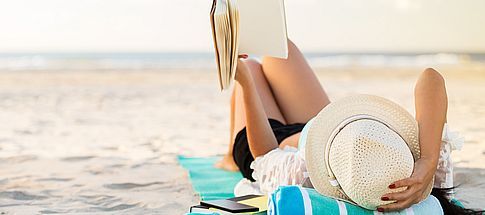 holidays for relaxation
Rest, relaxation, lazy days... Holidays are the ideal time to relax and take care of yourself. Are you looking for the ideal destination for well-being holidays? Discover the comfort and services offered at Nemea properties.

The past year has been full and you are now impatient to recharge your batteries with your summer holiday. We have good news: Nemea properties await you all over France, whatever destination you desire: the sea, the mountain or the countryside. Warm and welcoming, Nemea properties offer various facilities, designed so that you will have relaxing and fun holidays.


Well-being and relaxation services at Nemea properties

On holiday, swimming every day is a good way to unwind and relax. This is why Nemea makes indoor or outdoor heated pools freely available for their guests. In most complexes, you can access a well-being area with sauna, steam room and jacuzzi. Options to eliminate the stress and fatigue that has built up all year! As well as being relaxing, the steam room and sauna are known for their "detox" benefits. Some Nemea properties also have spa type treatments available such as massages and other treatments. An opportunity to pamper yourself during your holidays!

Read more

Customer reviews
(637)
3,7
637
Tucked away in the greenery at the heart of the Pyrenees National Park, Peyragudes overlooks the Louron and Larboust valleys. This Pyrenees resort is an ideal holiday spot if you're interested in trying out a variety of sporting activities: hiking, climbing, horse riding, mountain biking, rafting, white-water rafting, paragliding… Peyragudes also offers to each and every one of its visitors a glimpse into its precious wildlife, with the opportunity to spot protected species such as bears and golden eagles.
Stays from
Early Booking
-20%
until 15/05/20
€255 €204
Rental from 22/08/20 29/08/20
Studio 2 pers 2 guests

Customer reviews
(336)
4
336
At the edge of the Spanish border, Bonascre is a great starting point for a number of magnificent hikes. This destination will allow to explore, on foot or on horseback, the Ax and Chioula Valleys and the Orlu National Wildlife Reserve, and to enjoy a variety of sporting activities.
Stays from
Early Booking
-20%
until 15/05/20
€260 €208
Rental from 27/06/20 04/07/20
Studio 2 pers 2 guests

Customer reviews
(270)
3,65
270
Against a magnificent backdrop of mountains, Peyragudes is a small, lively resort in the Pyrenees, ideally situated for hiking or for exploring the heritage of the Louron Valley.
Stays from
Early Booking
-20%
until 15/05/20
€275 €220
Rental from 22/08/20 29/08/20
Studio 4 pers 4 guests

Customer reviews
(1166)
3,95
1166
On the banks of Génos Lake and surrounded by greenery, the Résidence La Soulane is the perfect spot for all summer activities: hiking, paragliding, hang gliding, mountain biking, horse riding, fishing. . . not to mention the thermal spa centre in Balnéa, just a stone's throw away. You may also take this opportunity to explore the Louron Valley, with its rich thousand-year-old history and fascinating heritage. .
Stays from
€155
Rental from 19/09/20 26/09/20
Studio 2 pers 2 guests

Customer reviews
(644)
3,9
644
The Chalets d'Estive in Cauterets. At the edge of the Pyrenees National Park, Cauterets lives in harmony alongside some of the highest-ranked natural sites in France: the Pont d'Espagne, Gaube Lake, and the Oulettes Valley. The huge Vignemale Summit, which reaches 3298m, and the Marcadau Valley are breath-taking spots for hikers of all levels.
Stays from
€170
Rental from 19/09/20 26/09/20
Studio 4 pers 4 guests

Customer reviews
(532)
3,95
532
Situated in the heart of the Regional Natural Park of the Catalan Pyrenees, between France and Spain, Font-Romeu is a natural playground that provides a wide variety of outdoor activities: footpaths or bike trails (mountain bikes), horse riding, climbing, paragliding,… You can also visit the solar furnace in Odeillo, the historic citadel of Mont-Louis, or the region's various Roman churches, or simply appreciate the peace and quiet of the Eastern Pyrenees.
Stays from
€175
Rental from 12/09/20 19/09/20
Studio 4 pers 4 guests

Customer reviews
(578)
3,8
578
A few kilometres from Megève, Flumet is a crossroads for tourists on the Route des Grandes Alpes. In the summer, at the heart of the town, a fully-equipped swimming and relaxation area blends in with the Arrondine recreation centre and its sporting facilities and children's games. Flumet also offers many other activities: walking, mountain biking, fishing,. . . and the summer season is broken up by several traditional festivals.
Stays from
€175
Rental from 22/08/20 29/08/20
T2/4pers 4 guests

Customer reviews
(1973)
4,05
1973
A few kilometres from Les Sables d'Olonne, Olonne-sur-Mer enjoys a strategic position with 250km of coastline split between magnificent beaches and dramatic cliffs. Olonne is a "green", lively, dynamic, and welcoming seaside resort where every guest will find the time to relax. Nature enthusiasts will enjoy the fine sand beaches, forests, and marinas, and for golf lovers, a variety of courses are at your disposal.
Stays from
€175
Rental from 26/09/20 03/10/20
Studio 4 pers 4 guests

Customer reviews
(969)
3,7
969
Situated in the heart of the Alps, between Mont Blanc and Lake Léman, Chatel is a family village resort just a short distance from the French-Swiss border.

Diverse countryside and a wide range of activities: Mountain Biking, Via Ferrata, summer tobogganing, hiking, giant zip lining, fishing and whitewater sports make this resort an ideal location for a holiday with family or friends.
Stays from
€175
Rental from 12/09/20 19/09/20
T2/4pers 4 guests

Customer reviews
(393)
4,2
393
Entre Bordeaux et Bayonne, la résidence Le Domaine des Dunes vous accueille dans un ensemble de maisons individuelles. A 800 m de la plage et des commerces, bénéficiez gratuitement d'une piscine extérieure chauffée avec toboggan, d'une piscine intérieure, d'un sauna et d' une salle de gym. GRATUIT - Mini-club (enfants 4-12ans) Juillet et août et Animations sportives ado/adultes en Juillet et août.
Stays from
€180
Rental from 19/09/20 26/09/20
Maison T2/4 pers 4 guests
Holidays for well-being with Nemea


Well-being holiday in France

Each Nemea property can offer top-notch facilities which you can access free of charge and whenever you want. Unwind in one of our large indoor or outdoor heated swimming pools. Relax in steam rooms, saunas or hot tubs after long days out or hikes. Take care of yourself in gyms (exercise bikes, cross trainers, running machines, etc.), which are in good condition and waiting for you so you can gently keep fit.

At the welcome desk, you will find an attentive ear, ready to advise you on the activities available nearby. Bike rides, long hikes to explore nature, unique visits or activities: nothing is better than getting outdoors and relaxing after your busy year.


Comfortable individual holiday rentals

On holiday, there is no time to think about anything other than your activities. Nemea rentals has understood this. When you make your booking, you will benefit from an apartment or private house for the whole duration of your stay. With tasteful interior decor, matching the atmosphere of the local area, Nemea has designed the bedrooms, living area, kitchenette to be well-equipped with fridge, hob, microwave and dish-washer. Ideal to share meals as a family or with friends, at midday or during a peaceful evening inside. 


Comfort above all

Nemea does everything possible to make sure you have a relaxing holiday. As much indoors as outdoors. Most properties are located in the countryside, near to the mountains or sea, in order to ensure a perfect setting for rest and relaxation. To relax, there is nothing better than physical exercise in nature, such as horse or bike rides and hikes. If you are looking in particular for peace during your holiday, opt for a pedestrianised venue to ensure even more tranquillity. Finally, to perfect your well-being experience, Nemea provides quality bed linen. Yes, a comfortable sleep is the first step towards relaxation!

Searching for a holiday rental for a well-being break? Nemea's advisors are waiting to help you! Don't hesitate to contact them.