Well-being holidays with Nemea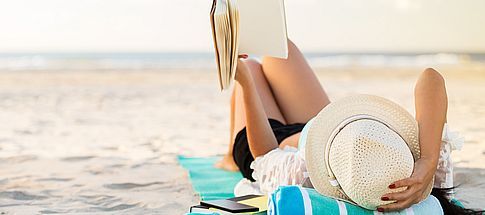 holidays go hand in hand with relaxation
Relaxation, rest, time spent doing nothing... holidays are the ideal time to unwind and take care of yourself. Are you looking for the ideal destination for a well-being holiday? Discover the comfort and services offered at Nemea holiday residences.

The past year has been a busy one and you are now eager to recharge your batteries with a summer holiday. We have good news: Nemea holiday residences await all over France, whatever destination you desire: the sea, the mountains or the countryside. Warm and welcoming, Nemea holiday residences offer a wide range of facilities, designed to make your holiday as relaxing as it is fun.


Well-being and relaxation services at Nemea holiday residences

When on holiday, swimming every day is a good way to unwind and relax. That is why Nemea provides its guests with heated indoor and outdoor swimming pools free of charge. In most of the holiday residences you can make use of a wellness area with sauna, steam room, hot tub... There are a host of different ways to eliminate the stress and fatigue accumulated throughout the year! As well as being relaxing, the steam room and sauna are known for their "detox" benefits. Some Nemea holiday residences also offer spa-type treatments such as massages. A chance to pamper yourself during the holidays!
Read more

Customer reviews
(1238)
3,95
1238
On the banks of Génos Lake and surrounded by greenery, the Résidence La Soulane is the perfect spot for all summer activities: hiking, paragliding, hang gliding, mountain biking, horse riding, fishing. . . not to mention the thermal spa centre in Balnéa, just a stone's throw away. You may also take this opportunity to explore the Louron Valley, with its rich thousand-year-old history and fascinating heritage. .
Stays from
€155
Rental from 19/09/20 26/09/20
Studio 2 pers 2 guests

Customer reviews
(668)
3,9
668
The Chalets d'Estive in Cauterets. At the edge of the Pyrenees National Park, Cauterets lives in harmony alongside some of the highest-ranked natural sites in France: the Pont d'Espagne, Gaube Lake, and the Oulettes Valley. The huge Vignemale Summit, which reaches 3298m, and the Marcadau Valley are breath-taking spots for hikers of all levels.
Stays from
€170
Rental from 19/09/20 26/09/20
Studio 4 pers 4 guests

Customer reviews
(610)
3,8
610
A few kilometres from Megève, Flumet is a crossroads for tourists on the Route des Grandes Alpes. In the summer, at the heart of the town, a fully-equipped swimming and relaxation area blends in with the Arrondine recreation centre and its sporting facilities and children's games. Flumet also offers many other activities: walking, mountain biking, fishing,. . . and the summer season is broken up by several traditional festivals.
Stays from
€175
Rental from 22/08/20 29/08/20
T2/4pers 4 guests

Customer reviews
(2020)
4,05
2020
A few kilometres from Les Sables d'Olonne, Olonne-sur-Mer enjoys a strategic position with 250km of coastline split between magnificent beaches and dramatic cliffs. Olonne is a "green", lively, dynamic, and welcoming seaside resort where every guest will find the time to relax. Nature enthusiasts will enjoy the fine sand beaches, forests, and marinas, and for golf lovers, a variety of courses are at your disposal.
Stays from
€175
Rental from 26/09/20 03/10/20
Studio 4 pers 4 guests

Customer reviews
(1034)
3,7
1034
Situated in the heart of the Alps, between Mont Blanc and Lake Léman, Chatel is a family village resort just a short distance from the French-Swiss border.

Diverse countryside and a wide range of activities: Mountain Biking, Via Ferrata, summer tobogganing, hiking, giant zip lining, fishing and whitewater sports make this resort an ideal location for a holiday with family or friends.
Stays from
€175
Rental from 12/09/20 19/09/20
T2/4pers 4 guests

Customer reviews
(393)
4,2
393
Entre Bordeaux et Bayonne, la résidence Le Domaine des Dunes vous accueille dans un ensemble de maisons individuelles. A 800 m de la plage et des commerces, bénéficiez gratuitement d'une piscine extérieure chauffée avec toboggan, d'une piscine intérieure, d'un sauna et d' une salle de gym. GRATUIT - Mini-club (enfants 4-12ans) Juillet et août et Animations sportives ado/adultes en Juillet et août.
Stays from
€180
Rental from 19/09/20 26/09/20
Maison T2/4 pers 4 guests

Customer reviews
(752)
3,6
752
Situated on the northern coast of the Ile d'Oléron, Saint Georges d'Oléron is the largest and oldest of the island's villages, bordered by 15km of beaches. The most renowned are the beaches of Plaisance, Gautrelle, and Sables Vignier, and Saint Georges d'Oléron also boasts 2 marinas, Le Douhet and Boyardville.
Stays from
€190
Rental from 26/09/20 03/10/20
Studio 2 pers 2 guests

Customer reviews
(1008)
3,8
1008
At the foot of Mont Blanc in the Haut Giffre Valley, Samoëns is a typical Haut-Savoyard village built around its 11th century church, its shaded village square, and its covered markets. In the village of Samoëns itself, the Haut-Savoyard-style residence is a perfect fit for hiking and nature enthusiasts.
Stays from
€190
Rental from 05/09/20 12/09/20
Studio 4 pers 4 guests

Customer reviews
(844)
3,9
844
Connected to the mainland by a bridge, Oléron is a magical place for nature lovers and water sport enthusiasts. Situated just opposite La Rochelle, Ile d'Oléron is the largest French island on the Atlantic coast, with 90km of coastline and huge stretches of fine sand beaches. Your rental property on the Ile d'Oléron is in easy visiting distance of:  oyster farms and a chance to sample the famous Marennes d'Oléron oysters, the island's bird sanctuary, the Château d'Oléron and its citadel, sea trips to Fort Boyard, Ile d'Aix, and La Rochelle.
Stays from
€195
Rental from 19/09/20 26/09/20
Maison ( plain pied ou duplex) T2/4pers 4 guests

Customer reviews
(230)
4,25
230
Between Gironde and the Basque Country, along the Atlantic coast, the resort of Mimizan is located in the heart of the largest pine forest in Europe. The "pearl of the silver coast" welcomes you for peaceful and restful holidays between the ocean and the countryside. 

Mimizan Plage is a village in the Landes on the Atlantic Ocean. There are many cycle paths in this region which will allow you to enjoy long and easy cycle rides through the wild natural surroundings of the Landes region.

You will be able to take advantage of your rental in the Landes to visit: Dax, Mont de Marsan, the Ecomuseum of Grande Landes in Marquèze, Contis lighthouse, a descent of the Courant Huchet (nature reserve), the Landes de Gascogne Regional Nature Park, etc.
Stays from
€195
Rental from 26/09/20 03/10/20
T2/6pers 6 guests
Well-being holidays with Nemea


Each Nemea holiday residence offers top-notch facilities, which you can access free of charge and whenever you want. Unwind in one of our large indoor or outdoor heated swimming pools. Relax in steam rooms, saunas or hot tubs after long days out or long hikes. Take care of yourself in gyms, in which machines (bikes, cross-trainers, mats...) await, in excellent condition, allowing you to ease you way back into shape.



At the welcome desk, you will find an attentive ear, ready to advise you on the activities available nearby. Bike rides, long hikes to explore nature, unique sightseeing attractions or activities: nothing is better than getting outdoors and relaxing after a busy year.


Comfortable and unique holiday rentals

On holiday, there is no time to think about anything other than your planned activities. The Nemea holiday residences have grasped this fact. When you book a holiday residence, you will benefit from an apartment or detached house for the entire duration of your stay. With tasteful interior decor, matching the atmosphere of the local area, Nemea has designed the bedrooms, living area, kitchenette to be well-equipped with a fridge, a hob, a microwave and even a dish-washer. Ideal for sharing meals with family or friends, at lunchtime or during quiet evenings. 


Comfort first and foremost

Nemea does everything possible to make sure you have a relaxing holiday. As much indoors as outdoors. Most of the holiday residences are set amongst nature, close to the mountains or the sea, so as to offer the perfect setting for relaxation and rest. If you need to relax, there is nothing better than physical exercise in nature, such as a horse or bike ride, or a hike. If your priority during your holiday is peace and quiet, opt for a pedestrianised holiday residence to ensure even more tranquillity. Finally, to perfect your well-being experience, Nemea provides quality bed linen. Yes, a comfortable sleep is the first step towards relaxation!

Looking for a holiday residence for a well-being stay? Nemea's advisors are waiting to help you! Do not hesitate to contact them.