Optez pour une location de dernière minute à la mer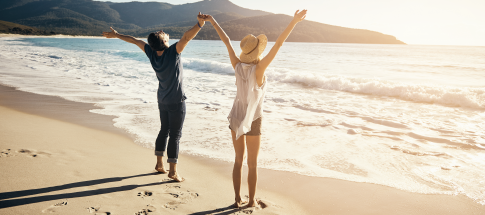 Envie d'une location de vacances de dernière minute à la mer ?
Vous rêvez de mer, de chaleur et de farniente?? Une envie subite de plage, les pieds dans l'eau à la dernière minute?? Vous êtes au bon endroit. Voici quelques conseils, pistes et astuces pour trouver une location en bord de mer, à un prix tout à fait abordable et en réservation de dernière minute. En effet, il est de plus en plus fréquent d'opter pour un départ improvisé, anticipé à peine quelques jours à l'avance. Nemea s'est adapté à ces nouvelles pratiques et propose tout au long de l'année de belles opportunités. Des résidences de vacances avec jardin, piscine extérieure, équipements sportifs, des appartements tout équipés avec balcon ou terrasse à deux pas de la mer… l'offre est très variée et risque bien de vous séduire. Mais, pour trouver la perle rare qui va vous faire vibrer pour un prix tout à fait attractif, voici quelques éléments à prendre en considération : la période, la distance à parcourir, le type de logement et la région.

Read more
Partez ou soyez remboursés!
Customer reviews
(1406)
3,9
1406
Des appartements Premium et Premium + spacieux et décorés avec goût et un large confort inclus. Dès Pâques, bénéficiez librement d'une grande piscine chauffée en extérieur. Toute l'année un sauna, hammam, des bains à remous ainsi qu'une salle de sport et de nombreuses autres prestations gratuites vous y attendent.
Partez ou soyez remboursés!
Customer reviews
(1705)
3,9
1705
At the edge of the Pays d'Iroise, midway between Brest and Le Conquet, Loc Maria enjoys a stunning geographical location at the heart of magnificent countryside with 7km of coastline and beaches.   A water-focused but nonetheless very diverse area, Le Finistère and the Breton coastline are known to be one of France's top tourist destinations.
Partez ou soyez remboursés!
Customer reviews
(1669)
3,95
1669
At the very edge of the Iroise Sea, the town of Plougonvelin holds firmly on to its Breton identity with its fine sandy beaches, jagged coastline, and islands that measure just a few nautical miles in width. Tucked away in the cove of Trez Hir, you find yourself immersed in an ocean of delights.
Partez ou soyez remboursés!
Customer reviews
(1554)
3,95
1554
Saint Pol de Léon ,a small, preserved coastal town in the Morlaix Bay, enjoys a breath-taking maritime landscape set against a backdrop of white sand beaches. In town, take the opportunity to marvel at the Early Gothic cathedral , the Kreisker chapel, a number of 16th and 17th century dwellings, or the Boutouiller megalith. Le Finistère with its fjords and north-coast inlets, its extreme, wild, and invigorating nature, its migrating bird populations. Along the coast, the hiking path allows for a spectacular view of the Channel, from Roscoff to the Pointe de Primel. Of all the beaches in the area, Sainte Anne is the most popular.
Partez ou soyez remboursés!
Customer reviews
(2818)
3,8
2818
On the Arcachon Basin, this pedestrian residence is built within a wooded park that enjoys direct access to the beach. The residence is made up of detached and semi-detached houses, split up into two sections of different styles: the "fishing village" with its individual cottages, and the typical Arcachon-style of semi-detached houses.
Partez ou soyez remboursés!
Customer reviews
(2299)
3,9
2299
On the Emerald Coast and not far from Dinard, the village of Saint-Briac is a small marina town with several superb beaches and is the perfect spot for a day out. Just 17km from Saint-Malo and 40mins from Mont Saint-Michel, Saint-Briac-sur-Mer is one of the jewels of the Emerald Coast, combining water sports with the beauty of its countryside and numerous pedestrian pathways. This apartment rental on the Emerald Coast puts you in easy visiting distance of Saint-Briac, an ancient fishing village that has managed to preserve its old neighbourhoods and the beautiful narrow streets that surround its church. As well as fine sand beaches, Saint-Briac has a marina, an 18-hole golf course overlooking the sea, and numerous other activities.
Partez ou soyez remboursés!
Customer reviews
(593)
3,9
593
Mimizan Plage is a village in Les Landes, on the Atlantic coast. The numerous easy bicycle trails in this region will allow you to spend your days biking around the preserved wilderness the Les Landes area.
Partez ou soyez remboursés!
Customer reviews
(764)
3,85
764
Sandwiched between the ocean the forest, the seaside resort of Moliets in Les Landes, renowned for its beautiful beaches, invites you to enjoy your holiday with friends or family. An hour away from Biarritz, Moliets is a little slice of paradise with its golf course (ranked 9th in France) that overlooks the village and the huge white sand beach.
Partez ou soyez remboursés!
Customer reviews
(2063)
4,1
2063
NEW

 

- 

July and August, Mini-club (children 4-12 years) and Sport activities for teenss/adults

 

FREE

Between Pointe du Raz and Quimper, Audierne is a lively family seaside resort in southern Finistère. 

Audierne harbour is a hive of activity, and is a delight for pleasure sailors with its jetties located in the town centre. The lively quaysides are the perfect place for a stroll and for visiting the town's shops, restaurants and historical heritage to be found along its narrow streets. 

Audierne Bay offers magnificent fine sand beaches stretching as far as the eye can see where families will be able to enjoy walking at all times of the year.
Partez ou soyez remboursés!
Customer reviews
(1366)
4,35
1366
The only fishing port along the Landaise coast, Capbreton is a dynamic family seaside resort renowned for its beaches and water-based activities.

A stone's throw from the Pays Basque and located right next-door to the festive tourist towns of Biarritz and Bayonne, Capbreton is an ideal location for holidays with family or friends.
Des vacances pas cher à la mer


Trouvez une location à la dernière minute à petit prix
Pour trouver une location de vacances à la dernière minute à un tarif abordable, mieux vaut éviter les périodes d'affluence. En effet, les vacances scolaires, et notamment celles de juillet - août, sont les périodes les plus onéreuses. Donc idéalement, on part en décalé, hors vacances scolaires ou encore pour des week-ends ou des ponts. Cependant, en last minute, il est possible de bénéficier d'un désistement proposé à un prix préférentiel. Alors, ouvrez l'œil! Voilà pour la première astuce. 
La seconde astuce est d'opter pour une résidence toute équipée et bien placée. Cela vous permettra de faire des économies puisque, généralement dotées d'équipements de plein air, sportifs et de loisirs, elles offrent la possibilité aux petits comme aux grands de se divertir sur place et de ne pas avoir à reprendre la voiture. Si en plus votre logement se situe à quelques pas de la plage, c'est tout bénéfice. Et enfin, cherchez une location de vacances à la mer de dernière minute pas trop loin de votre domicile pour économiser les frais de carburants et de déplacement. Donc, une fois la région judicieusement sélectionnée, vous allez pouvoir accéder à un large choix de résidences de vacances que nous vous présentons sans plus tarder.
Optez pour la Méditerranée, la Bretagne ou les Landes les pieds dans l'eau
L'avantage des vacances à la mer, c'est qu'elles peuvent se dérouler dans un grand nombre de régions françaises. En effet, dotée d'un immense littoral, la France offre de nombreuses idées de séjours en Méditerranée ou sur la côte Atlantique. Dans le premier cas, les possibilités s'étendent de Perpignan à Nice, dans le second, c'est une longue ligne de sable qui part de Biarritz à Arcachon, ou encore plus au nord, la mer découpe tout le littoral breton et normand. Petit zoom sur les opportunités de location sur la grande bleue ou sur la côte atlantique sud et nord.
Improviser des vacances en Méditerranée c'est possible. Il existe en effet un certain nombre de locations situées près de la plage et dotées d'équipements qui plairont aux parents comme aux enfants. Soleil, sable, calanques, mer turquoise et fonds marins riches d'une belles diversité de poissons vont faire rêver les vacanciers en mal de farniente et de nouveautés. De Cannes à Biot Sophia Antipolis en passant par Cagnes-sur-Mer ou Port-Leucate, voilà un large choix de résidences de vacances toutes équipées de piscines extérieures et situées à quelques mètres de la plage. De quoi offrir de longues heures de baignade, de jeux et de repos aux petits comme aux grands.

Trouver une location de dernière minute dans les Landes et profiter des joies de la baignade dans l'océan pour se ressourcer au cœur d'un littoral préservé, c'est également possible. D'autant qu'en vous y prenant à la dernière minute, vous risquez bien de trouver des logements encore disponibles et à de petits prix. Là aussi, regardez du côté de Mimizan Plage, de Capbreton ou d'Arès, tout près du bassin d'Arcachon, de belles résidences vous tendent les bras. Un peu plus au nord, c'est avec une location en Bretagne de dernière minute que nous vous proposons de poser vos valises. Locmaria-Plouzané à 20 m de la plage, les appartements avec vue sur mer de Plougonvelin, les cottages de Saint-Pol-de-Léon ou encore Saint-Briac-sur-Mer tout proche du Mont-Saint-Michel et du Cap Fréhel vont vous enchanter. Ou bien c'est une location de dernière minute en Vendée qui vous tente ? Là aussi vous avez le choix. Alors, décidé, vous partez en last minute à la mer ?