Location dernière minute Finistère : Nos offres de location de vacances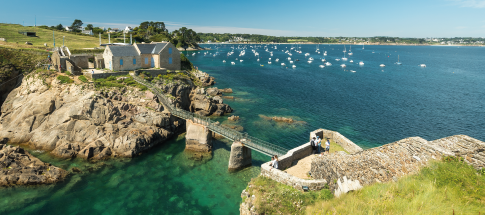 Vos vacances dans le Finistère : changez d'atmosphère
Le Finistère est la destination parfaite pour les amoureux des sites côtiers. Criques et eaux cristallines : les plages offrent des paysages sauvages et préservés. Musée national de la Marine, baie de Morlaix, ville close de Concarneau : le Finistère possède un patrimoine historique et culturel très riche. Amour de la terre et tradition maritime sont conciliés dans ce territoire avancé dans l'océan. Trouvez la location de vacances de dernière minute qui vous correspond.

Read more
Partez ou soyez remboursés!
Customer reviews
(1705)
3,9
1705
At the edge of the Pays d'Iroise, midway between Brest and Le Conquet, Loc Maria enjoys a stunning geographical location at the heart of magnificent countryside with 7km of coastline and beaches.   A water-focused but nonetheless very diverse area, Le Finistère and the Breton coastline are known to be one of France's top tourist destinations.
Partez ou soyez remboursés!
Customer reviews
(1669)
3,95
1669
At the very edge of the Iroise Sea, the town of Plougonvelin holds firmly on to its Breton identity with its fine sandy beaches, jagged coastline, and islands that measure just a few nautical miles in width. Tucked away in the cove of Trez Hir, you find yourself immersed in an ocean of delights.
Partez ou soyez remboursés!
Customer reviews
(1554)
3,95
1554
Saint Pol de Léon ,a small, preserved coastal town in the Morlaix Bay, enjoys a breath-taking maritime landscape set against a backdrop of white sand beaches. In town, take the opportunity to marvel at the Early Gothic cathedral , the Kreisker chapel, a number of 16th and 17th century dwellings, or the Boutouiller megalith. Le Finistère with its fjords and north-coast inlets, its extreme, wild, and invigorating nature, its migrating bird populations. Along the coast, the hiking path allows for a spectacular view of the Channel, from Roscoff to the Pointe de Primel. Of all the beaches in the area, Sainte Anne is the most popular.
Partez ou soyez remboursés!
Customer reviews
(2063)
4,1
2063
NEW

 

- 

July and August, Mini-club (children 4-12 years) and Sport activities for teenss/adults

 

FREE

Between Pointe du Raz and Quimper, Audierne is a lively family seaside resort in southern Finistère. 

Audierne harbour is a hive of activity, and is a delight for pleasure sailors with its jetties located in the town centre. The lively quaysides are the perfect place for a stroll and for visiting the town's shops, restaurants and historical heritage to be found along its narrow streets. 

Audierne Bay offers magnificent fine sand beaches stretching as far as the eye can see where families will be able to enjoy walking at all times of the year.
Partez en vacances dans le Finistère du jour au lendemain


Vivez une expérience hors du commun lors de votre séjour dans le Finistère
Gagnez du temps sans aucun stress grâce à votre location en Bretagne de dernière minute. Vous souhaitez plutôt profiter de journées à la plage, arpenter les terres d'une nature préservée ou pratiquer des activités nautiques ? Vous n'avez pas besoin de choisir. Pour vos randonnées entre terre et mer, misez sur le charme des îles. Belle-Île, Bréhat, Houat, Ouessant, Sein sont de véritables havres de paix pour vous ressourcer. Profitez de votre location de dernière minute dans le Finistère pour faire une escale à Quimper ou à Pont-Aven. Dégustez-y les galettes de sarrasin et le fameux kouign-amann. 
Votre location de dernière minute dans le Finistère
Dans le Finistère, il y a tant de choses à faire. Avec Nemea, même à la dernière minute, trouvez la location de vacances dans le Finistère idéale. Rechargez vos batteries et profitez de prix attractifs grâce à nos offres du moment. Partez en toute sérénité avec nos hébergements de vacances.