Looking for a holiday home with a swimming pool?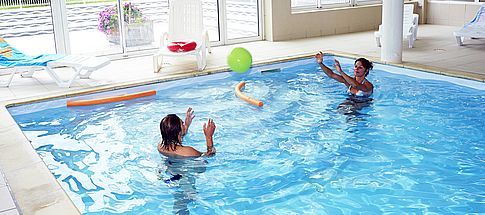 GUARANTEED SWIMMING
Is one of your criteria, when looking for a holiday rental for your summer holiday, to have access to a swimming pool?

Indoor and/or outdoor swimming pools, children's pools, water slides... Many of Nemea's properties give you access to aquatic facilities and quality services, especially a swimming pool.

Read more

Customer reviews
(244)
3.6
244
Mimizan Plage is a village in Les Landes, on the Atlantic coast. The numerous easy bicycle trails in this region will allow you to spend your days biking around the preserved wilderness the Les Landes area.
Stays from
Exceptional discount
-30%
€290 €203
Rental from 08/06/19 15/06/19
Studio 2pers 2 guests

Customer reviews
(1299)
4
1299
A few kilometres from Les Sables d'Olonne, Olonne-sur-Mer enjoys a strategic position with 250km of coastline split between magnificent beaches and dramatic cliffs. Olonne is a "green", lively, dynamic, and welcoming seaside resort where every guest will find the time to relax. Nature enthusiasts will enjoy the fine sand beaches, forests, and marinas, and for golf lovers, a variety of courses are at your disposal.
Stays from
Exceptional discount
-30%
€410 €287
Rental from 15/06/19 22/06/19
Studio 4 pers 4 guests

Customer reviews
(1391)
4.15
1391
NEW

 

- 

July and August, Mini-club (children 4-12 years) and Sport activities for teenss/adults

 

FREE

Between Pointe du Raz and Quimper, Audierne is a lively family seaside resort in southern Finistère. 

Audierne harbour is a hive of activity, and is a delight for pleasure sailors with its jetties located in the town centre. The lively quaysides are the perfect place for a stroll and for visiting the town's shops, restaurants and historical heritage to be found along its narrow streets. 

Audierne Bay offers magnificent fine sand beaches stretching as far as the eye can see where families will be able to enjoy walking at all times of the year.
Stays from
Exceptional discount
-25%
€500 €375
Rental from 29/06/19 06/07/19
Maison 4pers 4 guests

Customer reviews
(760)
3.9
760
Not far from Lubéron, Malaucène is a typical Provençal village, hidden behind its village walls, with fountains and shady cafe terraces.
Stays from
Exceptional discount
-25%
€750 €562.50
Rental from 06/07/19 13/07/19
Maison T2/4pers 4 guests

Customer reviews
(169)
4.2
169
Entre Bordeaux et Bayonne, la résidence Le Domaine des Dunes vous accueille dans un ensemble de maisons individuelles. A 800 m de la plage et des commerces, bénéficiez gratuitement d'une piscine extérieure chauffée avec toboggan, d'une piscine intérieure, d'un sauna et d' une salle de gym. GRATUIT - Mini-club (enfants 4-12ans) Juillet et août et Animations sportives ado/adultes en Juillet et août.
Stays from
Exceptional discount
-25%
€880 €660
Rental from 06/07/19 13/07/19
Maison T2/4 pers 4 guests

Customer reviews
(154)
4.25
154
Between Gironde and the Basque Country, along the Atlantic coast, the resort of Mimizan is located in the heart of the largest pine forest in Europe. The "pearl of the silver coast" welcomes you for peaceful and restful holidays between the ocean and the countryside. 

Mimizan Plage is a village in the Landes on the Atlantic Ocean. There are many cycle paths in this region which will allow you to enjoy long and easy cycle rides through the wild natural surroundings of the Landes region.

You will be able to take advantage of your rental in the Landes to visit: Dax, Mont de Marsan, the Ecomuseum of Grande Landes in Marquèze, Contis lighthouse, a descent of the Courant Huchet (nature reserve), the Landes de Gascogne Regional Nature Park, etc.
Stays from
€185
Rental from 28/09/19 05/10/19
T2/6pers 6 guests

Customer reviews
(1337)
3.8
1337
On the Arcachon Basin, this pedestrian residence is built within a wooded park that enjoys direct access to the beach. The residence is made up of detached and semi-detached houses, split up into two sections of different styles: the "fishing village" with its individual cottages, and the typical Arcachon-style of semi-detached houses.
Stays from
€190
Rental from 05/10/19 12/10/19
T2/4pers Pêcheur 4 guests

Customer reviews
(913)
3.85
913
On the Emerald Coast and not far from Dinard, the village of Saint-Briac is a small marina town with several superb beaches and is the perfect spot for a day out. Just 17km from Saint-Malo and 40mins from Mont Saint-Michel, Saint-Briac-sur-Mer is one of the jewels of the Emerald Coast, combining water sports with the beauty of its countryside and numerous pedestrian pathways. This apartment rental on the Emerald Coast puts you in easy visiting distance of Saint-Briac, an ancient fishing village that has managed to preserve its old neighbourhoods and the beautiful narrow streets that surround its church. As well as fine sand beaches, Saint-Briac has a marina, an 18-hole golf course overlooking the sea, and numerous other activities.
Stays from
€195
Rental from 02/11/19 09/11/19
Studio 2 pers 2 guests

Customer reviews
(506)
3.45
506
Situated on the northern coast of the Ile d'Oléron, Saint Georges d'Oléron is the largest and oldest of the island's villages, bordered by 15km of beaches. The most renowned are the beaches of Plaisance, Gautrelle, and Sables Vignier, and Saint Georges d'Oléron also boasts 2 marinas, Le Douhet and Boyardville.
Stays from
€200
Rental from 02/11/19 09/11/19
T1 Mezzanine 4 pers 4 guests

Customer reviews
(960)
3.9
960
Situated near Dinard on the Emerald Coast, Saint Malo is an old Corsair city now designated an "Art and History Town" and boasting a renowned and dynamic year-round seaside resort. The town is an international sailing capital and received the official label "Sailing Resort" in 1989.

Wind your way around Saint Malo's picturesque roads and explore the charms of its city walls, its ancient ship-owner houses, and the "Fort National". Be sure not to miss the Saint Malo Great Aquarium, a hot spot for biodiversity where visitors can mingle with some of the rarest and most beautiful species in the world.

The town of Saint Malo and its surrounding areas offer a wide range of year-round opportunities for friends and families to relax together and recharge their batteries: golf, horse riding, hiking, thermal baths, water sports,…….
Stays from
€200
Rental from 02/11/19 09/11/19
T2/4pers. 4 guests
Rental with swimming pool


With Nemea, swimming is guaranteed


In the summer, it is really pleasant to have access to a swimming pool for exercise or relaxation, especially when on holiday with family or friends! The children can enjoy and relax in the water, and the adults can unwind in a hot tub or steam room. This is ideal! Not only to help us completely unwind, but also to refresh us when the temperatures rise during the summer period. Of course, in the summer, the swimming pool is just essential to a successful holiday!

With Nemea, most of our swimming pools are heated and free of charge. They are very popular, even when the property is located near the beach! For those sensitive to the cold, for whom the sea is too chilly when on holiday in Finistère, or for children who don't like the seaweed that often appears at low tide, a swimming pool is a good option, allowing you to bathe every day! Most outdoor swimming pools are open from Easter onwards, but don't hesitate to ask our friendly staff about opening times.

Some Nemea properties have various well-being facilities at your disposal. Steam rooms, hot tubs, saunas... all allow you to take care of yourself during your summer holidays. Book now!