Looking for a holiday home with a swimming pool?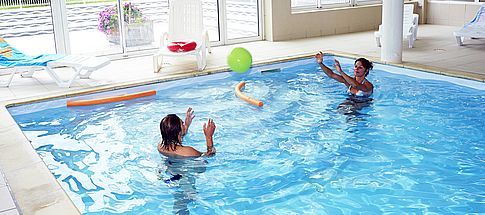 GUARANTEED SWIMMING
Is one of your criteria, when looking for a holiday rental for your summer holiday, to have access to a swimming pool?

Indoor and/or outdoor swimming pools, children's pools, water slides... Many of Nemea's properties give you access to aquatic facilities and quality services, especially a swimming pool.

Read more

Customer reviews
(389)
4
389
At the edge of the Spanish border, Bonascre is a great starting point for a number of magnificent hikes. This destination will allow to explore, on foot or on horseback, the Ax and Chioula Valleys and the Orlu National Wildlife Reserve, and to enjoy a variety of sporting activities.

Customer reviews
(758)
4,05
758
Ax les Thermes is a hot spring resort with 80 springs that are known to have beneficial properties. Situated in the heart of the Ariège Pyrenees in the Midi-Pyrénées region, Ax offers a geographical location that boasts amazing panoramic views, forests, and architectural heritage.

Customer reviews
(752)
3,6
752
Situated on the northern coast of the Ile d'Oléron, Saint Georges d'Oléron is the largest and oldest of the island's villages, bordered by 15km of beaches. The most renowned are the beaches of Plaisance, Gautrelle, and Sables Vignier, and Saint Georges d'Oléron also boasts 2 marinas, Le Douhet and Boyardville.

Customer reviews
(1280)
3,95
1280
At the edge of the Pays d'Iroise, midway between Brest and Le Conquet, Loc Maria enjoys a stunning geographical location at the heart of magnificent countryside with 7km of coastline and beaches.   A water-focused but nonetheless very diverse area, Le Finistère and the Breton coastline are known to be one of France's top tourist destinations.

Customer reviews
(1137)
3,85
1137
At the very edge of the Iroise Sea, the town of Plougonvelin holds firmly on to its Breton identity with its fine sandy beaches, jagged coastline, and islands that measure just a few nautical miles in width. Tucked away in the cove of Trez Hir, you find yourself immersed in an ocean of delights.

Customer reviews
(1060)
3,95
1060
Saint Pol de Léon ,a small, preserved coastal town in the Morlaix Bay, enjoys a breath-taking maritime landscape set against a backdrop of white sand beaches. In town, take the opportunity to marvel at the Early Gothic cathedral , the Kreisker chapel, a number of 16th and 17th century dwellings, or the Boutouiller megalith. Le Finistère with its fjords and north-coast inlets, its extreme, wild, and invigorating nature, its migrating bird populations. Along the coast, the hiking path allows for a spectacular view of the Channel, from Roscoff to the Pointe de Primel. Of all the beaches in the area, Sainte Anne is the most popular.

Customer reviews
(921)
3,55
921
Just a few kilometres from the Pont du Gard, Sauve is a medieval village that is rich in history, as you can see from its 16th Century Pont Vieux bridge, its city walls and ruins, fortified gates, vaults, tall medieval towers, and last but not least, its Hôtel de la Monnaie. From your rental property in the Gard region, explore Nîmes, the Pont de Gard, Alès, Le Vigan,. . . . and choose from a wide range of sightseeing opportunities: visit the fork factory, where utensils are made out of hackberry wood, or the Silk Museum in Saint Hippolyte Du Fort.

Customer reviews
(2046)
3,8
2046
On the Arcachon Basin, this pedestrian residence is built within a wooded park that enjoys direct access to the beach. The residence is made up of detached and semi-detached houses, split up into two sections of different styles: the "fishing village" with its individual cottages, and the typical Arcachon-style of semi-detached houses.

Customer reviews
(1469)
3,95
1469
On the Emerald Coast and not far from Dinard, the village of Saint-Briac is a small marina town with several superb beaches and is the perfect spot for a day out. Just 17km from Saint-Malo and 40mins from Mont Saint-Michel, Saint-Briac-sur-Mer is one of the jewels of the Emerald Coast, combining water sports with the beauty of its countryside and numerous pedestrian pathways. This apartment rental on the Emerald Coast puts you in easy visiting distance of Saint-Briac, an ancient fishing village that has managed to preserve its old neighbourhoods and the beautiful narrow streets that surround its church. As well as fine sand beaches, Saint-Briac has a marina, an 18-hole golf course overlooking the sea, and numerous other activities.

Customer reviews
(386)
3,75
386
Mimizan Plage is a village in Les Landes, on the Atlantic coast. The numerous easy bicycle trails in this region will allow you to spend your days biking around the preserved wilderness the Les Landes area.
Rental with swimming pool


With Nemea, swimming is guaranteed


In the summer, it is really pleasant to have access to a swimming pool for exercise or relaxation, especially when on holiday with family or friends! The children can enjoy and relax in the water, and the adults can unwind in a hot tub or steam room. This is ideal! Not only to help us completely unwind, but also to refresh us when the temperatures rise during the summer period. Of course, in the summer, the swimming pool is just essential to a successful holiday!

With Nemea, most of our swimming pools are heated and free of charge. They are very popular, even when the property is located near the beach! For those sensitive to the cold, for whom the sea is too chilly when on holiday in Finistère, or for children who don't like the seaweed that often appears at low tide, a swimming pool is a good option, allowing you to bathe every day! Most outdoor swimming pools are open from Easter onwards, but don't hesitate to ask our friendly staff about opening times.

Some Nemea properties have various well-being facilities at your disposal. Steam rooms, hot tubs, saunas... all allow you to take care of yourself during your summer holidays. Book now!