Book your holiday rental with mini club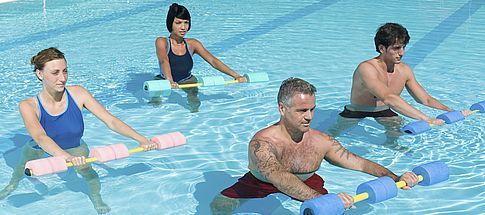 mini-club & entertainment
From €380 pour un séjour d'une semaine at the residence Le Grand Tétras from 22/08 to 29/08.
It's so great to take your children on holiday! Whether at the seaside or in the countryside, you have a wide range of choices to stimulate their interest with outdoor activities! While you need to recharge your batteries, children need to be kept busy all the time. In July and August, Nemea offers holiday residences with free mini-clubs to entertain the children during your holiday.

Read more

Customer reviews
(580)
4,2
580
Ideally located only 20 metres from the beach, this air-conditioned residence opens onto a landscaped patio with a heated outdoor pool. During your stay, you will also have free access to the indoor pool, the gym, the hot-tub, and the sauna.

Stays from
Exceptional discount
-25%
€1,390 €1,042.50
Rental from 22/08/20 29/08/20
1-bedroom flat / 4 people 4 guests

Customer reviews
(1030)
3,8
1030
At the foot of Mont Blanc in the Haut Giffre Valley, Samoëns is a typical Haut-Savoyard village built around its 11th century church, its shaded village square, and its covered markets. In the village of Samoëns itself, the Haut-Savoyard-style residence is a perfect fit for hiking and nature enthusiasts.
Stays from
€380
Rental from 22/08/20 29/08/20
Studio 4 pers 4 guests

Customer reviews
(1100)
3,9
1100
Saint Pol de Léon ,a small, preserved coastal town in the Morlaix Bay, enjoys a breath-taking maritime landscape set against a backdrop of white sand beaches. In town, take the opportunity to marvel at the Early Gothic cathedral , the Kreisker chapel, a number of 16th and 17th century dwellings, or the Boutouiller megalith. Le Finistère with its fjords and north-coast inlets, its extreme, wild, and invigorating nature, its migrating bird populations. Along the coast, the hiking path allows for a spectacular view of the Channel, from Roscoff to the Pointe de Primel. Of all the beaches in the area, Sainte Anne is the most popular.
Stays from
€575
Rental from 22/08/20 29/08/20
T2/4pers 4 guests

Customer reviews
(1878)
4,15
1878
NEW

 

- 

July and August, Mini-club (children 4-12 years) and Sport activities for teenss/adults

 

FREE

Between Pointe du Raz and Quimper, Audierne is a lively family seaside resort in southern Finistère. 

Audierne harbour is a hive of activity, and is a delight for pleasure sailors with its jetties located in the town centre. The lively quaysides are the perfect place for a stroll and for visiting the town's shops, restaurants and historical heritage to be found along its narrow streets. 

Audierne Bay offers magnificent fine sand beaches stretching as far as the eye can see where families will be able to enjoy walking at all times of the year.
Stays from
€600
Rental from 22/08/20 29/08/20
Maison 4pers 4 guests

Customer reviews
(2094)
4,05
2094
A few kilometres from Les Sables d'Olonne, Olonne-sur-Mer enjoys a strategic position with 250km of coastline split between magnificent beaches and dramatic cliffs. Olonne is a "green", lively, dynamic, and welcoming seaside resort where every guest will find the time to relax. Nature enthusiasts will enjoy the fine sand beaches, forests, and marinas, and for golf lovers, a variety of courses are at your disposal.
Stays from
€635
Rental from 22/08/20 29/08/20
Studio 4 pers 4 guests

Customer reviews
(1434)
3,9
1434
Situated near Dinard on the Emerald Coast, Saint Malo is an old Corsair city now designated an "Art and History Town" and boasting a renowned and dynamic year-round seaside resort. The town is an international sailing capital and received the official label "Sailing Resort" in 1989.

Wind your way around Saint Malo's picturesque roads and explore the charms of its city walls, its ancient ship-owner houses, and the "Fort National". Be sure not to miss the Saint Malo Great Aquarium, a hot spot for biodiversity where visitors can mingle with some of the rarest and most beautiful species in the world.

The town of Saint Malo and its surrounding areas offer a wide range of year-round opportunities for friends and families to relax together and recharge their batteries: golf, horse riding, hiking, thermal baths, water sports,…….
Stays from
€645
Rental from 22/08/20 29/08/20
T2/4pers. 4 guests

Customer reviews
(939)
3,55
939
Just a few kilometres from the Pont du Gard, Sauve is a medieval village that is rich in history, as you can see from its 16th Century Pont Vieux bridge, its city walls and ruins, fortified gates, vaults, tall medieval towers, and last but not least, its Hôtel de la Monnaie. From your rental property in the Gard region, explore Nîmes, the Pont de Gard, Alès, Le Vigan,. . . . and choose from a wide range of sightseeing opportunities: visit the fork factory, where utensils are made out of hackberry wood, or the Silk Museum in Saint Hippolyte Du Fort.
Stays from
€670
Rental from 22/08/20 29/08/20
Maison Duplex T3/6pers 6 guests

Customer reviews
(434)
4,2
434
Entre Bordeaux et Bayonne, la résidence Le Domaine des Dunes vous accueille dans un ensemble de maisons individuelles. A 800 m de la plage et des commerces, bénéficiez gratuitement d'une piscine extérieure chauffée avec toboggan, d'une piscine intérieure, d'un sauna et d' une salle de gym. GRATUIT - Mini-club (enfants 4-12ans) Juillet et août et Animations sportives ado/adultes en Juillet et août.
Stays from
€725
Rental from 22/08/20 29/08/20
Maison T2/4 pers 4 guests

Customer reviews
(869)
3,9
869
Connected to the mainland by a bridge, Oléron is a magical place for nature lovers and water sport enthusiasts. Situated just opposite La Rochelle, Ile d'Oléron is the largest French island on the Atlantic coast, with 90km of coastline and huge stretches of fine sand beaches. Your rental property on the Ile d'Oléron is in easy visiting distance of:  oyster farms and a chance to sample the famous Marennes d'Oléron oysters, the island's bird sanctuary, the Château d'Oléron and its citadel, sea trips to Fort Boyard, Ile d'Aix, and La Rochelle.
Stays from
€750
Rental from 22/08/20 29/08/20
Maison ( plain pied ou duplex) T2/4pers 4 guests

Customer reviews
(2104)
3,8
2104
On the Arcachon Basin, this pedestrian residence is built within a wooded park that enjoys direct access to the beach. The residence is made up of detached and semi-detached houses, split up into two sections of different styles: the "fishing village" with its individual cottages, and the typical Arcachon-style of semi-detached houses.
Stays from
€790
Rental from 22/08/20 29/08/20
T3/6pers Pêcheur 6 guests
Mini-club and entertainment for the whole family!


Mini-clubs - leisure activities for children

Entrust your children to licensed professionals during your holiday. They prepare a programme of entertainment specially designed for each age group, from 4 to 12 years old. On the programme will be treasure hunts, hands-on, artistic and sporting activities, cooking and theatre workshops, water games and sporting competitions... Thanks to the mini-clubs, children can make friends during their holidays and create fun memories that will remain with them for years to come.


Activities for adults

For adults who would also like to keep active, there are activities aimed at them too. Choose from the sporting activities on offer: circuit training, football, water volleyball, bums and tums, step, volleyball or badminton, walking, aquagym, introduction to zumba or petanque... there is something for everyone. Qualified instructors await at our holiday residences in Audierne, Olonne sur Mer, Saint Mandrier, Ares or Mimizan at the Domaine des Dunes.


Where can I find a holiday rental with a mini-club?

Nemea's mini-clubs can be found in the following locations: Audierne, Olonne sur Mer, Mimizan in the Résidence du Domaine des Dunes, Ares, Saint Pol de Léon, Dolus d'Oléron, Saint Mandrier, Saint Saturnin les Avignon and Sauve. What are you waiting for? - book your week-long family holiday now




*Free services valid from 7th July to 31st August inclusive.