Book an apartment holiday in Saint-Malo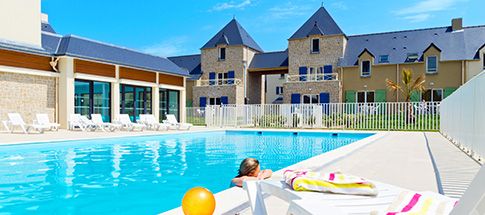 Stays in Saint-Malo
A partir de €295 pour un séjour d'une semaine à la résidence Le Domaine des Mauriers du 06/01 au 13/01.
Book your holiday apartment in Saint-Malo. For a weekend getaway or a week's rest, discover Nemea holiday rentals in Saint-Malo.
Read more


Partez ou soyez remboursés!
Saint Malo

Bretagne
Customer reviews
(2278)
3,95
2278
Situated near Dinard on the Emerald Coast, Saint Malo is an old Corsair city now designated an "Art and History Town" and boasting a renowned and dynamic year-round seaside resort. The town is an international sailing capital and received the official label "Sailing Resort" in 1989.

Wind your way around Saint Malo's picturesque roads and explore the charms of its city walls, its ancient ship-owner houses, and the "Fort National". Be sure not to miss the Saint Malo Great Aquarium, a hot spot for biodiversity where visitors can mingle with some of the rarest and most beautiful species in the world.

The town of Saint Malo and its surrounding areas offer a wide range of year-round opportunities for friends and families to relax together and recharge their batteries: golf, horse riding, hiking, thermal baths, water sports,…….
Stays from
€295
Rental from 06/01/24 13/01/24
T2/4pers. 4 guests
Flexible dates ?
Your destination is set
Start a search
or
Flexible about your destination ?
Your dates are set
Start a search
Book a furnished apartment in Saint-Malo


Book a holiday in Saint-Malo
Brittany is known for its unique history, its free and independent spirit, its marine and rocky landscapes. The rocky peninsula combines historical heritage, nature and local specialities. A holiday in Saint-Malo begins with the discovery of the historical heritage of the corsair city. Ramparts more than 1,700 metres long surround the citadel and include a number of iconic gates.
Exploring the local natural environment is an absolute must on a tourist holiday in Saint-Malo. The beaches of course, but also the hikes along the Emerald Coast and the city's parks and gardens are not to be missed.
While the sea evokes summer holidays, Saint-Malo also boasts all of the assets of a winter holiday destination. In addition to the various local riches mentioned, there are local specialities such as crackers, salted caramel, Saint-Malo yoghurts, gavotte wafer biscuits, malouine beer or buckwheat pancakes, to warm up and delight tourists after long walks in the countryside.
Holiday rental as a solution
During a weekend in Saint-Malo, you and your family can get closer to nature and share local specialities around a table. Renting a holiday residence in Saint-Malo is therefore the most logical thing to do when choosing this family destination. Feeling at home in your holiday rental allows you to enjoy the simple pleasures of Saint-Malo all the more.
How to book a holiday in Saint-Malo?
Nemea holiday residences appear to be the most practical solution. Find a holiday location in Brittany takes very little time.