Summer holidays in a large capacity rental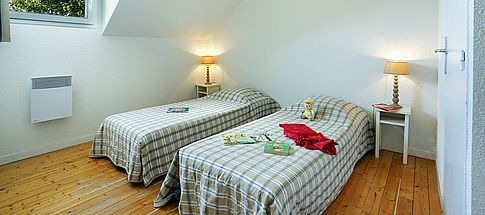 Large capacity accommodation for 8 or more people
From €155 pour un séjour d'une semaine at the residence La Soulane from 19/09 to 26/09.
Are you planning to head away with a group of friends or with your large family? Opt for a large capacity holiday rental during the summer months!

It's ideal for sharing costs as well as sharing enjoyable moments together. For your summer holidays by the sea, in the countryside or in the mountains, discover the solutions offered by Nemea. Chalet, apartment, house or villa... the choice is all yours!
Read more

Customer reviews
(1238)
3,95
1238
On the banks of Génos Lake and surrounded by greenery, the Résidence La Soulane is the perfect spot for all summer activities: hiking, paragliding, hang gliding, mountain biking, horse riding, fishing. . . not to mention the thermal spa centre in Balnéa, just a stone's throw away. You may also take this opportunity to explore the Louron Valley, with its rich thousand-year-old history and fascinating heritage. .
Stays from
€155
Rental from 19/09/20 26/09/20
Studio 2 pers 2 guests

Customer reviews
(610)
3,8
610
A few kilometres from Megève, Flumet is a crossroads for tourists on the Route des Grandes Alpes. In the summer, at the heart of the town, a fully-equipped swimming and relaxation area blends in with the Arrondine recreation centre and its sporting facilities and children's games. Flumet also offers many other activities: walking, mountain biking, fishing,. . . and the summer season is broken up by several traditional festivals.
Stays from
€175
Rental from 22/08/20 29/08/20
T2/4pers 4 guests

Customer reviews
(2020)
4,05
2020
A few kilometres from Les Sables d'Olonne, Olonne-sur-Mer enjoys a strategic position with 250km of coastline split between magnificent beaches and dramatic cliffs. Olonne is a "green", lively, dynamic, and welcoming seaside resort where every guest will find the time to relax. Nature enthusiasts will enjoy the fine sand beaches, forests, and marinas, and for golf lovers, a variety of courses are at your disposal.
Stays from
€175
Rental from 26/09/20 03/10/20
Studio 4 pers 4 guests

Customer reviews
(393)
4,2
393
Entre Bordeaux et Bayonne, la résidence Le Domaine des Dunes vous accueille dans un ensemble de maisons individuelles. A 800 m de la plage et des commerces, bénéficiez gratuitement d'une piscine extérieure chauffée avec toboggan, d'une piscine intérieure, d'un sauna et d' une salle de gym. GRATUIT - Mini-club (enfants 4-12ans) Juillet et août et Animations sportives ado/adultes en Juillet et août.
Stays from
€180
Rental from 19/09/20 26/09/20
Maison T2/4 pers 4 guests

Customer reviews
(1137)
3,85
1137
At the very edge of the Iroise Sea, the town of Plougonvelin holds firmly on to its Breton identity with its fine sandy beaches, jagged coastline, and islands that measure just a few nautical miles in width. Tucked away in the cove of Trez Hir, you find yourself immersed in an ocean of delights.
Stays from
€185
Rental from 03/10/20 10/10/20
T2/4pers 4 guests

Customer reviews
(1832)
4,15
1832
NEW

 

- 

July and August, Mini-club (children 4-12 years) and Sport activities for teenss/adults

 

FREE

Between Pointe du Raz and Quimper, Audierne is a lively family seaside resort in southern Finistère. 

Audierne harbour is a hive of activity, and is a delight for pleasure sailors with its jetties located in the town centre. The lively quaysides are the perfect place for a stroll and for visiting the town's shops, restaurants and historical heritage to be found along its narrow streets. 

Audierne Bay offers magnificent fine sand beaches stretching as far as the eye can see where families will be able to enjoy walking at all times of the year.
Stays from
€185
Rental from 03/10/20 10/10/20
Maison 4pers 4 guests

Customer reviews
(1008)
3,8
1008
At the foot of Mont Blanc in the Haut Giffre Valley, Samoëns is a typical Haut-Savoyard village built around its 11th century church, its shaded village square, and its covered markets. In the village of Samoëns itself, the Haut-Savoyard-style residence is a perfect fit for hiking and nature enthusiasts.
Stays from
€190
Rental from 05/09/20 12/09/20
Studio 4 pers 4 guests

Customer reviews
(844)
3,9
844
Connected to the mainland by a bridge, Oléron is a magical place for nature lovers and water sport enthusiasts. Situated just opposite La Rochelle, Ile d'Oléron is the largest French island on the Atlantic coast, with 90km of coastline and huge stretches of fine sand beaches. Your rental property on the Ile d'Oléron is in easy visiting distance of:  oyster farms and a chance to sample the famous Marennes d'Oléron oysters, the island's bird sanctuary, the Château d'Oléron and its citadel, sea trips to Fort Boyard, Ile d'Aix, and La Rochelle.
Stays from
€195
Rental from 19/09/20 26/09/20
Maison ( plain pied ou duplex) T2/4pers 4 guests

Customer reviews
(506)
3,85
506
Sandwiched between the ocean the forest, the seaside resort of Moliets in Les Landes, renowned for its beautiful beaches, invites you to enjoy your holiday with friends or family. An hour away from Biarritz, Moliets is a little slice of paradise with its golf course (ranked 9th in France) that overlooks the village and the huge white sand beach.
Stays from
€195
Rental from 03/10/20 10/10/20
T2/4pers 4 guests

Customer reviews
(230)
4,25
230
Between Gironde and the Basque Country, along the Atlantic coast, the resort of Mimizan is located in the heart of the largest pine forest in Europe. The "pearl of the silver coast" welcomes you for peaceful and restful holidays between the ocean and the countryside. 

Mimizan Plage is a village in the Landes on the Atlantic Ocean. There are many cycle paths in this region which will allow you to enjoy long and easy cycle rides through the wild natural surroundings of the Landes region.

You will be able to take advantage of your rental in the Landes to visit: Dax, Mont de Marsan, the Ecomuseum of Grande Landes in Marquèze, Contis lighthouse, a descent of the Courant Huchet (nature reserve), the Landes de Gascogne Regional Nature Park, etc.
Stays from
€195
Rental from 26/09/20 03/10/20
T2/6pers 6 guests
Large capacity accommodation for your summer holidays


Share enjoyable moments all together as one

It's so nice to go on holiday together, to share everyday moments and a change of scenery with friends or family. Imagine yourself, in the month of August, in your chalet in the mountains with a magnificent view over lush green hills. On the programme: exploring the region, endless discussions and fun board games! If you prefer to head to the sea, how about water games and inter-generational sand castle competitions?

Holidays are the perfect time to enjoy fun time together. Because, in the end, what is more important than spending time with those that we love, experiencing and building happy memories together that you will talk about for years to come?

What's the solution for a cheaper holiday?

A big advantage: renting accommodation with others not only allows you to share the fun but also lowers the cost of your summer holiday. In hundreds of its holiday residences, Nemea offers holiday residences for more than 8 or even 10 people. Whether it is a chalet, a house or an apartment, this accommodation been designed to be pleasant to live in during your stay, while taking into account the number of people expected.

For the perfect holiday, you can count on Nemea's services and facilities. Some holiday residences, such as Saint-Saturnin-les-Avignon, offer the possibility of an individual villa with private swimming pool. A real plus!