Summer holiday in large capacity rentals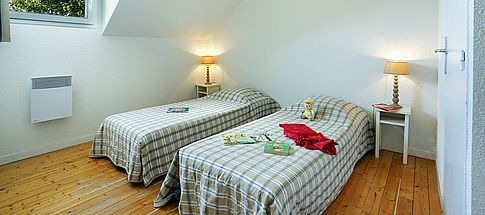 Large capacity holiday home for 8 people or more
From €155 pour un séjour d'une semaine at the residence La Soulane from 03/10 to 10/10.
Are you thinking about going away with a group of friends or your extended family? Opt for a large capacity holiday rental during the summer months!

It's ideal for sharing costs as well as sharing enjoyable moments together. For your summer holidays by the sea, in the countryside or the mountains, discover Nemea's solutions.  Chalet, apartment, house or villa... You have a wide range of choices!

Read more

Customer reviews
(636)
3,7
636
Tucked away in the greenery at the heart of the Pyrenees National Park, Peyragudes overlooks the Louron and Larboust valleys. This Pyrenees resort is an ideal holiday spot if you're interested in trying out a variety of sporting activities: hiking, climbing, horse riding, mountain biking, rafting, white-water rafting, paragliding… Peyragudes also offers to each and every one of its visitors a glimpse into its precious wildlife, with the opportunity to spot protected species such as bears and golden eagles.
Stays from
Early Booking
-20%
until 15/05/20
€255 €204
Rental from 22/08/20 29/08/20
Studio 2 pers 2 guests

Customer reviews
(270)
3,65
270
Against a magnificent backdrop of mountains, Peyragudes is a small, lively resort in the Pyrenees, ideally situated for hiking or for exploring the heritage of the Louron Valley.
Stays from
Early Booking
-20%
until 15/05/20
€275 €220
Rental from 22/08/20 29/08/20
Studio 4 pers 4 guests

Customer reviews
(833)
3,9
833
Connected to the mainland by a bridge, Oléron is a magical place for nature lovers and water sport enthusiasts. Situated just opposite La Rochelle, Ile d'Oléron is the largest French island on the Atlantic coast, with 90km of coastline and huge stretches of fine sand beaches. Your rental property on the Ile d'Oléron is in easy visiting distance of:  oyster farms and a chance to sample the famous Marennes d'Oléron oysters, the island's bird sanctuary, the Château d'Oléron and its citadel, sea trips to Fort Boyard, Ile d'Aix, and La Rochelle.
Stays from
€175
Rental from 25/01/20 01/02/20
Maison ( plain pied ou duplex) T2/4pers 4 guests

Customer reviews
(1409)
3,95
1409
On the Emerald Coast and not far from Dinard, the village of Saint-Briac is a small marina town with several superb beaches and is the perfect spot for a day out. Just 17km from Saint-Malo and 40mins from Mont Saint-Michel, Saint-Briac-sur-Mer is one of the jewels of the Emerald Coast, combining water sports with the beauty of its countryside and numerous pedestrian pathways. This apartment rental on the Emerald Coast puts you in easy visiting distance of Saint-Briac, an ancient fishing village that has managed to preserve its old neighbourhoods and the beautiful narrow streets that surround its church. As well as fine sand beaches, Saint-Briac has a marina, an 18-hole golf course overlooking the sea, and numerous other activities.
Stays from
€175
Rental from 01/02/20 08/02/20
Studio 2 pers 2 guests

Customer reviews
(1791)
4,15
1791
NEW

 

- 

July and August, Mini-club (children 4-12 years) and Sport activities for teenss/adults

 

FREE

Between Pointe du Raz and Quimper, Audierne is a lively family seaside resort in southern Finistère. 

Audierne harbour is a hive of activity, and is a delight for pleasure sailors with its jetties located in the town centre. The lively quaysides are the perfect place for a stroll and for visiting the town's shops, restaurants and historical heritage to be found along its narrow streets. 

Audierne Bay offers magnificent fine sand beaches stretching as far as the eye can see where families will be able to enjoy walking at all times of the year.
Stays from
€175
Rental from 28/03/20 04/04/20
Maison 4pers 4 guests

Customer reviews
(2002)
3,8
2002
On the Arcachon Basin, this pedestrian residence is built within a wooded park that enjoys direct access to the beach. The residence is made up of detached and semi-detached houses, split up into two sections of different styles: the "fishing village" with its individual cottages, and the typical Arcachon-style of semi-detached houses.
Stays from
€180
Rental from 25/01/20 01/02/20
T2/4pers Arcachonnais 4 guests

Customer reviews
(1097)
3,85
1097
At the very edge of the Iroise Sea, the town of Plougonvelin holds firmly on to its Breton identity with its fine sandy beaches, jagged coastline, and islands that measure just a few nautical miles in width. Tucked away in the cove of Trez Hir, you find yourself immersed in an ocean of delights.
Stays from
€185
Rental from 25/01/20 01/02/20
T2/4pers 4 guests

Customer reviews
(728)
4,4
728
The only fishing port along the Landaise coast, Capbreton is a dynamic family seaside resort renowned for its beaches and water-based activities.

A stone's throw from the Pays Basque and located right next-door to the festive tourist towns of Biarritz and Bayonne, Capbreton is an ideal location for holidays with family or friends.
Stays from
€220
Rental from 25/01/20 01/02/20
T2/4pers 4 guests

Customer reviews
(1155)
3,95
1155
Not far from Lubéron, Malaucène is a typical Provençal village, hidden behind its village walls, with fountains and shady cafe terraces.
Stays from
€225
Rental from 01/02/20 08/02/20
Maison T2/4pers 4 guests

Customer reviews
(1166)
3,95
1166
On the banks of Génos Lake and surrounded by greenery, the Résidence La Soulane is the perfect spot for all summer activities: hiking, paragliding, hang gliding, mountain biking, horse riding, fishing. . . not to mention the thermal spa centre in Balnéa, just a stone's throw away. You may also take this opportunity to explore the Louron Valley, with its rich thousand-year-old history and fascinating heritage. .
Stays from
€155
Rental from 03/10/20 10/10/20
Studio 2 pers 2 guests
Large capacity holiday home for your summer holidays


Share enjoyable moments all together

It is so much fun to go away on holiday with others, sharing everyday moment and enjoying a change of scenery with friends or family. Imagine yourself, in the month of August, in your chalet in the mountains with a magnificent view over lush green hills. On the programme: discovering the region, board games to enjoy and discussions late into the night! If you prefer to go to the sea, how about water games and inter-generational sand castle competitions?

A holiday is the perfect moment to enjoy each other. Because, in the end, what is more important than spending time with those that we love, experiencing and building memories together that you will always remember to be happy in years to come?

What's the solution for cheaper holidays?

A big advantage: renting a property with others allows you to share not only the fun but also lowers the cost of your summer holiday. In hundreds of its complexes, Nemea offers properties for more than 8 or even 10 people. Whether it's a chalet, house or apartment, these properties have been designed to be pleasant to stay in, while also taking into account the number of people expected.

For the perfect holiday, you can count on Nemea's services and facilities. Some properties, such as Saint-Saturnin-les-Avignon, offer the possibility of an individual villa with private swimming pool. A real plus!