Une location pour un séjour hivernal improvisé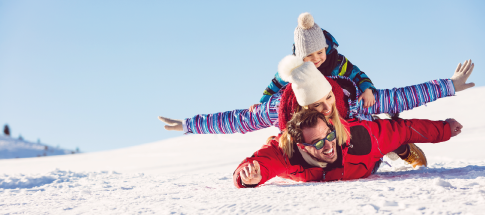 Prendre du repos en famille ou entre amis en hiver, même à la dernière minute
Partir au dernier moment, c'est s'accorder le plaisir d'improviser une escapade en amoureux, entre amis ou en famille. Trouver une location de vacances en hiver à la dernière minute c'est possible. Il suffit simplement de faire les bons choix et d'être un peu astucieux. L'un des avantages de l'improvisation ? Profiter d'offres commerciales au dernier moment et notamment de tarifs attractifs; et cela dans de petits comme dans de grands domaines skiables ou stations balnéaires. En effet, les vacances d'hiver ne se conjuguent pas forcément avec séjour aux sports d'hiver. Vous pouvez aussi opter pour une escapade en bord de mer, dans une station balnéaire de renom ou dans un lieu plus confidentiel. D'ailleurs, pour le ski c'est pareil. Que vous optiez pour les Alpes ou les Pyrénées, nous allons vous proposer un éventail de spots de premier choix à moindre coût. Alors c'est parti, cap sur des vacances d'hiver réussies!

Read more
Partez ou soyez remboursés!
Customer reviews
(573)
3,95
573
On the outskirts of the Ecrin National Park, Serre Chevalier is one of Europe's largest resorts, with 250km of alpine ski slopes and 45km of cross-country routes. This lively, dynamic destination will allow you to go at whatever tempo you desire: family skiing in the Mélèze forests, night-time skiing on the breath-taking Vauban slope in Briançon, cross-country skiing and exploration of the region's heritage. . . Briançon, a historical art town fortified by Vauban, offers its rich heritage, temporary exhibitions, and a variety of entertainment opportunities throughout the year.
Partez ou soyez remboursés!
Customer reviews
(1409)
3,9
1409
Des appartements Premium et Premium + spacieux et décorés avec goût et un large confort inclus. Dès Pâques, bénéficiez librement d'une grande piscine chauffée en extérieur. Toute l'année un sauna, hammam, des bains à remous ainsi qu'une salle de sport et de nombreuses autres prestations gratuites vous y attendent.
Partez ou soyez remboursés!
Customer reviews
(517)
4
517
Not far from the Spanish and Andorran borders, the resort in Bonascre is situated in the heart of 3 ski-areas: Bonascre, Saquet, and Camp. High-altitude skiing, gentle slopes that are ideal for cross-country skiing, snowshoeing, dog-sledding. After a day on the slopes, treat yourself to a dip at the thermal spa centre in Ax les Thermes. With 75 km of slopes, the resort also boasts 40 snow cannons, 16 ski lifts, cross-country ski slopes on the Beille plateau and within the Chioula ski-area, and a snow park. Snowshoeing is also available.
Partez ou soyez remboursés!
Customer reviews
(1110)
4,05
1110
In the heart of the Ariège Pyrenees in the Midi-Pyrénées region, Ax les Thermes is a hot spring resort with eighty springs that are known to have beneficial properties. As for skiing, the geographic location of Ax means that it has access to 3 ski-areas (Bonascre, Saquet, and Camp). With 75km of slopes, including 5 green slopes, 5 blue, 11 red, and 4 black, the Ax les Thermes resort also has 40 snow cannons, 16 ski lifts, cross-country ski slopes atop the Beille Plateau and within the Chioula ski-area, and a Snow park. Snowshoeing is also available.
Partez ou soyez remboursés!
Customer reviews
(1706)
3,9
1706
At the edge of the Pays d'Iroise, midway between Brest and Le Conquet, Loc Maria enjoys a stunning geographical location at the heart of magnificent countryside with 7km of coastline and beaches.   A water-focused but nonetheless very diverse area, Le Finistère and the Breton coastline are known to be one of France's top tourist destinations.
Partez ou soyez remboursés!
Customer reviews
(1671)
3,95
1671
At the very edge of the Iroise Sea, the town of Plougonvelin holds firmly on to its Breton identity with its fine sandy beaches, jagged coastline, and islands that measure just a few nautical miles in width. Tucked away in the cove of Trez Hir, you find yourself immersed in an ocean of delights.
Partez ou soyez remboursés!
Customer reviews
(1556)
3,95
1556
Saint Pol de Léon, a small, preserved coastal town in the Morlaix Bay, enjoys a breath-taking maritime landscape set against a backdrop of white sand beaches. In town, take the opportunity to marvel at the Early Gothic cathedral , the Kreisker chapel, a number of 16th and 17th century dwellings, or the Boutouiller megalith. Le Finistère with its fjords and north-coast inlets, its extreme, wild, and invigorating nature, its migrating bird populations. Along the coast, the hiking path allows for a spectacular view of the Channel, from Roscoff to the Pointe de Primel. Of all the beaches in the area, Sainte Anne is the most popular. The residence, which offers guests the use of its heated indoor and outdoor pools, is located just a stone's throw from the beach, the port, and the old town.
Partez ou soyez remboursés!
Customer reviews
(1096)
3,65
1096
Just a few kilometres from the Pont du Gard, Sauve is a medieval village that is rich in history, as you can see from its 16th Century Pont Vieux bridge, its city walls and ruins, fortified gates, vaults, tall medieval towers, and last but not least, its Hôtel de la Monnaie. From your rental property in the Gard region, explore Nîmes, the Pont de Gard, Alès, Le Vigan,. . . . and select from a wide range of sightseeing opportunities: visit the fork factory, where utensils are made out of hackberry wood, or the Silk Museum in Saint Hippolyte Du Fort.
Partez ou soyez remboursés!
Customer reviews
(2820)
3,8
2820
On the Arcachon Basin, this pedestrian residence is built within a wooded park that enjoys direct access to the beach. The residence is made up of detached and semi-detached houses, split up into two sections of different styles: the "fishing village" with its individual cottages, and the typical Arcachon-style of semi-detached houses.
Partez ou soyez remboursés!
Customer reviews
(2301)
3,9
2301
On the Emerald Coast and not far from Dinard, the village of Saint-Briac is a small marina town with several superb beaches and is the perfect spot for a day out. Just 15mins from Saint-Malo and 40mins from Mont Saint-Michel, Saint-Briac-sur-Mer is one of the jewels of the Emerald Coast, combining water sports with the beauty of its countryside and numerous pedestrian pathways. This apartment rental on the Emerald Coast puts you in easy visiting distance of Saint-Briac, an ancient fishing village that has managed to preserve its old neighbourhoods and the beautiful narrow streets that surround its church. As well as fine sand beaches, Saint-Briac has a marina, an 18-hole golf course overlooking the sea, and numerous other activities.
Un séjour au ski ou à la mer au cœur de l'hiver


Ou une escapade hivernale dans une station balnéaire ?
Trouver une location de vacances en hiver ne rime pas forcément avec neige et montagne. En effet, il peut être tout à fait agréable d'opter pour une parenthèse au bord de la mer. Le cerf-volant, les parties de frisbee, de volley ou bien la randonnée pédestre sont un échantillon des activités envisageables. Vous pouvez aussi lézarder au soleil et admirer le ressac des vagues. En Normandie, sur le bassin d'Arcachon, dans les Landes, au Pays-basque ou en Méditerranée, profitez d'une parenthèse enchantée. De nombreuses résidences de vacances offrent beaucoup de confort et de nombreux équipements comme une piscine intérieure, un sauna, un hammam ou une salle de sport. Plougonvelin, Arès, Mimizan Plage, Audierne, Moliets, Saint-Pol-de-Léon ou bien Saint-Malo raviront les amoureux des côtes bretonnes et landaises. Plus au sud, découvrez les joies du littoral basque du côté de Bidart. Et pour ceux qui préfèrent la Méditerranée en hiver, il existe de très belles résidences de vacances à Cannes, Saint-Mandrier-sur-Mer ou bien Malaucène. Vous pouvez aussi vous laisser tenter par un séjour en hiver en Corse, à Saint-Florent, Borgo Plage ou Rogliano.
Des vacances aux sports d'hiver dans les Alpes ou dans les Pyrénées
Un séjour au ski à la dernière minute est aussi l'occasion de se ressourcer tout en faisant de l'exercice. Bien sûr, ce type de vacances est très prisé. Cependant, il est tout de même possible de trouver une location de vacances à la dernière minute à moindre coût. Dans les Alpes, découvrez Samoëns, Châtel, La Toussuire ou Les Deux Alpes, et optez pour une location d'appartement ou de chalet à bas prix. Dans les Pyrénées, les opportunités sont également nombreuses du côté de Loudenvielle, de Bonascre, de Cauterets ou de La Mongie par exemple. Alors cet hiver, variez les plaisirs, et improvisez une escapade à la mer ou à la montagne, à la dernière minute.