Your last-minute holidays in Languedoc-Roussillon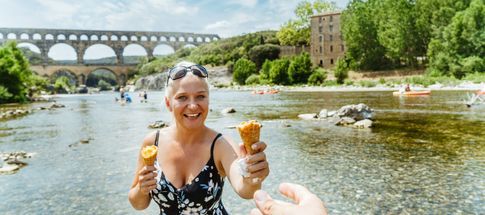 Languedoc-Roussillon: for a sunny break
From €185 pour un séjour d'une semaine at the residence Les Chalets du Belvédère from 10/09 to 17/09.
Are you looking for a sunny destination to go on holiday? So you couldn't book your stay in advance and are you looking for last-minute deals? 
Nemea offers an ideal location from which to discover Languedoc-Roussillon. Between land and sea, make your choice?! Scale the peaks of the Pyrenees by climbing to the top of Canigou peak, or relax on one of the many beaches of Le Grau du Roi. 
Enjoy your last-minute holiday with family or friends in Languedoc-Roussillon, from your Nemea rental. 
Read more
Partez ou soyez remboursés!
Customer reviews
(718)
4
718
Situated in the heart of the Regional Natural Park of the Catalan Pyrenees, between France and Spain, Font-Romeu is a natural playground that provides a wide variety of outdoor activities: footpaths or bike trails (mountain bikes), horse riding, climbing, paragliding,… You can also visit the solar furnace in Odeillo, the historic citadel of Mont-Louis, or the region's various Roman churches, or simply appreciate the peace and quiet of the Eastern Pyrenees.
Stays from
€185
Rental from 10/09/22 17/09/22
Studio 4 pers 4 guests
Partez ou soyez remboursés!
Customer reviews
(526)
4,05
526
Classée Monument Historique et labellisée « Patrimoine du 20ème siècle », la résidence de tourisme « Les Carrats » offre un cadre idyllique grâce à son emplacement au bord de la plage et ses 16 kilomètres de sable fin. Cette résidence, dédiée aux piétons et aux vélos, a été réhabilitée dans le respect de son architecture d'origine et s'étend sur 5 hectares entre l'étang de Leucate et la Méditerranée. 
Stays from
€235
Rental from 01/10/22 08/10/22
Studio 2pers 2 guests
Partez ou soyez remboursés!
Customer reviews
(1096)
3,65
1096
Just a few kilometres from the Pont du Gard, Sauve is a medieval village that is rich in history, as you can see from its 16th Century Pont Vieux bridge, its city walls and ruins, fortified gates, vaults, tall medieval towers, and last but not least, its Hôtel de la Monnaie. From your rental property in the Gard region, explore Nîmes, the Pont de Gard, Alès, Le Vigan,. . . . and choose from a wide range of sightseeing opportunities: visit the fork factory, where utensils are made out of hackberry wood, or the Silk Museum in Saint Hippolyte Du Fort.
Stays from
€285
Rental from 24/09/22 01/10/22
Maison Duplex T3/4pers 4 guests

Situé à deux kilomètres du petit village de Fabrègues, à quelques minutes de Montpellier et des plages sauvages de Frontignan, Le Domaine du Golf est niché au coeur d'un vignoble, dans un parc de 11 hectares. Vous profiterez d'un cadre serein et tranquille propice à la détente. Lieu de résidence idéal pour découvrir le patrimoine et le charme du Languedoc, ses plages et sa gastronomie.

Stays from
Exceptional discount
-40%
€499 €299.40
Rental from 01/10/22 08/10/22
Maison 1 pièce Mezza 4 Confort climatisée 4 guests

En plein cœur du Roussillon, Saint-Cyprien est une

destination de charme

qui vous séduira en toutes saisons avec ses 6 km de plages de sable fin, ses activités sportives et nautiques variées et la

gastronomie catalane

.
Stays from
€249
Rental from 01/10/22 08/10/22
Studio 4 pers Cabine ou Mezzanine 4 guests

At the side of the Haut Languedoc Regional Park and sheltered by the Black Mountain, Le Minervois, a noble and well-preserved area, overlooks the Mediterranean to the West and the Pyrenees to the South. With its beautiful medieval villages, the region offers a stunning view of vines, scrubland, and beech and chestnut tree forests.
Stays from
€266
Rental from 08/10/22 15/10/22
T2/4pers 4 guests

À 3 km du centre (voiture conseillée), à 300 m environ de petites plages de galets, la résidence est composée de 242 appartements dans 9 petits bâtiments de 2 étages en espalier sur les contreforts des Albères (déconseillée aux personnes à mobilité réduite). Pour vos loisirs - Gratuit : Piscine + pataugeoire (non chauffées - ouvertes de mi-avril à début octobre selon météo). Ping-pong, pétanque, 2 courts de tennis.

Stays from
€275
Rental from 24/09/22 01/10/22
T2/4 4 guests

À  250  m  de  la  plage,  à  350  m  du  port  et  à  proximité  des  commerces,  la  résidence (piétonne  et  clôturée) est  composée  de  150  maisonnettes mitoyennes et de 23 appartements. Pour vos loisirs  :  Piscine extérieure (25 m x 7m) et pataugeoire (5m x 6m) ouvertes d'avril à octobre selon météo. Ping-pong, pétanque, aire de jeux pour enfants. SPÉCIAL ENFANTS EN JUILLET/AOÛT 1 animateur s'occupe gratuitement des enfants de 6 à 12 ans (du lundi au vendredi matin ou après-midi)

Stays from
€315
Rental from 24/09/22 01/10/22
Appart. T2/2pers climatisé 2 guests

À 800 m de la plage, à 200 m des commerces, la résidence est composée d'une trentaine d'appartements répartis dans des petits immeubles de 2 étages (sans ascenseur) et de maisonnettes dans un parc boisé et spacieux.
A la résidence : piscine extérieure ouverte du 1/6 au 15/9 selon météo.

Stays from
€329
Rental from 01/10/22 08/10/22
T2/4+ 4 guests

La résidence 3 étoiles Port-Argelès, de 4 à 6 étages avec ascenseur, face au port de plaisance et dans un quartier piétonnier, vous offre une vue imprenable sur la chaîne des Pyrénées et le massif du Canigou, c'est le lieu idéal pour un séjour sans avoir à utiliser la voiture. En effet, la résidence Mer & Golf Port Argelès se situe à 50m des premiers commerces et restaurants, à 300 m de la grande plage Sud de 7 km et de la plage du Racou à 700m, tandis que le centre-plage est accessible à pied en 15 minutes par la promenade piétonne ou les pistes cyclables à 300m.

Stays from
€350
Rental from 24/09/22 01/10/22
Studio 4 - Montagne 4 guests
Memorable holidays in Languedoc-Roussillon


Between land and sea: personalise your stay

Languedoc-Roussillon brings together everything you could want from a holiday: countryside, mountains, sea, attractive large cities and even borders with two foreign countries. The region is in fact located on the borders with Andorra and Spain. In a single weekend, you can travel through three different countries, through the mountains and end your trip with a relaxing time on the beaches of the Mediterranean Sea! 
Rentals in Languedoc-Roussillon: activities to suit every taste

Would you prefer to wander through the streets of picturesque villages and explore the local heritage? Are you a real night owl and like to enjoy the nightlife of the big cities? 
Between Toulouse and Montpellier, you're spoilt for choice! The two southern cities offer various cultural activities throughout the year. Festivals, concerts, museums and cultural hotspots are just waiting to reveal their secrets.