The most beautiful destinations for a holiday in June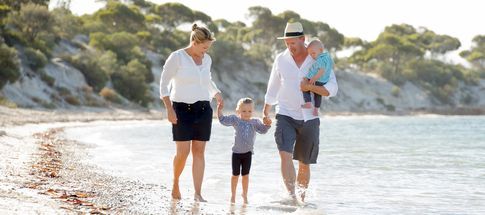 Why go on holiday in June?
Would you like to explore a new region in June?
Know that this is an ideal time to disconnect from your daily routine and enjoy a breath of fresh air. The month of June is synonymous with the return of the good weather, with the opportunity to enjoy a swim in the pool or the sea in warmer temperatures. What's more, you don't risk being crowded with tourists as many people choose to head away in July and August, leaving you free to enjoy destinations that are bursting with charm!
Read more

Partez à la découverte de Strasbourg ! Strasbourg, capitale de l'Europe et de l'Alsace, possède un patrimoine historique et architectural qui en fait la ville la plus riche d'Alsace.
Son centre-ville fait partie du patrimoine mondial de L'UNESCO. De plus, les musées de la ville sont particulièrement riches et intéressants.
Strasbourg est bien évidemment incontournable non seulement pour ses monuments, mais aussi pour saisir les différents visages de l'Alsace et des Alsaciens.

Stays from
€525
Rental from 29/05/21 05/06/21
Chambre SMART - 1 pers 1 guests

Between Canal du Midi and the historic heart of Toulouse, the 
Toulouse Concorde
 residence is located within a few minutes walk from the Place du Capitole and the media library. 
You will be seduced by the cosy streets with a special atmosphere and the many shops of the Ville Rose (Pink City). 
For your business trips as well as for your leisure breaks, this apart ' hotel will fully meet your needs .
Stays from
€616
Rental from 29/05/21 05/06/21
Chambre Double - 2 Pers 2 guests

Customer reviews
(440)
3,9
440
With its ideal location between the Ecrins National Park and the Queyras Regional Park, the Résidence l'Aigle Bleu is the perfect base for numerous hikes and a variety of outdoor nature activities. Briançon, a historical art town fortified by Vauban, offers its rich heritage, temporary exhibitions, and a variety of entertainment opportunities throughout the year.

Customer reviews
(957)
3,8
957
In the heart of the Côte d'Azur (between Nice and Cannes), Cagnes-sur-Mer is a diverse town that is home to a medieval village, a small fishing port, and the Renoir Museum. Life in this charming holiday destination is dictated by a variety of festivals (medieval festival, night-time beach walks. . . colourful markets, swimming, and other water activities. . . not to mention the horse racing season.

Customer reviews
(422)
4
422
At the edge of the Spanish border, Bonascre is a great starting point for a number of magnificent hikes. This destination will allow to explore, on foot or on horseback, the Ax and Chioula Valleys and the Orlu National Wildlife Reserve, and to enjoy a variety of sporting activities.

Customer reviews
(806)
4,05
806
Ax les Thermes is a hot spring resort with 80 springs that are known to have beneficial properties. Situated in the heart of the Ariège Pyrenees in the Midi-Pyrénées region, Ax offers a geographical location that boasts amazing panoramic views, forests, and architectural heritage.

Customer reviews
(900)
3,85
900
Connected to the mainland by a bridge, Oléron is a magical place for nature lovers and water sport enthusiasts. Situated just opposite La Rochelle, Ile d'Oléron is the largest French island on the Atlantic coast, with 90km of coastline and huge stretches of fine sand beaches. Your rental property on the Ile d'Oléron is in easy visiting distance of:  oyster farms and a chance to sample the famous Marennes d'Oléron oysters, the island's bird sanctuary, the Château d'Oléron and its citadel, sea trips to Fort Boyard, Ile d'Aix, and La Rochelle.

Customer reviews
(837)
3,6
837
Situated on the northern coast of the Ile d'Oléron, Saint Georges d'Oléron is the largest and oldest of the island's villages, bordered by 15km of beaches. The most renowned are the beaches of Plaisance, Gautrelle, and Sables Vignier, and Saint Georges d'Oléron also boasts 2 marinas, Le Douhet and Boyardville.

Customer reviews
(1380)
3,9
1380
At the edge of the Pays d'Iroise, midway between Brest and Le Conquet, Loc Maria enjoys a stunning geographical location at the heart of magnificent countryside with 7km of coastline and beaches.   A water-focused but nonetheless very diverse area, Le Finistère and the Breton coastline are known to be one of France's top tourist destinations.

Customer reviews
(1232)
3,85
1232
At the very edge of the Iroise Sea, the town of Plougonvelin holds firmly on to its Breton identity with its fine sandy beaches, jagged coastline, and islands that measure just a few nautical miles in width. Tucked away in the cove of Trez Hir, you find yourself immersed in an ocean of delights.
Take a holiday and enjoy the sun


Discover the south of France in June

While the temperatures are far from the peaks of August, enjoy a nice week's holiday in the south of France. Whether in the Alps or by the sea on the French Riviera, the southern regions are most pleasant in June. Disconnect from your daily routine and take some time to bask in the sun. For example, you can rent a holiday residence that is ideally located close to the beaches in the Var. And if you enjoy beautiful walks amidst breathtaking landscapes, the Midi-Pyrénées destination is for you!
Brittany, a destination that is not to be missed

Would you like a vacation with a little something extra? Destination Brittany! This warm and welcoming region welcomes you for a holiday that is at once cultural, fun and rich in a variety of activities. If you choose to visit Finistère, take the time to visit the Ile de Sein and walk along the coastline for breathtaking scenery. Experience a dynamic cultural scene and discover folklore, legends and the famous fest-noz - the chance to learn some Breton dance steps.