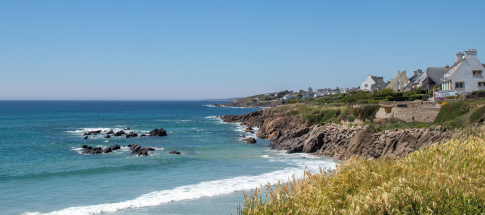 Discover the Breton jewel of Plozévet
A partir de €205 pour un séjour d'une semaine à la résidence Le Domaine de la Baie du 09/03 au 16/03.
Situé dans le département du Finistère en région Bretagne, Plozevet est une destination de vacances idéale. Très près de la mer, cette commune se trouve dans la campagne bretonne tout en étant à deux pas de Quimper, de Pont l'Abbé ou bien de Douarnenez. Y séjourner permet d'envisager, chaque jour, de belles escapades dans la nature, au grand air, sur la côte ou au cœur de jolies villes à échelle humaine. 

Read more


Partez ou soyez remboursés!
Audierne

Bretagne
Customer reviews
(2604)
4,05
2604
NEW

 

- 

July and August, Mini-club (children 4-12 years) and Sport activities for teenss/adults

 

FREE

Between Pointe du Raz and Quimper, Audierne is a lively family seaside resort in southern Finistère. 

Audierne harbour is a hive of activity, and is a delight for pleasure sailors with its jetties located in the town centre. The lively quaysides are the perfect place for a stroll and for visiting the town's shops, restaurants and historical heritage to be found along its narrow streets. 

Audierne Bay offers magnificent fine sand beaches stretching as far as the eye can see where families will be able to enjoy walking at all times of the year.
Stays from
€205
Rental from 09/03/24 16/03/24
Maison 4pers 4 guests
Flexible dates ?
Your destination is set
Start a search
or
Flexible about your destination ?
Your dates are set
Start a search


Vos prochaines vacances à deux pas du Menhir des Droits de l'Homme
Opter pour une immersion dans cette partie de la région Bretagne le temps de vos congés, c'est vous offrir de magnifiques paysages côtiers, des falaises escarpées et des plages de sable à couper le souffle. Du côté de la pointe du Raz, d'Ouessant ou de la presqu'île de Crozon par exemple, vous allez vivre une expérience inoubliable. Côté sports nautiques, et au-delà de la baignade quotidienne, vous allez pouvoir tester la voile, le surf ou encore le kayak tout le long de la côte finistérienne. Et bien sûr, le patrimoine culturel et architectural va aussi vous combler. Prenez le temps de visiter les églises de villages, les sites mégalithiques et notamment le Menhir des Droits de l'Homme à Plozevet, les châteaux et les villages pittoresques. Bien que les possibilités soient nombreuses, cherchez donc une location de vacances à Plozevet ou une location à Audierne. 

Choisir une location de vacances dans un cadre idyllique du Finistère 
Dans cette partie de la Bretagne, les sites pittoresques sont légion. Alors pour votre séjour à venir, vous pouvez, au-delà de Plozevet, opter pour une location de vacances à Douarnenez ou bien une location de vacances au Cap Sizun. En effet, ces deux stations balnéaires regorgent de trésors qui vont combler chacun de vos sens. Si vous jetez votre dévolu sur l'une de ces destinations, les fruits de mer, les plages, le champ des oiseaux, les mystérieux menhirs, les phares et les bâtisses de bord de mer n'auront plus de secret pour vous !