Holidays for senior citizens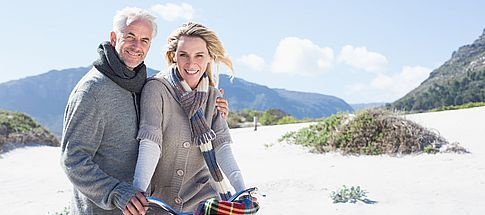 Senior citizen services
A partir de €200 pour un séjour d'une semaine à la résidence Kermael du 06/01 au 13/01.
Comfortable and attractive, Nemea holiday residences are an ideal destination for retirees and senior citizens. Our services are perfectly adapted to their needs and expectations. The ideal way to get away from it all during a stay in the mountains, in the countryside or by the sea! Find out now what Nemea can offer you.
Read more


Partez ou soyez remboursés!
Saint Briac-Sur-Mer

Bretagne
Customer reviews
(2914)
3,95
2914
On the Emerald Coast and not far from Dinard, the village of Saint-Briac is a small marina town with several superb beaches and is the perfect spot for a day out. Just 15mins from Saint-Malo and 40mins from Mont Saint-Michel, Saint-Briac-sur-Mer is one of the jewels of the Emerald Coast, combining water sports with the beauty of its countryside and numerous pedestrian pathways. This apartment rental on the Emerald Coast puts you in easy visiting distance of Saint-Briac, an ancient fishing village that has managed to preserve its old neighbourhoods and the beautiful narrow streets that surround its church. As well as fine sand beaches, Saint-Briac has a marina, an 18-hole golf course overlooking the sea, and numerous other activities.
Stays from
€200
Rental from 06/01/24 13/01/24
Studio 2 pers 2 guests


Partez ou soyez remboursés!
Les Sables d'Olonne

Pays de la Loire
Customer reviews
(3848)
4,15
3848
A few kilometres from Les Sables d'Olonne, Olonne-sur-Mer enjoys a strategic position with 250km of coastline split between magnificent beaches and dramatic cliffs. Olonne is a "green", lively, dynamic, and welcoming seaside resort where every guest will find the time to relax. Nature enthusiasts will enjoy the fine sand beaches, forests, and marinas, and for golf lovers, a variety of courses are at your disposal.
Stays from
€225
Rental from 06/01/24 13/01/24
Studio 4 pers 4 guests


Partez ou soyez remboursés!
Saint Malo

Bretagne
Customer reviews
(2278)
3,95
2278
Situated near Dinard on the Emerald Coast, Saint Malo is an old Corsair city now designated an "Art and History Town" and boasting a renowned and dynamic year-round seaside resort. The town is an international sailing capital and received the official label "Sailing Resort" in 1989.

Wind your way around Saint Malo's picturesque roads and explore the charms of its city walls, its ancient ship-owner houses, and the "Fort National". Be sure not to miss the Saint Malo Great Aquarium, a hot spot for biodiversity where visitors can mingle with some of the rarest and most beautiful species in the world.

The town of Saint Malo and its surrounding areas offer a wide range of year-round opportunities for friends and families to relax together and recharge their batteries: golf, horse riding, hiking, thermal baths, water sports,…….
Stays from
€295
Rental from 06/01/24 13/01/24
T2/4pers. 4 guests
Flexible dates ?
Your destination is set
Start a search
or
Flexible about your destination ?
Your dates are set
Start a search
Rentals with senior citizen services


Comfortable holiday rentals

Nemea holiday residences are a guarantee of quality. During your stay you will enjoy well-appointed and comfortable accommodation. Fully equipped, you will be able to relax in peace. If you wish to stay connected during your holiday, take advantage of the holiday residence's Wi-Fi access.

If you are looking to relax, there are lounges available. If you fancy some sport, you will find a heated indoor or outdoor swimming pool as well as a fitness room in most of our holiday residences.

Some of the Nemea holiday residences also offer a free hammam, sauna and hot tub, ideal for a relaxing holiday.

Nemea services for senior citizens

Nemea has something in mind for your holiday, whatever the time of year. Benefit from the comfort and facilities at Nemea holiday residences with added perks!

If you are 70 years old or over and want to go on holiday and save money, choose Nemea: you will receive a 20% discount if you book for 2 weeks or more. On arrival the Nemea staff will offer to carry your luggage from your vehicle to your accommodation if you wish. For maximum comfort, you will find your beds already made.

You can arrive in the morning and leave the holiday residence at the end of the holiday before midday. Book this offer with the reservation centre! The "Senior Citizens Service" offer is valid outside of school holidays and bank holidays on a selection of holiday residences, which you can find listed below.