Hotel appartment with swimming pool - Free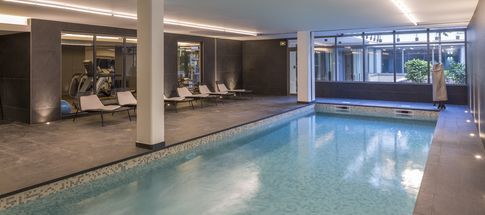 Hotel appartment with swimming pool
A partir de €273 pour un séjour d'une semaine à la résidence Grand Coeur du 08/08 au 15/08.
Cette année pour les vacances, vous avez envie d'une location avec piscine pour contenter aussi bien les grands que les petits. Vous avez raison ! La piscine est un des éléments indispensables pour des vacances réussies. Nemea propose des apparts hôtel avec piscine pour votre plus grand plaisir. 

Lire la suite

Customer reviews
(10)
4,3
10
Come to discover the Néméa Appart'hôtel Nancy Grand Coeur four-star residence,  located just a few minutes from Nancy-Ville train station and the Saint Sébastien shopping centre.
Famous for its protected cultural heritage and Art Nouveau, the city of Nancy has been declared as a World Heritage site by UNESCO since 1983.
Come and take the pace of the city's events, including the Saint-Nicolas festival, the Rendez-vous Place Stanislas or the Nancy Jazz Pulsations festival.
Let your curiosity guide you through the city's 23 parks, without missing the annual Stanislas Square rendezvous to discover the ephemeral garden, accessible at the end of September until the beginning of November.
Stays from
€273
Rental from 08/08/20 15/08/20
SINGLE 1 guests

Partez à la découverte de Strasbourg ! Strasbourg, capitale de l'Europe et de l'Alsace, possède un patrimoine historique et architectural qui en fait la ville la plus riche d'Alsace.
Son centre-ville fait partie du patrimoine mondial de L'UNESCO. De plus, les musées de la ville sont particulièrement riches et intéressants.
Strasbourg est bien évidemment incontournable non seulement pour ses monuments, mais aussi pour saisir les différents visages de l'Alsace et des Alsaciens.

Stays from
€371
Rental from 27/06/20 04/07/20
Studio - 2 pers 2 guests

La résidence Néméa appart'hotel  est située à seulement quelques minutes à pied de la Place Stanislas. Découvrez les charmes de Nancy à travers son ensemble architectural du XVIIIème siècle, inscrit depuis 1983 par l'UNESCO au Patrimoine Mondial de l'Humanité ! Nancy enchante également par la richesse de ses musées, ses monuments du Moyen-âge au XXIe siècle, en passant par le classicisme de la Place Stanislas et par l'Art Nouveau, la ville a en effet été un des berceaux du mouvement Art Nouveau. Nancy est une ville de parcs et de jardins : elle cultive un héritage botanique légué par son passé. Une promenade dans ses espaces verts vous permettra de revivre les grandes périodes qui ont marqué l'histoire de cette ville : parc de la pépinière, parc Ste Marie, Parc Olry… . Enfin, elle est aussi une étape idéale vers le Luxembourg et la Belgique.
Stays from
€386
Rental from 11/07/20 18/07/20
Studio 2 pers 2 guests

Grâce à son espace bien-être, la résidence Néméa Toulouse Constellation est un lieu de séjour idéal pour une escapade cocooning en couple, en famille ou entre amis. A deux pas de la Cité de l'espace et de "Airbus Visit", la résidence sera l'étape idéale pour découvrir la "Ville Rose" : place du Capitole et salle des Illustres, cloître des Jacobins, basilique St-Sernin, Museum de Toulouse, bateau-mouche sur la Garonne et le Canal du midi, Maison de la violette…
Stays from
€386
Rental from 20/06/20 27/06/20
Chambre Twin - 2 pers 2 guests

La résidence Green Side se trouve à 10 minutes en voiture des belles plages de sable de la Côte d'Azur. Vous pourrez rejoindre aussi le Palais des festivals de Cannes et la Promenade des Anglais de Nice en seulement 15 minutes. Enfin elle est un point idéal pour un grand nombre d'excursions dans l'arrière pays provençal ou sur la Côte d'Azur tel que : le village pittoresque de Valbonne, les verreries de Biot, les poteries de Vallauris, les parfums de Grasse, le Marineland à Antibes…
Stays from
€432
Rental from 06/06/20 13/06/20
Studio 2 pers 2 guests

Located a few minutes away by foot of the city center and the VINCI International Convention Center, in front of train station and the shops, this residence is ideally located will entirely meet your needs.
Stays from
€462
Rental from 01/08/20 08/08/20
Studio 2 pers. 2 guests

Aussi bien pour vos 
étapes d'affaires que pour vos vacances, 
cette résidence hôtelière avec piscine intérieure chauffée et salle de fitness vous propose 90 logements entièrement équipés et meublés pour votre confort, du studio au 2 pièces pouvant accueillir de 1 à 4 personnes.
Stays from
€485
Rental from 22/08/20 29/08/20
Studio 2pers 2 guests

Laissez-vous charmer par LYON !
Cette ville, située sur un carrefour géographique du pays, couloir naturel de la vallée du Rhône, vous accueillera pour  la richesse de son patrimoine architectural et sa gastronomie familiale.
Des quartiers du vieux Lyon à la colline de la Fourvière, ainsi que de la presqu'île jusqu'aux pentes de la Croix-Rousse, vous apprécierez la découverte de la ville inscrite au patrimoine mondial de l'UNESCO.
Lyon, c'est aussi une ville jeune et étudiante, tournée vers l'avenir,  2ème ville étudiante de France comme en témoigne la présence de 4 universités et plusieurs grandes écoles.
Stays from
€502
Rental from 18/07/20 25/07/20
Chambre Double 2 guests

La résidence Toulouse Saint-Martin sera le point de départ idéal pour visiter la ville rose et découvrir la richesse de la région Midi-Pyrénées : cité de l'espace, Place du Capitole, cloître des Jacobins, basilique St-Sernin, Museum de Toulouse, bateau-mouche sur la Garonne et la Canal du midi, Maison de la violette...
Stays from
€539
Rental from 22/08/20 29/08/20
Studio 2 pers 2 guests

Customer reviews
(856)
3,8
856
In the heart of the Côte d'Azur (between Nice and Cannes), Cagnes-sur-Mer is a diverse town that is home to a medieval village, a small fishing port, and the Renoir Museum. Life in this charming holiday destination is dictated by a variety of festivals (medieval festival, night-time beach walks. . . colourful markets, swimming, and other water activities. . . not to mention the horse racing season.
Stays from
€570
Rental from 13/06/20 20/06/20
Studio 2 pers 2 guests
Hotel appartment with swimming pool


Passer des vacances dans un appart hôtel avec piscine