Spend the holidays in an apart'hotel with a swimming pool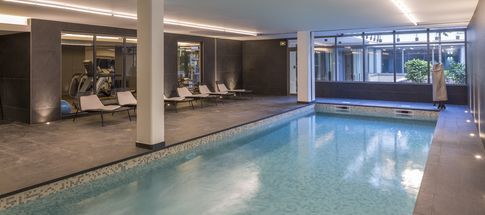 Enjoy the swimming pool during your holiday
From €215 pour un séjour d'une semaine at the residence Le Lido from 02/01 to 09/01.
This year for the holidays, you want a rental with a swimming pool that caters to both adults and children. Good thinking! The swimming pool is one of the key components of a successful holiday. Nemea offers apart'hotels with a swimming pool for your enjoyment. 

Read more

Customer reviews
(949)
3,8
949
In the heart of the Côte d'Azur (between Nice and Cannes), Cagnes-sur-Mer is a diverse town that is home to a medieval village, a small fishing port, and the Renoir Museum. Life in this charming holiday destination is dictated by a variety of festivals (medieval festival, night-time beach walks. . . colourful markets, swimming, and other water activities. . . not to mention the horse racing season.
Stays from
€215
Rental from 02/01/21 09/01/21
Studio 4 pers 4 guests

Customer reviews
(97)
4
97
Come to discover the Néméa Appart'hôtel Nancy Grand Coeur four-star residence,  located just a few minutes from Nancy-Ville train station and the Saint Sébastien shopping centre.
Famous for its protected cultural heritage and Art Nouveau, the city of Nancy has been declared as a World Heritage site by UNESCO since 1983.
Come and take the pace of the city's events, including the Saint-Nicolas festival, the Rendez-vous Place Stanislas or the Nancy Jazz Pulsations festival.
Let your curiosity guide you through the city's 23 parks, without missing the annual Stanislas Square rendezvous to discover the ephemeral garden, accessible at the end of September until the beginning of November.
Stays from
€266
Rental from 02/01/21 09/01/21
SINGLE 1 guests

Une résidence entièrement rénovée composée d'appartements, du studio au T2, pouvant accueillir entre 1 et 4 personnes. Profitez d'une piscine extérieure chauffée, d'un sauna ainsi que d'une salle de sport.
Stays from
€322
Rental from 28/11/20 05/12/20
Studio 2 pers 2 guests

Une résidence 3 étoiles située au cœur du quartier Saint-Martin du Touch, profitez d'un sauna, hammam, d'une salle de sport ainsi que d'une grande piscine couverte chauffée pour vous détendre après vos longues journées touristiques.
Stays from
€364
Rental from 24/10/20 31/10/20
Studio 2 pers 2 guests

Une résidence de 78 studios et appartements tout équipés pour 1 à 4 personnes au cœur de la ville de Nancy. Profitez d'une grande piscine chauffée et d'une salle de sport avec machines pour vous détendre et prendre soin de vous.
Stays from
€368
Rental from 26/09/20 03/10/20
Studio 2 pers 2 guests

Partez à la découverte de Strasbourg ! Strasbourg, capitale de l'Europe et de l'Alsace, possède un patrimoine historique et architectural qui en fait la ville la plus riche d'Alsace.
Son centre-ville fait partie du patrimoine mondial de L'UNESCO. De plus, les musées de la ville sont particulièrement riches et intéressants.
Strasbourg est bien évidemment incontournable non seulement pour ses monuments, mais aussi pour saisir les différents visages de l'Alsace et des Alsaciens.

Stays from
€371
Rental from 26/09/20 03/10/20
Chambre SMART - 1 pers 1 guests

Une résidence tout confort à 5 km de l'Aéroport de Blagnac et à 8 km de la célèbre place du Capitole. Profitez d'un sauna, d'un hammam, d'une salle de sport et d'un espace de massage pendant vos moments détente à la résidence.
Stays from
€374
Rental from 14/11/20 21/11/20
Studio 2 pers 2 guests

Located a few minutes away by foot of the city center and the VINCI International Convention Center, in front of train station and the shops, this residence is ideally located will entirely meet your needs.
Stays from
€392
Rental from 31/10/20 07/11/20
Studio 2 pers. 2 guests

Aussi bien pour vos 
étapes d'affaires que pour vos vacances, 
cette résidence hôtelière avec piscine intérieure chauffée et salle de fitness vous propose 90 logements entièrement équipés et meublés pour votre confort, du studio au 2 pièces pouvant accueillir de 1 à 4 personnes.
Stays from
€470
Rental from 03/10/20 10/10/20
Studio 2pers 2 guests

Between Canal du Midi and the historic heart of Toulouse, the 
Toulouse Concorde
 residence is located within a few minutes walk from the Place du Capitole and the media library. 
You will be seduced by the cosy streets with a special atmosphere and the many shops of the Ville Rose (Pink City). 
For your business trips as well as for your leisure breaks, this apart ' hotel will fully meet your needs .
Stays from
€483
Rental from 07/11/20 14/11/20
Chambre Double - 2 Pers 2 guests
Stay in an apart'hotel with a swimming pool during the summer holidays.


What could be more pleasant than enjoying the pool while on holiday? Let go of all that accumulated stress while lounging by the water's edge. Play with family or friends for hours and forget your daily routine  
Swimming, lazing around, taking a dip in the hot tub... The swimming pool is the perfect place to enjoy a wonderful holiday. While the kids are having fun in the water, relax and get a tan with a good novel. 
Did you know that swimming is an excellent sport for your health? As you swim, you gently build up deep muscle tissue. Within a decor consisting of summer colours, you can feel the benefits of water on your body. 

Book your holiday in a Nemea holiday residence

Nemea holiday residences welcome you for a stay in an apart-hotel with a pool. You benefit from fully equipped accommodation offering optimal comfort. The quality of the services offered ensures that you enjoy a thoroughly relaxing stay. The holiday residences offer various water-based facilities: indoor pool, hot tub, heated outdoor pool... you're spoiled for choice. Discover the Nemea offers on apart-hotels with swimming pools!