Réserver un chalet à la dernière minute : c'est possible avec Nemea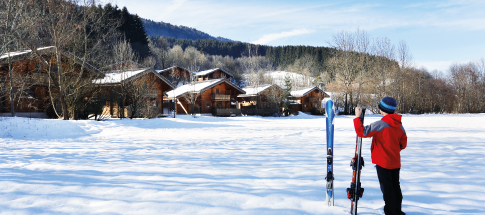 Réserver un chalet à la dernière minute : c'est possible avec Nemea
Envie de grands espaces et d'air pur pour vos prochaines vacances ? Optez pour un séjour à la montagne ! Été comme hiver, les Vosges, les Alpes, les Pyrénées ou le Massif central se prêtent particulièrement bien aux activités de pleine nature. 
Situées dans les divers massifs montagneux du territoire, les résidences vacances Nemea vous proposent des logements tout confort dans un cadre exceptionnel. N'attendez plus pour réserver votre location de chalet même à la dernière minute.
Read more
Partez ou soyez remboursés!
Customer reviews
(718)
4
718
Situated in the heart of the Regional Natural Park of the Catalan Pyrenees, between France and Spain, Font-Romeu is a natural playground that provides a wide variety of outdoor activities: footpaths or bike trails (mountain bikes), horse riding, climbing, paragliding,… You can also visit the solar furnace in Odeillo, the historic citadel of Mont-Louis, or the region's various Roman churches, or simply appreciate the peace and quiet of the Eastern Pyrenees.
Partez ou soyez remboursés!
Customer reviews
(898)
3,85
898
At the heart of the Maurienne Valley, this resort, situated on a high-pasture plateau and bathed in sun, has breath-taking panoramas with a 360° view of the surrounding mountains. At the heart of the resort, the Chalets des Cimes offers panoramic views of the Aiguilles d'Arves mountain.
Partez ou soyez remboursés!
Customer reviews
(903)
3,95
903
A few kilometres from Megève, Flumet is a crossroads for tourists on the Route des Grandes Alpes. In the summer, at the heart of the town, a fully-equipped swimming and relaxation area blends in with the Arrondine recreation centre and its sporting facilities and children's games. Flumet also offers many other activities: walking, mountain biking, fishing,. . . and the summer season is broken up by several traditional festivals.
Partez ou soyez remboursés!
Customer reviews
(492)
4,15
492
Morillon is a traditional village in the Haute-Savoie region, in the very heart of the Grand Massif, where mountain fun is shared by family and friends.

At an altitude of 1430m, at the foot of the Col du Galibier mountain pass, the village resort in Valloire awaits your arrival! Valloire, with connection to the Valmeinier ski-area, offers 150km of slopes reaching up to an altitude of 2600m. The residence, situated at the foot of the slopes (walking distance from the ski-return site), just 200m from the ski lifts, and 1km from the centre (free shuttle in front of the residence), is made up of 2 groups of stone and wooden chalets with lifts (5 chalets per group). Each group of buildings has one chalet that houses the reception area and swimming pool.

In a beautiful natural setting, La Plagne is a group of high-altitude resorts connected to one another by free shuttles. With direct connections to Les Arcs, the Paradiski ski-area is one of the largest in Europe and is suitable for the entire family! Just 20m from the slopes, in the centre of the resort, this residence and its indoor heated pool welcome you with comfortable, cosy, and well-equipped apartments, sectioned off within several chalets.

Profitez d'un splendide appartement pour 1 à 8 personnes au sein de la résidence des chalets d'émeraude. Sa piscine chauffée et son bain à remous en font l'endroit rêvé pour des vacances d'été.


Cette résidence de standing, aménagée en deux spacieux chalets, vous propose des appartements pouvant accueillir jusqu'à 8 personnes. Une piscine intérieure chauffée, un espace bien-être avec sauna et hammam sont à votre disposition.
Partir en vacances à la dernière minute : pourquoi ça vaut le coup ?


Réservez un chalet à la neige, même à la dernière minute 
Cela vous paraît aventureux de réserver une location de vacances à la dernière minute ? D'autant plus s'il s'agit d'un chalet à la montagne en hiver. Les stations de ski sont prises d'assaut et les réservations de logements se font généralement très tôt dans l'année. 
Cependant, il y a toujours de fortes chances pour que des désistements aient lieu. De même que des offres promotionnelles font souvent leur apparition à la dernière minute, histoire de convaincre, une bonne fois pour toutes, les indécis. 
Les résidences vacances Nemea vous accueillent toute l'année aux quatre coins de la France : à la mer, à la campagne et à la montagne, et ce, même en haute saison hivernale. Des chalets chaleureux et confortables vous sont proposés afin d'accueillir votre tribu. Entre amis ou en famille, vous disposerez ainsi d'un logement entièrement équipé, décoré avec soin, au cœur d'un espace naturel ressourçant. 
Profitez d'une remise en forme grâce aux équipements disponibles dans la résidence : bains à remous, hammam, sauna, salle de sport et piscine intérieure chauffée vous promettent de purs moments de relaxation et de bien-être. 
Au cœur de stations de ski familiales, votre chalet vous permet de vaquer librement à vos occupations préférées. Descentes des pistes, farniente en terrasse, activités de loisirs proposés sur place (cinéma, bowling, patinoire…) pour tous les âges. De quoi repartir des souvenirs plein la tête !
Passez vos vacances d'été dans un chalet à la montagne  
La location d'un chalet à la montagne peut aussi être réservée en plein été. Loin de la frénésie des stations balnéaires et des foules de touristes qui les envahissent en période estivale, la montagne est la destination idéale pour qui souhaite davantage de calme et de fraîcheur durant les mois les plus chauds.   
Au programme : des activités de plein air à profusion. 
Les randonnées pédestres, équestres ou à vélo sont les meilleurs moyens de parcourir les environs à votre rythme. Adaptées à tous les niveaux et tous les âges, vos balades en famille seront une bonne occasion de vous maintenir en forme agréablement. Sachez aussi que Nemea propose, dans certaines résidences, deux randonnées gratuites d'une demi-journée pendant votre séjour. Ces sorties familiales, encadrées par des accompagnateurs diplômés, vous permettent d'admirer les paysages qui vous entourent, ainsi que la faune et la flore qui les composent.   
Les plus téméraires apprécieront les montées d'adrénaline liées aux activités un peu plus extrêmes telles que l'escalade, la via ferrata, le canyoning, l'accrobranche ou encore le parapente. Envie de découvrir ce qui se passe sous terre, à la fraîche ? Pourquoi ne pas essayer la spéléologie ? Une expérience unique, pleine de découvertes incroyables. 
La montagne offre aussi de nombreuses possibilités de s'exercer aux sports nautiques. Grâce aux lacs, rivières et cascades qui jalonnent les massifs, vous pouvez parcourir les cours d'eau de la manière qui vous convient le mieux. Baignade et balade au calme sur un lac en stand-up paddle ou en pédalo raviront les amateurs de tranquillité, tandis que le canoë-kayak et le rafting en rivière contenteront davantage les plus aventuriers. 
De retour dans votre chalet en fin de journée, vous apprécierez le confort et la convivialité des lieux. Du studio pour 2 voyageurs, au T5 de plus de 80 m² pour 12 personnes, chacun des logements possède un balcon, une cuisinette équipée avec micro-ondes, lave-vaisselle, réfrigérateur, plaques vitrocéramique et cafetière électrique. De quoi se préparer de bons repas à prendre en extérieur, sur la terrasse de votre chalet. Aménagé avec soin, votre chalet cosy vous permet de vous restaurer, mais aussi de vous reposer dans une literie des plus confortables. 
Au sein même des résidences Nemea, vous disposez de nombreux équipements de loisirs : piscines, terrains de sports, terrains de jeux. Des animations pour toute la famille vous sont également proposées. 
Facile d'accès, les commerces de proximité vous permettront de faire vos courses de première nécessité et de trouver tous les services dont vous avez besoin pendant votre séjour : pharmacie, coiffeur, distributeur bancaire, boulangerie, tabac, station essence…