Weekend rental in Bordeaux: Discovery stay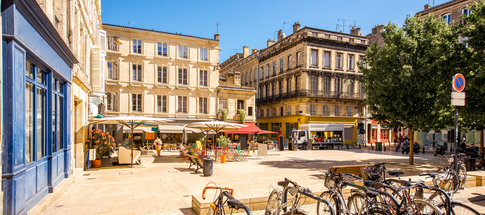 Short stay in bordeaux
A partir de €148 pour un séjour de 2 nuits à la résidence Stadium du 06/01 au 08/01.
Would you like to discover a city with rich culture and gastronomy for your holidays? For a weekend or over several days, discover Bordeaux, the sleeping beauty.
Read more


Partez ou soyez remboursés!
Mérignac

Aquitaine
Customer reviews
(1656)
3,95
1656
Aussi bien pour vos 
étapes d'affaires que pour vos vacances, 
cette résidence hôtelière avec piscine intérieure chauffée et salle de fitness vous propose 90 logements entièrement équipés et meublés pour votre confort, du studio au 2 pièces pouvant accueillir de 1 à 4 personnes.
Stays from
€148
Rental from 06/01/24 08/01/24
Studio 2pers 2 guests
Flexible dates ?
Your destination is set
Start a search
or
Flexible about your destination ?
Your dates are set
Start a search
Head to Bordeaux for a weekend


Bordeaux: a city with many facets

During your stay in Bordeaux, you will have the opportunity to get to know the many facets of the city. Cultural sightseeing, gastronomy, oenology, architecture, a unique atmosphere... Whether you want to venture into the city on your own or to avail of the classic tours, there are many possibilities. Stroll along the quays and enjoy the beauty of the Place de la Bourse, which is even more beautiful when illuminated at dusk. Or perhaps you would prefer to discover the city in an authentic way, on the fringes of the usual tours? In Bordeaux, "greeters", residents who are passionate about the city, can take you on a tour of the various districts with their own unique perspectives and anecdotes. A friendly and unusual way to see the sights.
Various activities during your stay in Bordeaux

Bordeaux is a surprising city where there is no shortage of cultural activities waiting to be discovered. Spend a day enjoying its wealth of culture by visiting the City of Wine, considered the 7th best museum in the world by National Geographic. Perfect for lovers of oenology, but also of architecture! Indeed, the building itself is the first stage of the journey. Afterwards, let yourself be drawn in by a unique art installation: the water mirror. Located opposite the Place de la Bourse, this project alternates between mirror and fog effects. It is one of the must-see attractions in Bordeaux! Whether travelling as a couple or with friends, enjoy the sleeping beauty districts and sample the local gastronomy in one of the city centre's many bistros. A treat for your taste buds!
The richness of Bordeaux's gastronomy and culture

As you see the sights and head off on excursions, take the time to soak up the local gastronomy. During your walks, you will cross the path of numerous bistros where you can sample local specialities. Warm up with a generous meal in a friendly atmosphere. Your dishes should of course be paired with a glass of wine: the ideal way to bring out your dishes and further appreciate the richness of the region. Havingtreated yourself, take an artistic break by visiting the Bernard Magrez Cultural Institute. Located in the heart of the Château Labottière, it will delight those with a love of art, and those who are simply curious. Or explore the Cité du Vin, both for its unique architecture and to discover oenology. There is no shortage of activities in Bordeaux!
A pleasant stay with your family

For your family holidays, Bordeaux is full of events and leisure activities that will delight both young and old alike. Choose a day at the Bordeaux-Pessac zoo, located just 20 minutes from the city centre. Ideal for a brief change of scenery and to explore the wildlife with your family! You can also visit the Cap Sciences where your toddlers will discover exhibitions suited to their ages, in the form of scientific leisure workshops. Would you rather discover the city from a new perspective? Opt for a cruise on the waters of the Garonne. Once again, the possibilities here are many: wine tasting cruise, walking cruise, discovery of the Estuary etc. There will be something for everyone!