Where to paddle near Saint Pol de Leon?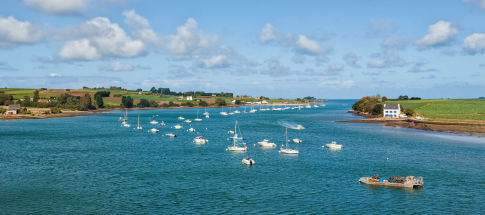 les meilleurs spots pour le pratiquer
A partir de €200 pour un séjour d'une semaine à la résidence Les Roches du 09/03 au 16/03.
Située en Bretagne, entre Roscoff et la presqu'île de Carantec, Saint-Pol-de-Léon est une très jolie station balnéaire offrant de beaux spots de baignade, mais aussi des activités nautiques comme le stand up paddle. Si vous souhaitez séjourner dans cette petite ville typique du Finistère pour vous initier à ce sport en vogue, vous êtes au bon endroit. Reste maintenant à découvrir les lieux où faire du paddle proche de Saint-Pol-de-Léon.
Read more


Partez ou soyez remboursés!
Saint Pol de Léon

Bretagne
Customer reviews
(2227)
4
2227
Saint Pol de Léon ,a small, preserved coastal town in the Morlaix Bay, enjoys a breath-taking maritime landscape set against a backdrop of white sand beaches. In town, take the opportunity to marvel at the Early Gothic cathedral , the Kreisker chapel, a number of 16th and 17th century dwellings, or the Boutouiller megalith. Le Finistère with its fjords and north-coast inlets, its extreme, wild, and invigorating nature, its migrating bird populations. Along the coast, the hiking path allows for a spectacular view of the Channel, from Roscoff to the Pointe de Primel. Of all the beaches in the area, Sainte Anne is the most popular.
Stays from
€200
Rental from 09/03/24 16/03/24
T2/4pers 4 guests
Flexible dates ?
Your destination is set
Start a search
or
Flexible about your destination ?
Your dates are set
Start a search
Louer un paddle et pratiquer à Saint-Pol-de-Léon


Si vous venez dans la région avec votre propre paddle, consultez dès à présent la liste des plages ci-dessous. Mais si vous êtes non équipé ou souhaitez voyager léger, sachez qu'il existe à Saint-Pol-de-Léon un centre nautique qui offre de nombreux services. Parmi eux, des cours de paddle tous niveaux, mais également la location de matériel.
Les lieux de baignade et les spots de glisse à Saint-Pol-de-Léon et ses environs
Découvrez sans plus tarder les meilleures plages de Saint-Pol-de-Léon pour vous essayer au stand up paddle :
La plage Sainte-Anne est la principale de Saint-Pol-de-Léon ;
La plage de la Grève du Man ;
La plage de Kersaliou ;
Les plages de Carantec situées plus à l'est. Ici, vous avez la possibilité à marée basse d'accéder à l'île Callot et ses belles criques.
Les pittoresques plages de Roscoff plus à l'ouest.
En bref, sur les plages de la station balnéaire, sur la baie de Morlaix, mais aussi sur les rivières, comme la rivière Penzé et les lacs environnants, vous n'avez que l'embarras du choix pour pratiquer le paddle. Si vous êtes à la recherche de sensations fortes et que vous avez une certaine expérience du paddle, optez pour une sortie en mer ou dans la célèbre baie de Morlaix. Assurez-vous avant que les conditions météo soient optimales. 
Si vous débutez et recherchez un cadre calme et paisible, optez plutôt pour les lacs et rivières. Dans tous les cas, vous allez être bluffé par la diversité des lieux et la beauté du cadre naturel qu'offre cette partie du Finistère. Pour tester ces spots, commencez par réserver une location à Saint-Pol-de-Léon !