VACAF certified Nemea holiday centres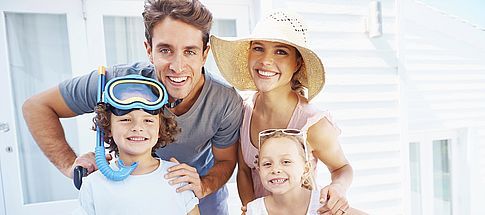 Our VACAF certified holiday residences
Do you want to go on a family holiday, but your budget is limited? Some Nemea holiday residences are certified by VACAF and the French family allowance office. They enable families to access holidays and leisure activities. Because holidays should be accessible to all, Nemea has several VACAF certified holiday centres.

Have you chosen to spend your summer holidays in France? Nemea, a VACAF partner, offers holiday resorts in the most beautiful areas of France! To choose your VACAF rental by the sea, in the countryside or mountains, check the list below.
Read more
Partez ou soyez remboursés!
Customer reviews
(981)
3,55
981
Just a few kilometres from the Pont du Gard, Sauve is a medieval village that is rich in history, as you can see from its 16th Century Pont Vieux bridge, its city walls and ruins, fortified gates, vaults, tall medieval towers, and last but not least, its Hôtel de la Monnaie. From your rental property in the Gard region, explore Nîmes, the Pont de Gard, Alès, Le Vigan,. . . . and choose from a wide range of sightseeing opportunities: visit the fork factory, where utensils are made out of hackberry wood, or the Silk Museum in Saint Hippolyte Du Fort.
Stays from
€215
Rental from 11/09/21 18/09/21
Maison Duplex T3/4pers 4 guests
Partez ou soyez remboursés!
Customer reviews
(2017)
4,1
2017
NEW

 

- 

July and August, Mini-club (children 4-12 years) and Sport activities for teenss/adults

 

FREE

Between Pointe du Raz and Quimper, Audierne is a lively family seaside resort in southern Finistère. 

Audierne harbour is a hive of activity, and is a delight for pleasure sailors with its jetties located in the town centre. The lively quaysides are the perfect place for a stroll and for visiting the town's shops, restaurants and historical heritage to be found along its narrow streets. 

Audierne Bay offers magnificent fine sand beaches stretching as far as the eye can see where families will be able to enjoy walking at all times of the year.
Stays from
€275
Rental from 11/09/21 18/09/21
Maison 4pers 4 guests
Partez ou soyez remboursés!
Customer reviews
(590)
3,8
590
Sandwiched between the ocean the forest, the seaside resort of Moliets in Les Landes, renowned for its beautiful beaches, invites you to enjoy your holiday with friends or family. An hour away from Biarritz, Moliets is a little slice of paradise with its golf course (ranked 9th in France) that overlooks the village and the huge white sand beach.
Stays from
€290
Rental from 11/09/21 18/09/21
T2/4pers 4 guests
Partez ou soyez remboursés!
Customer reviews
(1336)
3,95
1336
Not far from Lubéron, Malaucène is a typical Provençal village, hidden behind its village walls, with fountains and shady cafe terraces.
Stays from
€320
Rental from 11/09/21 18/09/21
Maison T2/4pers 4 guests
Partez ou soyez remboursés!
Customer reviews
(1218)
3,9
1218
Saint Pol de Léon ,a small, preserved coastal town in the Morlaix Bay, enjoys a breath-taking maritime landscape set against a backdrop of white sand beaches. In town, take the opportunity to marvel at the Early Gothic cathedral , the Kreisker chapel, a number of 16th and 17th century dwellings, or the Boutouiller megalith. Le Finistère with its fjords and north-coast inlets, its extreme, wild, and invigorating nature, its migrating bird populations. Along the coast, the hiking path allows for a spectacular view of the Channel, from Roscoff to the Pointe de Primel. Of all the beaches in the area, Sainte Anne is the most popular.
Stays from
€375
Rental from 05/06/21 12/06/21
T2/4pers 4 guests
Partez ou soyez remboursés!
Customer reviews
(657)
3,95
657
Situated in the heart of the Regional Natural Park of the Catalan Pyrenees, between France and Spain, Font-Romeu is a natural playground that provides a wide variety of outdoor activities: footpaths or bike trails (mountain bikes), horse riding, climbing, paragliding,… You can also visit the solar furnace in Odeillo, the historic citadel of Mont-Louis, or the region's various Roman churches, or simply appreciate the peace and quiet of the Eastern Pyrenees.
Stays from
€180
Rental from 11/09/21 18/09/21
Studio 4 pers 4 guests
Partez ou soyez remboursés!
Customer reviews
(2304)
4,05
2304
A few kilometres from Les Sables d'Olonne, Olonne-sur-Mer enjoys a strategic position with 250km of coastline split between magnificent beaches and dramatic cliffs. Olonne is a "green", lively, dynamic, and welcoming seaside resort where every guest will find the time to relax. Nature enthusiasts will enjoy the fine sand beaches, forests, and marinas, and for golf lovers, a variety of courses are at your disposal.
Stays from
€220
Rental from 04/09/21 11/09/21
Studio 4 pers 4 guests
Partez ou soyez remboursés!
Customer reviews
(711)
3,8
711
At the heart of the Maurienne Valley, this resort, situated on a high-pasture plateau and bathed in sun, has breath-taking panoramas with a 360° view of the surrounding mountains. At the heart of the resort, the Chalets des Cimes offers panoramic views of the Aiguilles d'Arves mountain.
Stays from
€225
Rental from 12/06/21 19/06/21
T2/3pers. 3 guests
Partez ou soyez remboursés!
Customer reviews
(456)
3,9
456
With its ideal location between the Ecrins National Park and the Queyras Regional Park, the Résidence l'Aigle Bleu is the perfect base for numerous hikes and a variety of outdoor nature activities. Briançon, a historical art town fortified by Vauban, offers its rich heritage, temporary exhibitions, and a variety of entertainment opportunities throughout the year.
Stays from
€240
Rental from 05/06/21 12/06/21
Studio 4pers 4 guests
Go on holiday to one of our VACAF certified holiday residences


Vacaf: help for family holidays

Created in 1999, VACAF is a national scheme in France that aims to improve access to holidays to the greatest possible number of families and children. Every year, thousands of families are able to enjoy affordable holidays.

How can you benefit from VACAF vouchers?

As a family receiving French family allowance, under certain conditions, VACAF can help you pay for your holiday. The level of financial assistance is calculated based on your household income. It varies between 25%, 40% or 60% of the total price of your stay. Please note that you do not have to take any particular steps. Your eligibility for VACAF will have been sent to you (by letter) automatically by the French family allowance office during the first quarter of 2016.

VACAF vouchers for beach or mountain holidays

To ensure a successful family holiday, Nemea has holiday residences located all over France. We have made it very simple to use your VACAF cheques. Just contact a Nemea advisor (with your CAF number to hand). After this telephone conversation, Nemea will send you a booking quotation. The amount of the holiday allowance is deducted from the rental price. You only pay the remaining balance, the financial aid being paid directly to the holiday residence.
You can find our VACAF holiday centres on this page. Whether you want to go on a summer or winter break, VACAF certified Nemea holiday residences offer all the comfort required for a wonderful holiday. Don't put off booking your rental in a Nemea holiday residence.