Go away for the October half term without breaking the bank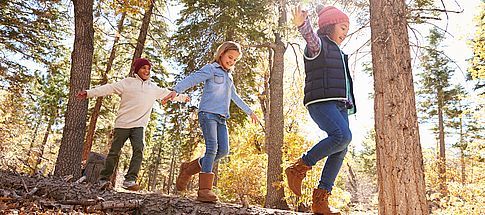 OCTOBER HALF TERM, OUR BEST OFFERS
If you want to avoid the crowds and make the most of low prices, take a holiday at the beginning of November! It is the ideal way to recharge your batteries and enjoy the mild weather before winter. France offers a multitude of ways to make the most of the mild, sunny weather. Countryside? Seaside? Mountains? Check out the ideal location of the Nemea holiday residences.

Read more

Customer reviews
(728)
3,9
728
The Chalets d'Estive in Cauterets. At the edge of the Pyrenees National Park, Cauterets lives in harmony alongside some of the highest-ranked natural sites in France: the Pont d'Espagne, Gaube Lake, and the Oulettes Valley. The huge Vignemale Summit, which reaches 3298m, and the Marcadau Valley are breath-taking spots for hikers of all levels.
Stays from
€130
Rental from 29/10/20 01/11/20
Studio 4 pers 4 guests

Customer reviews
(806)
4,05
806
Ax les Thermes is a hot spring resort with 80 springs that are known to have beneficial properties. Situated in the heart of the Ariège Pyrenees in the Midi-Pyrénées region, Ax offers a geographical location that boasts amazing panoramic views, forests, and architectural heritage.
Stays from
€150
Rental from 29/10/20 01/11/20
Studio 2 pers 2 guests

Customer reviews
(2160)
4,05
2160
A few kilometres from Les Sables d'Olonne, Olonne-sur-Mer enjoys a strategic position with 250km of coastline split between magnificent beaches and dramatic cliffs. Olonne is a "green", lively, dynamic, and welcoming seaside resort where every guest will find the time to relax. Nature enthusiasts will enjoy the fine sand beaches, forests, and marinas, and for golf lovers, a variety of courses are at your disposal.
Stays from
€175
Rental from 29/10/20 01/11/20
Studio 4 pers 4 guests

Customer reviews
(489)
4,15
489
Entre Bordeaux et Bayonne, la résidence Le Domaine des Dunes vous accueille dans un ensemble de maisons individuelles. A 800 m de la plage et des commerces, bénéficiez gratuitement d'une piscine extérieure chauffée avec toboggan, d'une piscine intérieure, d'un sauna et d' une salle de sport. GRATUIT - Mini-club (enfants 4-12ans) Juillet et août et Animations sportives ado/adultes en Juillet et août.
Stays from
€181
Rental from 29/10/20 01/11/20
Maison T2/4 pers 4 guests

Customer reviews
(571)
3,8
571
Sandwiched between the ocean the forest, the seaside resort of Moliets in Les Landes, renowned for its beautiful beaches, invites you to enjoy your holiday with friends or family. An hour away from Biarritz, Moliets is a little slice of paradise with its golf course (ranked 9th in France) that overlooks the village and the huge white sand beach.
Stays from
€197
Rental from 29/10/20 01/11/20
T2/4pers 4 guests

Customer reviews
(1148)
3,9
1148
Saint Pol de Léon ,a small, preserved coastal town in the Morlaix Bay, enjoys a breath-taking maritime landscape set against a backdrop of white sand beaches. In town, take the opportunity to marvel at the Early Gothic cathedral , the Kreisker chapel, a number of 16th and 17th century dwellings, or the Boutouiller megalith. Le Finistère with its fjords and north-coast inlets, its extreme, wild, and invigorating nature, its migrating bird populations. Along the coast, the hiking path allows for a spectacular view of the Channel, from Roscoff to the Pointe de Primel. Of all the beaches in the area, Sainte Anne is the most popular.
Stays from
€200
Rental from 29/10/20 01/11/20
T2/4pers 4 guests

Customer reviews
(1944)
4,1
1944
NEW

 

- 

July and August, Mini-club (children 4-12 years) and Sport activities for teenss/adults

 

FREE

Between Pointe du Raz and Quimper, Audierne is a lively family seaside resort in southern Finistère. 

Audierne harbour is a hive of activity, and is a delight for pleasure sailors with its jetties located in the town centre. The lively quaysides are the perfect place for a stroll and for visiting the town's shops, restaurants and historical heritage to be found along its narrow streets. 

Audierne Bay offers magnificent fine sand beaches stretching as far as the eye can see where families will be able to enjoy walking at all times of the year.
Stays from
€200
Rental from 29/10/20 01/11/20
Maison 4pers 4 guests

Customer reviews
(956)
3,8
956
In the heart of the Côte d'Azur (between Nice and Cannes), Cagnes-sur-Mer is a diverse town that is home to a medieval village, a small fishing port, and the Renoir Museum. Life in this charming holiday destination is dictated by a variety of festivals (medieval festival, night-time beach walks. . . colourful markets, swimming, and other water activities. . . not to mention the horse racing season.
Stays from
€264
Rental from 17/10/20 20/10/20
Studio 2 pers 2 guests

Customer reviews
(634)
4,2
634
Ideally located only 20 metres from the beach, this air-conditioned residence opens onto a landscaped patio with a heated outdoor pool. During your stay, you will also have free access to the indoor pool, the gym, the hot-tub, and the sauna.

Stays from
€280
Rental from 29/10/20 01/11/20
1-bedroom flat / 4 people 4 guests

Customer reviews
(900)
3,85
900
Connected to the mainland by a bridge, Oléron is a magical place for nature lovers and water sport enthusiasts. Situated just opposite La Rochelle, Ile d'Oléron is the largest French island on the Atlantic coast, with 90km of coastline and huge stretches of fine sand beaches. Your rental property on the Ile d'Oléron is in easy visiting distance of:  oyster farms and a chance to sample the famous Marennes d'Oléron oysters, the island's bird sanctuary, the Château d'Oléron and its citadel, sea trips to Fort Boyard, Ile d'Aix, and La Rochelle.
Take a holiday this autumn


Holidays in November, or autumnal charms

Reds, oranges, yellows... The colours of the autumn leaves enhance any landscape! Do you too like to admire the charms of nature at this time of the year? It is the ideal time to take a walk in the forest or on the beach. It is not yet cold and so you can enjoy various outdoor excursions and walks. In addition, hiking enthusiasts very much appreciate this season as it is not too hot and yet all the paths are still accessible.

Where do you fancy going for an October / November holiday?

October half term is the last moment to benefit from good weather and the final rays of sunshine. You like the sea? Why not choose Aquitaine, Landes, the Basque Country or the French Riviera? You prefer the countryside? Provence is a place well-known for its laid back lifestyle, even as winter approaches. Discover these charming autumn destinations and enjoy the gentle air and blue skies. You will be able to take advantage of the calm atmosphere to explore the region and even have the beach to yourself! Bonus: the rates are particularly attractive during October / November. Discover special offers on Nemea's holiday residences!