Where to go for a walk in North Finistère?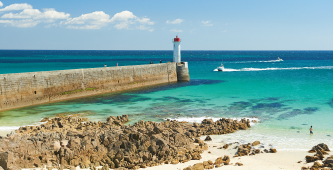 Discover our walks in Finistère
A partir de €200 pour un séjour d'une semaine à la résidence Les Roches du 09/03 au 16/03.
Découvrez le Finistère Nord, partie hautement privilégiée du territoire breton pour les balades. Les plages de sable fin et l'eau couleur turquoise font rêver les touristes ! Quand on se demande où se promener dans le Finistère Nord, les possibilités sont nombreuses. De Roscoff à Brest en passant par Plouescat, découvrez la culture locale, dégustez les produits de la mer et régalez-vous de balades sur le littoral ou dans l'arrière-pays ! Partez à la recherche des légendes qui ont façonné cette partie du département finistérien.

Read more


Partez ou soyez remboursés!
Saint Pol de Léon

Bretagne
Customer reviews
(2227)
4
2227
Saint Pol de Léon ,a small, preserved coastal town in the Morlaix Bay, enjoys a breath-taking maritime landscape set against a backdrop of white sand beaches. In town, take the opportunity to marvel at the Early Gothic cathedral , the Kreisker chapel, a number of 16th and 17th century dwellings, or the Boutouiller megalith. Le Finistère with its fjords and north-coast inlets, its extreme, wild, and invigorating nature, its migrating bird populations. Along the coast, the hiking path allows for a spectacular view of the Channel, from Roscoff to the Pointe de Primel. Of all the beaches in the area, Sainte Anne is the most popular.
Stays from
€200
Rental from 09/03/24 16/03/24
T2/4pers 4 guests


Partez ou soyez remboursés!
Audierne

Bretagne
Customer reviews
(2604)
4,05
2604
NEW

 

- 

July and August, Mini-club (children 4-12 years) and Sport activities for teenss/adults

 

FREE

Between Pointe du Raz and Quimper, Audierne is a lively family seaside resort in southern Finistère. 

Audierne harbour is a hive of activity, and is a delight for pleasure sailors with its jetties located in the town centre. The lively quaysides are the perfect place for a stroll and for visiting the town's shops, restaurants and historical heritage to be found along its narrow streets. 

Audierne Bay offers magnificent fine sand beaches stretching as far as the eye can see where families will be able to enjoy walking at all times of the year.
Stays from
€205
Rental from 09/03/24 16/03/24
Maison 4pers 4 guests


Partez ou soyez remboursés!
LocMaria-Plouzane

Bretagne
Customer reviews
(2094)
3,95
2094
At the edge of the Pays d'Iroise, midway between Brest and Le Conquet, Loc Maria enjoys a stunning geographical location at the heart of magnificent countryside with 7km of coastline and beaches.   A water-focused but nonetheless very diverse area, Le Finistère and the Breton coastline are known to be one of France's top tourist destinations.
Stays from
€280
Rental from 06/01/24 13/01/24
T2/4pers 4 guests
Flexible dates ?
Your destination is set
Start a search
or
Flexible about your destination ?
Your dates are set
Start a search
Le Finistère Nord et ses kilomètres de plages paradisiaques


Découvrez le littoral brestois et ses alentours, en vous offrant de belles balades. Nous allons vous indiquer quelques endroits où vous promener et en prendre plein les yeux. Sur les côtes du Finistère Nord, laissez-vous tenter notamment par :
La pointe de Primel
Roscoff : magnifique port et jolie cité corsaire
La baie de Morlaix
La baie de Kernic : émerveillez-vous de la nature environnante et de la beauté des plages
La pointe de Corsen, pour pouvoir dire que vous êtes allé au point le plus à l'ouest de la France continentale !
Le Conquet, d'où vous embarquerez pour les îles d'Ouessant et de Molène 
Brignogan-Plage et ses chouettes balades
Ménéham : ici, remontez le temps et découvrez la réhabilitation d'un village de pêcheurs d'antan
La pointe Saint-Mathieu et la mer d'Iroise, pour des balades au cœur du parc naturel marin
Pénétrez dans les terres finistériennes et plongez au cœur de ses légendes
Si vous désirez profiter d'une location dans le Finistère Nord, profitez-en pour partir à la rencontre de cette terre légendaire en vous promenant du côté de Pont-Croix, sur la route de la Pointe du Raz, à Locronan, à Morlaix ou bien vers Saint-Pol-de-Léon, très jolie cité de caractère dotée d'un beau patrimoine architectural, à la jonction de la mer et de la terre. Et pour les amoureux de menhirs, ne manquez pas le magnifique menhir de Cam-Louis à Plouescat !