Share this destination with friends:
Tourist activities Le Grand Tétras in winter
Alpes - Haute-Savoie - Le Grand Massif - Samoens
At the foot of Mont Blanc, Samoëns, village resort par excellence, is connected to the fifth largest ski-area in France: The Grand Massif. A paradise for skiing beginners and freeriders, Samoëns offers a multitude of ways to have fun in the snow.
Customer reviews
7.8 / 10.0
Most of the residence
Offre court séjour ski (2 à 4 nuits) - Noel/Nouvel an
Covered pool, heated year round
Gym
Sauna
Wi-Fi access in the reception area and Internet connection in all rentals
Living area with fireplace and pool table
Covered parking
Ski racks
Free ski bus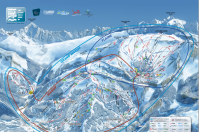 Agrandir
Samoens Tourist Information Centre in Haute-Savoie, the Alps: www.samoens.com The residence is situated in the heart of a village that combines the traditions of the Haute-Savoie region with the joys of a large mountain summer resort. It is a great starting point for mountain hikes, helping you enjoy your holiday through the discovery of the nature and prestine wildlife of the Alps. An ideal holiday destination, the Haute-Savoie region offers a large range of recreation and sporting activities, such as climbing, mountain biking, rafting, paragliding, and hiking in the Alps.
The Domaine du Grand Tétras in Samoëns. Samoëns, situated in the Alps in the Haute-Savoie region, is a typical mountain village at the heart of the Haut Giffre Valley. A stone's throw from the Cirque du Fer à Cheval and the enormous Dents Blanches Massif, Samoëns offers over 900km of hiking trails. Samoëns is connected to the fifth largest ski-area in France: The Grand Massif. The season-long snowfall provides visitors the opportunity to take part in winter sports activities against a backdrop of tiny traditional Savoyard chalets.
We also offer close
Top