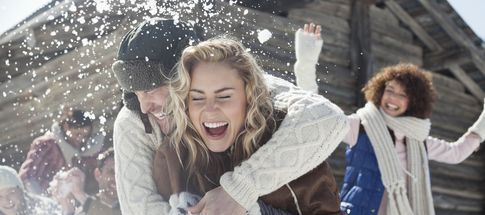 Book your stay
Do you fancy an affordable winter sports holiday? Whether you are more interested in the mountains or the sea, Nemea welcomes you for a winter stay in its holiday residences. Planning winter holidays on a limited budget is not always easy. With Nemea, you will enjoy a memorable holiday whatever the weather. Discover our discounted offers!

Read more
Partez ou soyez remboursés!
Customer reviews
(573)
3,95
573
On the outskirts of the Ecrin National Park, Serre Chevalier is one of Europe's largest resorts, with 250km of alpine ski slopes and 45km of cross-country routes. This lively, dynamic destination will allow you to go at whatever tempo you desire: family skiing in the Mélèze forests, night-time skiing on the breath-taking Vauban slope in Briançon, cross-country skiing and exploration of the region's heritage. . . Briançon, a historical art town fortified by Vauban, offers its rich heritage, temporary exhibitions, and a variety of entertainment opportunities throughout the year.
Partez ou soyez remboursés!
Customer reviews
(1409)
3,9
1409
Des appartements Premium et Premium + spacieux et décorés avec goût et un large confort inclus. Dès Pâques, bénéficiez librement d'une grande piscine chauffée en extérieur. Toute l'année un sauna, hammam, des bains à remous ainsi qu'une salle de sport et de nombreuses autres prestations gratuites vous y attendent.
Partez ou soyez remboursés!
Customer reviews
(517)
4
517
Not far from the Spanish and Andorran borders, the resort in Bonascre is situated in the heart of 3 ski-areas: Bonascre, Saquet, and Camp. High-altitude skiing, gentle slopes that are ideal for cross-country skiing, snowshoeing, dog-sledding. After a day on the slopes, treat yourself to a dip at the thermal spa centre in Ax les Thermes. With 75 km of slopes, the resort also boasts 40 snow cannons, 16 ski lifts, cross-country ski slopes on the Beille plateau and within the Chioula ski-area, and a snow park. Snowshoeing is also available.
Partez ou soyez remboursés!
Customer reviews
(1110)
4,05
1110
In the heart of the Ariège Pyrenees in the Midi-Pyrénées region, Ax les Thermes is a hot spring resort with eighty springs that are known to have beneficial properties. As for skiing, the geographic location of Ax means that it has access to 3 ski-areas (Bonascre, Saquet, and Camp). With 75km of slopes, including 5 green slopes, 5 blue, 11 red, and 4 black, the Ax les Thermes resort also has 40 snow cannons, 16 ski lifts, cross-country ski slopes atop the Beille Plateau and within the Chioula ski-area, and a Snow park. Snowshoeing is also available.
Partez ou soyez remboursés!
Customer reviews
(1706)
3,9
1706
At the edge of the Pays d'Iroise, midway between Brest and Le Conquet, Loc Maria enjoys a stunning geographical location at the heart of magnificent countryside with 7km of coastline and beaches.   A water-focused but nonetheless very diverse area, Le Finistère and the Breton coastline are known to be one of France's top tourist destinations.
Partez ou soyez remboursés!
Customer reviews
(1671)
3,95
1671
At the very edge of the Iroise Sea, the town of Plougonvelin holds firmly on to its Breton identity with its fine sandy beaches, jagged coastline, and islands that measure just a few nautical miles in width. Tucked away in the cove of Trez Hir, you find yourself immersed in an ocean of delights.
Partez ou soyez remboursés!
Customer reviews
(1556)
3,95
1556
Saint Pol de Léon, a small, preserved coastal town in the Morlaix Bay, enjoys a breath-taking maritime landscape set against a backdrop of white sand beaches. In town, take the opportunity to marvel at the Early Gothic cathedral , the Kreisker chapel, a number of 16th and 17th century dwellings, or the Boutouiller megalith. Le Finistère with its fjords and north-coast inlets, its extreme, wild, and invigorating nature, its migrating bird populations. Along the coast, the hiking path allows for a spectacular view of the Channel, from Roscoff to the Pointe de Primel. Of all the beaches in the area, Sainte Anne is the most popular. The residence, which offers guests the use of its heated indoor and outdoor pools, is located just a stone's throw from the beach, the port, and the old town.
Partez ou soyez remboursés!
Customer reviews
(2820)
3,8
2820
On the Arcachon Basin, this pedestrian residence is built within a wooded park that enjoys direct access to the beach. The residence is made up of detached and semi-detached houses, split up into two sections of different styles: the "fishing village" with its individual cottages, and the typical Arcachon-style of semi-detached houses.
Partez ou soyez remboursés!
Customer reviews
(2301)
3,9
2301
On the Emerald Coast and not far from Dinard, the village of Saint-Briac is a small marina town with several superb beaches and is the perfect spot for a day out. Just 15mins from Saint-Malo and 40mins from Mont Saint-Michel, Saint-Briac-sur-Mer is one of the jewels of the Emerald Coast, combining water sports with the beauty of its countryside and numerous pedestrian pathways. This apartment rental on the Emerald Coast puts you in easy visiting distance of Saint-Briac, an ancient fishing village that has managed to preserve its old neighbourhoods and the beautiful narrow streets that surround its church. As well as fine sand beaches, Saint-Briac has a marina, an 18-hole golf course overlooking the sea, and numerous other activities.
Partez ou soyez remboursés!
Customer reviews
(1811)
4
1811
Génos Lake, one of the most beautiful spots in the Pyrenees mountains, is an idyllic setting for your stay in the Louron Valley. Loudenvielle is a typical small village, ideal for a holiday that combines skiing with relaxation at the Balnéa spa centre.
Enjoy a cheap winter holiday with Nemea


The holidays are there to re-energise you during the long winter months. With Nemea holiday residences, find the accommodation that suits you for an ideal holiday. 
Do you like holidays by the sea? Nemea offers promotions on the rental of apartments on the Normandy, Atlantic and Mediterranean coasts. Make the most of the sea air and enjoy walks on the beach during your stay. In Normandy, Languedoc-Roussillon or Catalonia, find the perfect place for your holiday. 
Are you a fan of the mountains? Clip on your skis in a pleasant winter sports resort. Nemea offers accommodation in family resorts where you can live the good life. Each holiday residence is nestled in a flagship ski resort, for added convenience. Savoie, Haute-Savoie, Isère... you have a large selection to choose from when it comes to ski areas in France. 

Winter stays: Nemea holiday residences guaranteed at the best price
 
In winter, feeling good in your rental is crucial. A warm atmosphere, time spent wrapped up in a cosy cocoon... our holiday residences offer all of the comforts you would expect.. Every step has been taken to ensure that you have a great holiday. Nemea helps you to have the best possible stay. To this end, the holiday residences are equipped with modern facilities and offer various services.
Ideally located, the holiday residences are in close proximity to various amenities: mountain lifts, beach 200 m away... Nemea has thought of everything. Staying in one of the Nemea holiday residences means you can enjoy a comfortable holiday in an ideal setting. 

Winter holidays: discover new activities


Holidays are for resting. After a good day's skiing or enjoying the beach, enjoy a variety of activities. Restaurants, movies, bowling... There's something for everyone. Are you a history buff? Good news! The apartments in the Nemea holiday residences are located in areas that are rich in culture and heritage. 
Holidays are also an opportunity to discover new sensations. Snowmobiles, sled dogs... The mountain is the perfect place to enjoy the pleasures of snow and winter sports. In the Centre region, take the wine route. Take part in beginner's oenology classes within a lush, green environment. Unless you choose the seaside instead. Sailing, kayaking, windsurfing... Water sports enthusiasts will be living the dream here. Do you enjoy a thrill? Give in to the temptation and give parasailing a try. Planning a winter holiday? Check out the Nemea offers!