Your family vacation in Spain, discover the country with your loved ones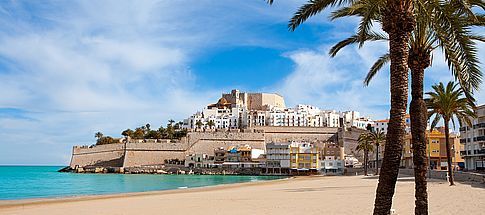 A unique family holiday
How about going to Spain with your family for your next holiday? Discover Peñiscola, its old town, fortifications, beaches and unique landscapes. Situated in the comarca of Baix Maestrat, in the east of Spain, this city of unparalleled charm stands on a rocky peninsula. A true dream destination for your next holiday, it offers something to delight young and old alike with numerous activities and excursions.
Read more

Au sud du delta de l'Ebre et à 2 heures au nord de Valence, Peniscola est l'une des stations balnéaires les plus intéressantes de la province de Castellon dans la Communauté valencienne. C'est l'un des plus beaux villages d'Espagne, extrêmement rare pour une station balnéaire ! 
Peniscola est une jolie citée médiévale de la Costa Del Azahar, baignée par la Méditerranée. Le centre historique, entouré de murailles et dominée par la forteresse de Benoit XIII, occupe une presqu'ile rocheuse. De part et d'autre se développe, la station balnéaire moderne avec ses longues plages de sable fin, idéale pour la baignade en famille.
Flexible dates ?
Your destination is set
or
Flexible about your destination ?
Your dates are set
Escape to Spain for a family holiday


A host of activities to discover in Peñiscola

Ideally located, Peñiscola is the perfect destination for your next family holiday. Just two hours from Valencia, this Spanish seaside resort will charm you with its many activities waiting to be discovered with your loved ones. Would you like to visit the city? Enjoy its museums, such as the Museo del Mar or La Casa Museo, and learn more about Iberian culture. Perhaps you prefer sampling the local specialities? Both young and old will find their happy place in the city's many typical restaurants of the city, where the Spanish atmosphere will allow you to completely break from your daily routine.
Beaches, landscapes and walks: the perfect setting for your holiday

For your holiday, treat yourself to a well-deserved rest. Settle into the Los Palmitos holiday residence, located on the hill of Las Atalayas, just 900 m from central Peñiscola. The holiday residence offers you all the comfort you need for a perfect stay. In addition, sublime beaches await just 1.5 km from your accommodation: ideal for those who love landscapes and fine sand or for a holiday with friends in Spain. If you are fond of walks, you will appreciate the old town and its unique charm.
Spending your holidays in Peñiscola means taking a real break from your daily routine. Recharge your batteries and enjoy yourself of a cheap holiday in Spain !