Your family vacation in Spain, discover the country with your loved ones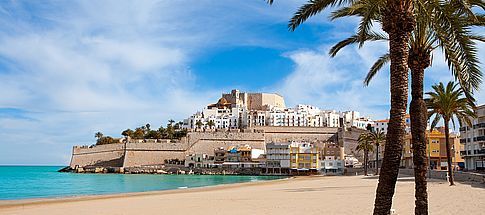 A unique family holiday
How about going to Spain with your family for your next holiday? Discover Peñiscola, its old town, fortifications, beaches and unique landscapes. Situated in the comarca of Baix Maestrat, in the east of Spain, this city of unparalleled charm stands on a rocky peninsula. A true dream destination for your next holiday, it offers something to delight young and old alike with numerous activities and excursions.
Lire la suite

L'Odissea Park bénéficie d'un emplacement idéal à seulement 100 mètres de la plage de Santa Susana. Santa Susanna se trouve au bord de la Méditerranée, à 60 kilomètres de la ville de Barcelone. Dans cet endroit paisible, vous pourrez profiter de deux kilomètres de grandes plages au sable propre et doré, entourées de pinèdes. Les services et installations de sa station nautique vous aideront à pratiquer un grand nombre de sports aquatiques comme la voile, la planche à voile et la plongée sous-marine, par exemple.


Les appartements touristiques Comte D'Empuries disposent d'un total de 200 appartements, tous extérieurs. Ils se situent à seulement 125 mètres de la plage et en plein centre-ville d'Empuriabrava. L'accès aux appartements des différents bâtiments s'effectue à travers des chemins extérieurs bordés d'une végétation typiquement Méditerranéenne.


L'Estartit est situé sur la Costa Brava sur les bords de la méditerranée, à 50 min de Gérone et 1h15 de la frontière franco-catalane. Cette station balnéaire est beaucoup fréquentée par les plongeurs qui viennent explorer les profondeurs des îles Medes au large de la côte. La situation géographique et le climat font de cette zone de la Costa Brava un lieu privilégié et idéal pour passer des vacances aussi agréables que confortables, tout au long de l'année.


Situés à seulement 50 mètres du centre-ville de Calella et à 250 mètres de la plage, les Apartamentos Neptuno propose des appartements climatisés avec connexion Wi-Fi gratuite. En été (à partir du 01/05/2020), vous pourrez accéder aux installations de l'Hotel Neptuno. Le reste de l'année, seuls les hébergements sont disponibles. L'hôtel possède notamment une piscine extérieure avec jacuzzi, un espace de détente, un spa pourvu d'un sauna et une salle de sport.


À 65 km au nord d'Alicante, au pied du rocher d'Ifach, Calpe est une destination touristique de la Costa Blanca réputée pour la qualité et la beauté de son environnement naturel, ses plages de sable blanc aux eaux turquoise et la douceur de son climat qui permet de profiter toute l'année de ses activités extérieures.


Au coeur de la Costa Brava, à 1h de la frontière, Pals offre au visiteur richesse culturelle, climat et paysages privilégiés. La vaste plage de Pals, la gastronomie et les nombreuses activités proposées vous permettront de vivre pleinement vos vacances.


Située dans la province de Tarragone, Cambrils est l'une des plus belles villes de la Costa Dorada en Espagne. A 100 km de Barcelone et 60km du parc naturel du Delta del Ebro, elle bénéficie d'une localisation privilégiée pour passer les vacances d'été. C'est l'une des rares villes côtières catalanes qui peuvent se vanter d'offrir la mer et la montagne, puisqu'elle est entourée des montagnes de Llaberia, Argentera et Mussara.
Escape to Spain for a family holiday


A host of activities to discover in Peñiscola

Ideally located, Peñiscola is the perfect destination for your next family holiday. Just two hours from Valencia, this Spanish seaside resort will charm you with its many activities waiting to be discovered with your loved ones. Would you like to visit the city? Enjoy its museums, such as the Museo del Mar or La Casa Museo, and learn more about Iberian culture. Perhaps you prefer sampling the local specialities? Both young and old will find their happy place in the city's many typical restaurants of the city, where the Spanish atmosphere will allow you to completely break from your daily routine.
Beaches, landscapes and walks: the perfect setting for your holiday

For your holiday, treat yourself to a well-deserved rest. Settle into the Los Palmitos holiday residence, located on the hill of Las Atalayas, just 900 m from central Peñiscola. The holiday residence offers you all the comfort you need for a perfect stay. In addition, sublime beaches await just 1.5 km from your accommodation: ideal for those who love landscapes and fine sand or for a holiday with friends in Spain. If you are fond of walks, you will appreciate the old town and its unique charm.
Spending your holidays in Peñiscola means taking a real break from your daily routine. Recharge your batteries and enjoy yourself of a cheap holiday in Spain !