Your holidays with friends in Spain, a dream destination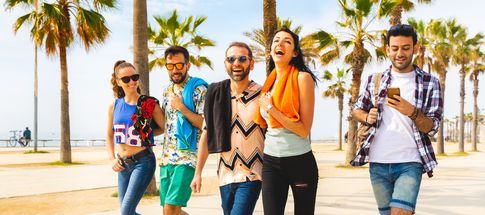 Unforgettable holidays with friends in Spain
You've been talking about it for a long time, but it's decided, you're going on holiday with friends! But where? Discover Spain and its charms by heading to Peñiscola and settling into the Los Palmitos holiday residence. Swimming, excursions and other activities await you! The location of the residence is certainly ideal: 900 m from the town centre and 1.5 km from the beaches, you couldn't dream of a better place. Spend an unforgettable holiday with your loved ones and make the most of your stay.
Lire la suite

Empuriabrava

Catalogne
Les appartements touristiques Comte D'Empuries disposent d'un total de 200 appartements, tous extérieurs. Ils se situent à seulement 125 mètres de la plage et en plein centre-ville d'Empuriabrava. L'accès aux appartements des différents bâtiments s'effectue à travers des chemins extérieurs bordés d'une végétation typiquement Méditerranéenne.

Stays from
Early Booking
-27%
until 31/03/23
€546 €397.80
Rental from 03/06/23 10/06/23
Appartement 2/4 pers 4 guests

L'estartit

Catalogne
L'Estartit est situé sur la Costa Brava sur les bords de la méditerranée, à 50 min de Gérone et 1h15 de la frontière franco-catalane. Cette station balnéaire est beaucoup fréquentée par les plongeurs qui viennent explorer les profondeurs des îles Medes au large de la côte. La situation géographique et le climat font de cette zone de la Costa Brava un lieu privilégié et idéal pour passer des vacances aussi agréables que confortables, tout au long de l'année.

Stays from
Exceptional discount
-25%
€280 €210
Rental from 06/05/23 13/05/23
Appartement T2/4 4 guests

Pals

Catalogne
Au coeur de la Costa Brava, à 1h de la frontière, Pals offre au visiteur richesse culturelle, climat et paysages privilégiés. La vaste plage de Pals, la gastronomie et les nombreuses activités proposées vous permettront de vivre pleinement vos vacances.

Stays from
Early Booking
-20%
until 07/05/23
€434 €347.20
Rental from 06/05/23 13/05/23
Studio 2 2 guests

Cambrils

Catalogne
Située dans la province de Tarragone, Cambrils est l'une des plus belles villes de la Costa Dorada en Espagne. A 100 km de Barcelone et 60km du parc naturel du Delta del Ebro, elle bénéficie d'une localisation privilégiée pour passer les vacances d'été. C'est l'une des rares villes côtières catalanes qui peuvent se vanter d'offrir la mer et la montagne, puisqu'elle est entourée des montagnes de Llaberia, Argentera et Mussara.
Stays from
Exceptional discount
-15%
€308 €261.80
Rental from 06/05/23 13/05/23
T2/4 - A2 4 guests

Santa Susanna

Catalogne
L'Odissea Park bénéficie d'un emplacement idéal à seulement 100 mètres de la plage de Santa Susana. Santa Susanna se trouve au bord de la Méditerranée, à 60 kilomètres de la ville de Barcelone. Dans cet endroit paisible, vous pourrez profiter de deux kilomètres de grandes plages au sable propre et doré, entourées de pinèdes. Les services et installations de sa station nautique vous aideront à pratiquer un grand nombre de sports aquatiques comme la voile, la planche à voile et la plongée sous-marine, par exemple.

Stays from
Early Booking
-15%
until 31/03/23
€455 €386.75
Rental from 07/10/23 14/10/23
T2 2 guests

Calpe

Costa Blanca
À 65 km au nord d'Alicante, au pied du rocher d'Ifach, Calpe est une destination touristique de la Costa Blanca réputée pour la qualité et la beauté de son environnement naturel, ses plages de sable blanc aux eaux turquoise et la douceur de son climat qui permet de profiter toute l'année de ses activités extérieures.

Stays from
€231
Rental from 14/10/23 21/10/23
T2-2pers 2 guests

Calella

Catalogne
Situés à seulement 50 mètres du centre-ville de Calella et à 250 mètres de la plage, les Apartamentos Neptuno propose des appartements climatisés avec connexion Wi-Fi gratuite. En été (à partir du 01/05/2020), vous pourrez accéder aux installations de l'Hotel Neptuno. Le reste de l'année, seuls les hébergements sont disponibles. L'hôtel possède notamment une piscine extérieure avec jacuzzi, un espace de détente, un spa pourvu d'un sauna et une salle de sport.

Stays from
€343
Rental from 21/10/23 28/10/23
Studio 2 Pers 2 guests

Pula

Istrie
Verudela Beach Resort*** est située à 50 m de la plage, 4 km du centre et à 300 m des premiers commerces. Cette résidence 3 étoiles, cachée entre les pins et autres végétations méditerranéennes, se compose de 174 appartements répartis dans plusieurs bâtiments de 1 ou 2 étages (sans ascenseur). Voiture fortement conseillée.

The residence is currently fully booked.
Prepare your next vacation with one of our advisers
Être rappelé
OR
Be notified of our next
availability
Spain, a charming land that is a great source of little escapism


Discover Peñiscola with friends

Whatever it is you are looking for, you will find your happy place whether you take a vacation in Spain with family or friends. Are you fond of walks and want to discover the charm of Iberian architecture? Stroll through the old Spanish walled city and enjoy its rich history. Moreover, being perched on a rock, Peñiscola offers a unique panoramic view of the sea. You can also take advantage of the many fine sandy beaches in the surrounding area, perfect for spending a pleasant moment soaking up the sun with friends.
A host of activities to share with your loved ones

In Peñiscola you will find many sights to visit and cultural activities to experience with friends to enjoy a cheap holiday in Spain . Of particular note are its film festival or its jazz festival, two unmissable events for enthusiasts! You will also have the opportunity to enjoy visits to historical monuments, such as the fortified castle dating from the 14th century. The perfect way to encounter the history of the city! However, if sporting activities are more your thing, you will enjoy sailing, water skiing or diving in turquoise waters. The stuff of dreams!