Your holidays with friends in Spain, a dream destination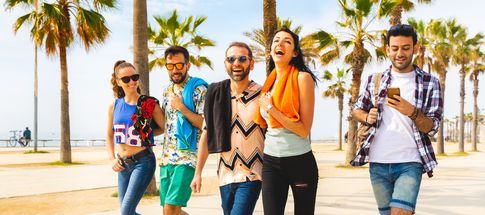 Unforgettable holidays with friends in Spain
You've been talking about it for a long time, but it's decided, you're going on holiday with friends! But where? Discover Spain and its charms by heading to Peñiscola and settling into the Los Palmitos holiday residence. Swimming, excursions and other activities await you! The location of the residence is certainly ideal: 900 m from the town centre and 1.5 km from the beaches, you couldn't dream of a better place. Spend an unforgettable holiday with your loved ones and make the most of your stay.
Read more

Au sud du delta de l'Ebre et à 2 heures au nord de Valence, Peniscola est l'une des stations balnéaires les plus intéressantes de la province de Castellon dans la Communauté valencienne. C'est l'un des plus beaux villages d'Espagne, extrêmement rare pour une station balnéaire ! 
Peniscola est une jolie citée médiévale de la Costa Del Azahar, baignée par la Méditerranée. Le centre historique, entouré de murailles et dominée par la forteresse de Benoit XIII, occupe une presqu'ile rocheuse. De part et d'autre se développe, la station balnéaire moderne avec ses longues plages de sable fin, idéale pour la baignade en famille.
Stays from
€279.20
Rental from 03/10/20 10/10/20
T2/4 4 guests
Flexible dates ?
Your destination is set
or
Flexible about your destination ?
Your dates are set
Spain, a charming land that is a great source of little escapism


Discover Peñiscola with friends

Whatever it is you are looking for, you will find your happy place whether you take a vacation in Spain with family or friends. Are you fond of walks and want to discover the charm of Iberian architecture? Stroll through the old Spanish walled city and enjoy its rich history. Moreover, being perched on a rock, Peñiscola offers a unique panoramic view of the sea. You can also take advantage of the many fine sandy beaches in the surrounding area, perfect for spending a pleasant moment soaking up the sun with friends.
A host of activities to share with your loved ones

In Peñiscola you will find many sights to visit and cultural activities to experience with friends to enjoy a cheap holiday in Spain . Of particular note are its film festival or its jazz festival, two unmissable events for enthusiasts! You will also have the opportunity to enjoy visits to historical monuments, such as the fortified castle dating from the 14th century. The perfect way to encounter the history of the city! However, if sporting activities are more your thing, you will enjoy sailing, water skiing or diving in turquoise waters. The stuff of dreams!